How to Assemble a Dream Team For a Complete Closet Remodel
When Interior Designer Teresa Lipsey joined forces with Closet Factory Senior Designer Amber Warlock, the function and aesthetics of this primary closet were lifted to new heights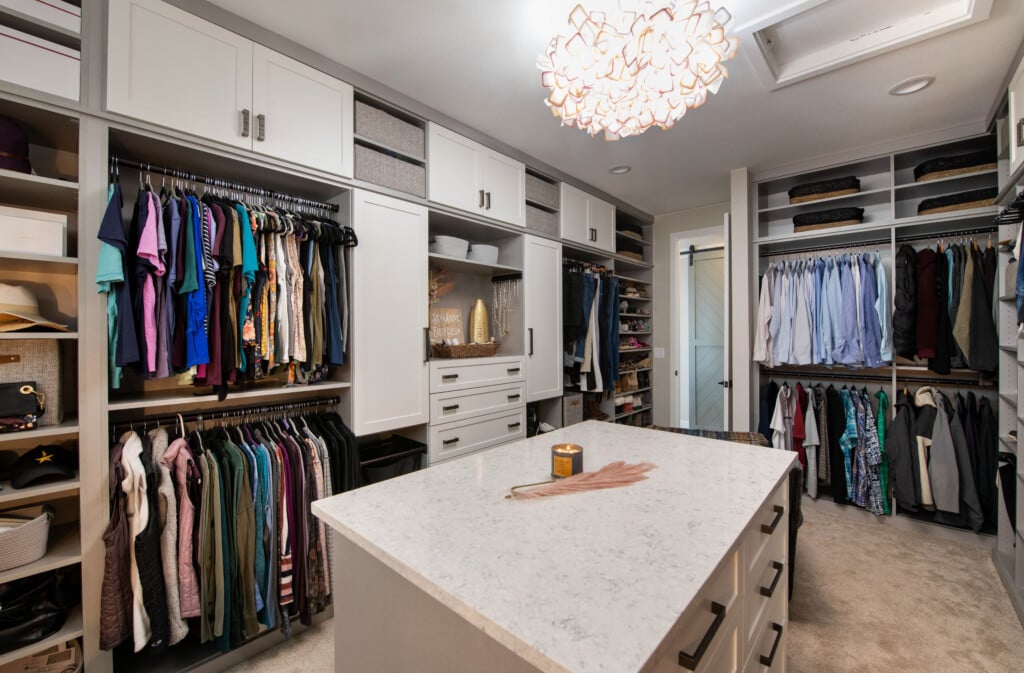 Sponsored Content
Many homeowners are unaware of the fact that many interior designers have collaborative relationships with specialty design firms such as Closet Factory. These relationships allow a client to effortlessly expand their closet makeover project into a complete remodel with material selections of wallpapers, fabrics, flooring, chandeliers and paint colors as well as highly specified cabinetry.
When the client for this project asked Lipsey for a custom cabinetry closet design, she immediately scheduled a meeting to introduce Warlock, collected an entire inventory of the closet contents, and began exploring options for the materials available to coordinate with her current selections of wallpaper and chair upholstery. The homeowner's only absolute requirement was a cozy chair upholstered in a moody fabric from which both designers drew inspiration.
Collaboration
In many cases, homeowners' time is limited and they prefer to lean on other professionals, such as Warlock, to work directly with the interior designer to achieve a custom design and contribute renderings to the final design presentation. For homeowners who want to have a hands-on approach, the design team sets up a plan for who will coordinate communication, meetings, and review sessions when all parties can be present. This client wanted a little of both. She trusted Lipsey with the project entirely, but also wanted to participate in design meetings.
Communication
Communication is one of the most important aspects of interior design and when an interior designer collaborates with a custom cabinetry designer, details elevate a design beyond the homeowner's expectations. When Warlock designed a vanity and Lipsey contributed a stunning focal wall, the homeowner decided the room brought her such joy she began using it as a home office daily.
Scope of Work
The scope of work is a major concern many clients have before embarking on a remodel journey. In this case, while the interior designer coordinated relocation of walls, electrical, plumbing and lighting fixtures, the Closet Factory professionals tore out existing cabinetry, built new custom cabinetry and installed quartz countertops and integrated lighting.
Timing
Timing is the last concern most homeowners have. Although timelines often overlap, a good guideline for a custom closet design is to allow about 2 months for the design process—from concept to final plans—and about 3 months from the time cabinetry is ordered until it has been built and installed. Installation can take anywhere from 1-5 days depending on the complexity and size of the project.
A custom closet design process is one of the easiest and least stressful home improvement projects you will ever experience and with a successful collaboration of design professionals, you may find the results far exceed your expectations and discover your closet to be a sanctuary.
PROJECT DETAILS:
Cabinets: Silvermist Melamine
Doors: Oxford White Thermofoil
Product: Double Decker Jewelry Drawer and Tie Rack for necklaces
Countertops: Italian Waves Quartz
Elizabeth Allen and Amber Warlock are Senior Designers at Closet Factory in Denver, Colorado, which has been creating completely personalized and unique storage solutions for clients for 31 years. View their profile or contact Elizabeth and Amber at 303-690-6901.
Content for this article provided by Closet Factory.