Entrepreneur Laura Love's Denver Home
In this Observatory Park abode, Napa Valley-style farmhouse and Southern hospitality live happily ever after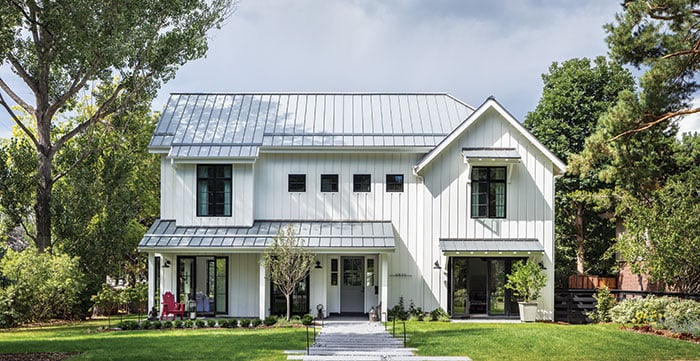 During our interview, Laura Love, the owner of this serene Observatory Park home, discovered a large wad of chewing gum stuck on the nose of a garden statue. "Typical," she laughed. You wouldn't know it from looking at the effortlessly elegant 5,000-plus-square-foot house, but it is home to Love, her three kids (ages 16, 8 and 6), and a young and peppy dog. How can the place possibly look so pristine? "Well, we do have a no-food-on-the-couches rule. Although the boys don't always follow it."
Love, founder of GroundFloor Media, a PR firm, and co-founder of CenterTable, a website design and development company, built her house with real life in mind. She wanted to create a home for herself and her kids that would also accommodate business and nonprofit events and entertaining. "I grew up in Oklahoma and went to school in Nashville. That Southern hospitality was central to my vision from the start. I wanted our house to be a real community space." She took her architectural inspiration from many trips to Napa Valley. "I love the open living that Californians do so well, and I wanted to bring that here."
"I grew up in Oklahoma and went to school in Nashville. That Southern hospitality was central to my vision from the start."
— Laura Love, Homeowner
This was initially a challenge, because Love's first plan was to renovate an old, white farmhouse that stood on the lot. "I'd lived in the neighborhood and walked by the farmhouse all the time," she says. "It was so charming." After working on design and redesign, building designer Stephen Hentschel gently broke it to her. "He said, 'I've tried it 101 different ways, and to get the house you want, it makes more sense to start from scratch.' He was absolutely right," Love says. "So we decided to build new but honor the charm of the original house and keep some original elements—doors, light fixtures, wood from an old fence—and incorporate them into the new house."
Despite the switch from renovation to building new, Love loved the process. "I've always said I'm a frustrated interior designer. Working with Stephen was wonderful. He's an artist. And [builders] Larry Larsen and Jeff Englund and their crew were amazing. Because of family and work, I ended up doing all my house and design thinking between 10 p.m. and 2 a.m. I'd text an idea to Stephen in the middle of the night. I know it's not true, but he made me feel like I was his only client. I had Jeff Englund on speed dial. I would call and say, 'I just ordered an animal trough, and we're going to make it into a bar sink!' So many times they must have been thinking to themselves, 'Oh, my gosh, she is crazy.' But we all worked together so well. It was a great collaboration," Love says.
"So many times they must have been thinking to themselves, 'Oh, my gosh, she IS crazy.' But we all worked together so well."
— Laura Love, Homeowner
Rustic ceiling beams, hand-selected by Love and the Larsen team, help define the indoor spaces. "We went up to Telluride Stone three or four times with Laura and our finish carpenter," says Englund. Love adds: "The five timbers were originally from a barn in Vermont. They still have some of the original metal fixtures on them. We brought them here and decided where each piece would go. It was very hands-on." Blending sweetly with the beams: a pair of Sieger tulip prints from Bloom by Anuschka and a vintage Palazzo rug from Artisan Rug Gallery.
The fireplace, designed by Eric Walden of Distinctive Mantels, is inspired by the one at the St. Julien Hotel & Spa in Boulder. "I called them to get the name of the builder, because I loved the feeling of sitting in front of their giant fire. When we first moved in, the steel casing wasn't installed around the base, so for a few months, visitors and all of the kids' friends wrote little notes to us on the drywall. You can't see them now, but I know they're there."
"My colors are white and gray," says Love. "I used Benjamin Moore's Simply White on all the walls in the house. I tried a lot of whites, and this one is crisp and clean. In the main kitchen, the walls are white Ann Sacks subway tile. Weld-Wright Fabricators built the oven hood; they also made the base for the wine-bar sink around the corner."
With its bunk beds and mini-stairs and cubbyholes and reading lamps, the boys' room manages to be a kid's dream without looking at all kiddie. "The bunk room was purely Laura," says Englund. Love explains: "It was one of my first inspirations. I found a picture I just loved and brought it to the guys and said, 'What about this?' I feel like I kind of built the house around this room." Across from the bunk beds is a circular staircase leading up to a play loft, "with a little hobbit door that connects to their sister's loft," says Love. "A door she keeps locked, because her brothers are 6 and 8."
Jackson, 8, and Brooks, 6, play Connect 4 in the spacious room they share. The white trim on the top bunks is a re-creation of decorative trim from the front of the original farmhouse.
Lauren O'Neill from Scout Interiors worked with Love's daughter, Kirby, to design this chic space. "Kirby's a big fan of art and design," says O'Neill, "and she really wanted a New York loft feel for her bedroom."
In addition to the two indoor kitchens, there's an enviably well-stocked outdoor kitchen, complete with sink, fridge and dishwasher. The table was an old trolley from the early 1900s. "I found it in a salvage shop and had the zinc top made for it," Love says. "We use the outdoor space all the time."
Heaters installed in the ceiling keep the outdoor rooms comfortable even on cooler days. The coffee table was custom-made for Love. "There was an old elm we had to cut down to build the house, and we kiln-dried the wood from that tree for eight months, and then the wood workers made this table and all of the kitchen shelves from the tree," she explains. "It was another way of preserving some of the old place in our home."
Creating the home's traditional reverse board and batten facade was a bit like piecing a quilt. "I haven't made many quilts, but, yeah," laughs builder Larry Larsen. As Larsen's co-builder Jeff Englund recalls: "Before they installed the boards, Larry worked out every single layout for every single elevation to make sure the lines were perfectly clean, no awkward spacing, no odd angles."
DESIGN DETAILS:
BUILDING DESIGNER Stephen Hentschel, Hentschel Designs  BUILDER Larry Larsen and Jeff Englund, Larsen Development INTERIOR DESIGN Renee Augustine, Studio R Design DESIGN CONSULTANT Lauren O'Neill, Scout Interiors LANDSCAPE DESIGN Elevate by Design LANDSCAPING Browne & Associates Custom Landscapes FLOORING Marc Bacher, Scandinavian Hardwoods