Designing the Ultimate Outdoor Kitchen and Dining Space
Creating a luxurious gathering space to bring people together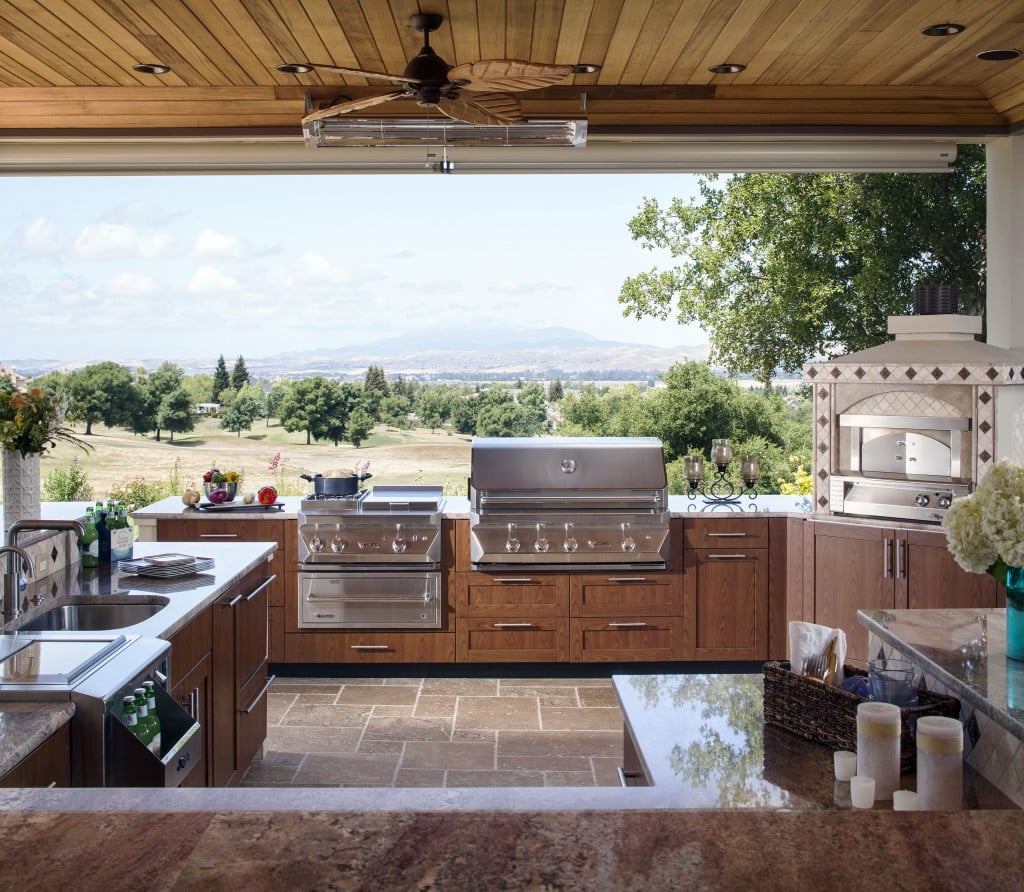 Quarantined at home the past year, many of us felt isolated and have missed socializing with friends and family. Now, as the world begins to open up again (just in time for summer!) we look forward to inviting people over and entertaining once again in the great outdoors.
It's time to create an outdoor space that invites guests to linger, chat and share delicious meals together. From strolling-around cocktail parties to sit-down meals, a comfortable, well thought-out space will encourage mingling and socializing and surely become the setting for many memorable occasions.
Here are a few expert guidelines to help you plan the ultimate outdoor kitchen and dining space for your outdoor entertainment space.
Start with cabinetry and countertops
Stone and brick outdoor kitchens are a thing of the past. For 2021, anchor your outdoor kitchen with commercial grade 100% stainless steel cabinetry. Finished with a high-quality durable powder coat, these cabinets not only withstand the legendary Colorado weather, they add a modern timeless look to your space. With more than 60 colors and realistic wood grain finishes to choose from, the new outdoor kitchens blend seamlessly with your personal style.
Durable cabinets should be matched with a durable countertop. It's essential to choose a material for your outdoor kitchen that is built to withstand the elements. Materials like granite, soapstone and porcelain will maintain their structural integrity and beauty in an outdoor environment.
Select appliances
Move over indoor kitchens. New innovations in outdoor appliances mean you can have a professional grade cooking experience in with the sun shining overhead. Stainless steel grills and smokers can be built into outdoor counters and cabinets for a seamless design. Enhance your setup with a power burner or side burner, a flat-top grill or a warming drawer.
Indulge in a pizza oven
Who doesn't love the delicious smoky flavor of homemade pizza? Include a countertop or freestanding pizza oven, available in gas or wood-powered, in your kitchen design and make your backyard a home-base for the neighborhood pizza party.
Design a custom bartending system
No outdoor dining experience is complete without the right bar set up. For the ultimate entertainment space, add a wet bar, kegerator, ice maker and built-in fridge. Everything you need for tasty libations will be at your fingertips.
Integrate the kitchen and the dining area
Design a cohesive space that encourages guests to be part of the meal prep process and allows them to socialize with the chef. Add bar stools to the countertop for optimal mingling. Position a lounge area complete with a sofa sectional and stools directly adjacent to the kitchen with cozy chairs and a portable bar cart where guests can mix cocktails Position a bar height table and chairs close to the kitchen to make it easy for guests to mingle.
Space planning is critical
Nothing beats dining al fresco with friends and family on a warm summer night. The size of your space and its proximity to the outdoor kitchen will help dictate the layout and seating options. With so many choices available, you're bound to find a set that is not only comfortable but adds that wow factor that will make your space unique.
Sprinkle in finishing touches
Customize your space with art panels and planters to add color and separate and define spaces. Invest in additional furniture (like a sectional or lounge chairs) for after dinner socializing. Add a fountain or fire pit to boost the ambiance and add to the overall experience.
Micheline Stone is the owner of Creative Living, the premier source for modern outdoor patio decor. Visit their showrooms in Denver and Summit County, view their profile or contact them at 720.222.9509.
Content for this article was provided by Creative Living andArtisan Outdoor Kitchens.