Cloud Sourcing With Ian Fisher
This Denver painter has art in his blood and the sky in his heart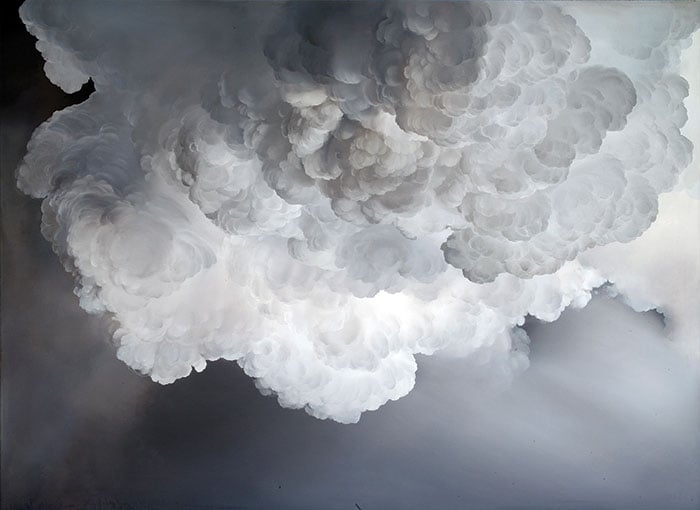 Ian Fisher grew up in an art gallery—literally.
His art-loving parents opened the main floor of their Nova Scotia home as a gallery for the public to explore and support local artists. The family lived on the second level, allowing the gallery below to send a flow of inspiration that seemingly seeped up through the floorboards and into Fisher's young life.
As Fisher grew and entered school, it was quickly evident that art was not only a favorite subject for him but also one in which he excelled. "With the support of my parents, I stuck with it and made sure [art] was something I'd always do," he says.
"Clouds sort of fell into my lap…The sky was always the most interesting part of my paintings, so I used it as an area of focus to enter each new piece."
Using oil on canvas as his medium, Fisher's sole subject is the sky. "Clouds sort of fell into my lap," says the 33-year-old Denverite. While a student of the University of Colorado's art program, he painted mostly land- and cityscapes. "The sky was always the most interesting part of my paintings, so I used it as an area of focus to enter each new piece," he says. "I've always loved abstraction, but I'm more representational as an artist. The interesting thing about the sky is it allows me to make something representational, but as it's constantly changing, I have the freedom to paint it exactly as I want it to be, making it more abstract."

Atmosphere No. 73
In the spirit of his upbringing, Fisher has made concerted efforts to support the Denver art community. In 2013, he partnered with eight other artists to open a sustainable and affordable workspace called Tank Studios. The positive response to the space, as well as the demand for more of it, was so great that within months of opening, the studio had expanded to accommodate a total of 20 artists.  Each artist is equipped with a dedicated area of up to 300 square feet, and the general layout of the studio is one of openness that emphasizes a need and want for, as Fisher puts it, "a responsible and friendly community of artists."

Atmosphere No. 46
Robischon Gallery in Denver is a champion of Fisher's craft. "What captivated us first about Ian's work and [Ian] as an artist is the nature of his pursuit," says Jennifer Doran, co-owner of the gallery, "that he would not only take on the technical challenges required to paint clouds but also that he is compelled to address in a new way such a universal subject."

Atmosphere No. 35
Though he is a permanent and important fixture in the Denver art scene, Fisher is prepping to take his work on the road. He'll showcase in Salt Lake City this fall and contribute to a number of group shows as far away as Shanghai. "I'm looking to connect with new people and ultimately broaden my audience," he says. A nice bonus for Fisher's road trips: His muse is always overhead.
See more at ianfisherart.com.