Cherry Creek Chic
Narrative, the new restaurant in The Jacquard Hotel, boasts a stylish interior, cool ambiance and stellar menu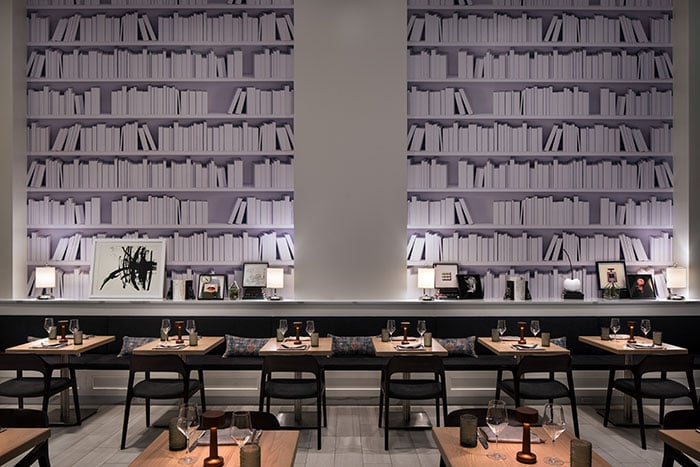 Cherry Creek North is home to restaurants and shopping galore. Much like Denver is a city expanding, Cherry Creek North has seen its share of building and redevelopment projects recently, welcoming three new hotels and a plethora of boutiques, eateries and more.
The Jacquard, An Autograph Collection Hotel opened its doors in 2018 and welcomed guests to a space of urban elegance and contemporary comfortable accommodations. The hotel is also home to a stylish new restaurant, Narrative. An approachable, modern American menu offers food and drink under the direction of award-winning Executive Chef Paul Nagan, as well as a robust happy hour and an incredible wine library with over 750 bottles of wine.
Narrative's cool ambiance and sleek design is a result of the experts at Rowland+Broughton Architecture / Urban Design / Interior Design. The 3,500 square foot signature restaurant is tailored to reflect the elegant, inviting style and upscale vibe of The Jacquard, and appeal to the younger, forward-thinking sensibilities and tastes of guests that frequent the locale.
"We wanted to fully align the design and the creativity of the food to be served, but more importantly who it is being served to. The end goal was to bring something fresh, new and timeless to the Cherry Creek neighborhood. This is a neighborhood thriving with locals and we knew this space needed to welcome and embrace that feeling of comfort with a sophistication and elegance," says Leslie Cope, IIDA, NEWH, Interior Designer.
The R+B team took inspiration from the setting's open, indoor-outdoor floor plan and high ceilings, which are accentuated by abundant natural light. The expansive space is grounded by rich, elegant materials, such as Magma herringbone mosaic tile flooring, and custom lights are suspended from interior columns. Additional materials and treatments include painted wood wainscot, pewter-color Liquidmetal coating at the bar and WhisperSpan at the ceiling.
Restaurant seating, bar atmosphere, wine room, private dining options and rooftop flexibility are all critical components of the space. Led by R+B Principal Sarah Broughton, AIA, NCIDQ, the project team included Jayna Kline, NCIDQ, IIDA, ASID and Leslie Cope, IIDA. Cope says,  "We love the circulation and pathways throughout the space.We wanted to cater to flexibility, comfort, socialness, and connectivity."