All the Pretty Horses
Denver artist Duke Beardsley, who has been around ranches and horses all his life, has a distinctively modern take on the American cowboy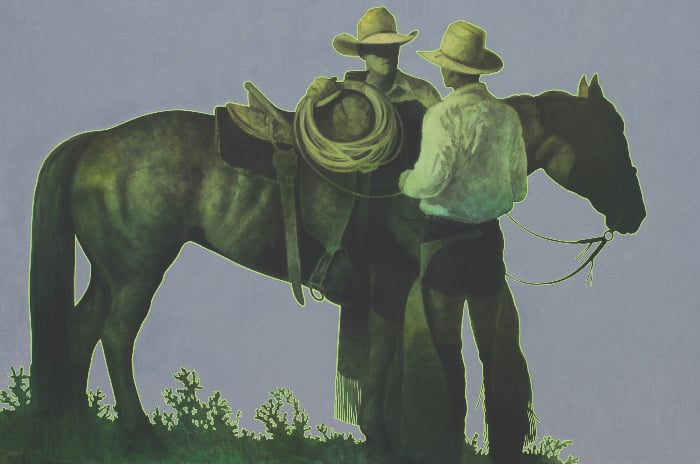 The myth of the American cowboy—the modern, authentic cowboy—is alive and kicking in the work of Western artist Duke Beardsley.
"Some people who collect my work don't technically know the back end of a horse from the front," he says, "but people feel a physical connection to a way of life that we are losing, so when we see a cowboy on horseback, it resonates as authentic. And it happens to be visually engaging, too—it's iconographic."
Beardsley has deep roots in Colorado (fifth generation on his dad's side, sixth on his mom's) and grew up dividing his time between Denver and his family's ranch in southeast Douglas County.
"I've spent my whole life on horseback. As a kid, I watched my dad and uncle and grandfather herd cattle on horseback, and that was a big deal. Ranching is big people on big animals doing big things in big places. It was like a thumb in putty—it left an impression that never went away."

Tin Man Redux
He always loved art—"drawing is how I process the world and my place in it"—and recalls crying at 7 when he learned that he would not be able to have lunch with his hero, 19th-century Western sculptor Frederic Remington.
But Beardsley's path to becoming a Western artist was not a straight one. After graduating from Kent Denver School and then Middlebury in Vermont, he worked as a ski-patrol EMT in Steamboat before enrolling in a pre-med program in California. "Twelve months in, I realized that I didn't want to be a doctor."
What he wanted to be was an artist. Beardsley, who'd been "drawing and painting all along," enrolled at the ArtCenter College of Design in Pasadena, California.
"Ranching is big people on big animals doing big things in big places. It was like a thumb in putty—it left an impression that never went away."
— Duke Beardsley

Cinta Azul
Initially, he thought he wanted to be a landscape painter, but then he was invited to a friend's branding in Nebraska. "There were cowboys all around—and it was this amazing open door to that world. My drawings started happening furiously, and they were snatched up for my first show," held in 1998 at a Cherry Creek gallery.
To this day, Beardsley works from photos he shoots on location, first doing a charcoal drawing before going back in with watered- down black acrylic paint to build up layers of transparent gray. Then he adds what he calls "spontaneous and impulsive" greens, reds and purples or repeats iconographic cowboy images in the background of larger works or on the sides of life-size fiberglass horses. "I'm trying to pull this very much hero-worshipped, loved icon out of its comfort zone."

Reckless
Beardsley's paintings sell all over the world. Most of his work is by commission, which is "unusually inclusive of the client."
"Cowboy art has been around for over a century," he says, "but the West depicted by those great, early Western artists was fictional. The romanticism of the American cowboy started back then, but we haven't lived in that world for a long time. My Western experience is of a big, busy, burgeoning place.
"We go through our lives on cellphones, and if we don't get instant gratification, we're frustrated. But I challenge any- one to get on a horse and go ride out to some pasture and gather a herd of cattle, whether it's 20 or 2,000. There's a cadence to it that hits you and then stays with you. That's what my art is all about."