A Space Transformed from Disaster to Delightful
A stunning wine bar/home office does double duty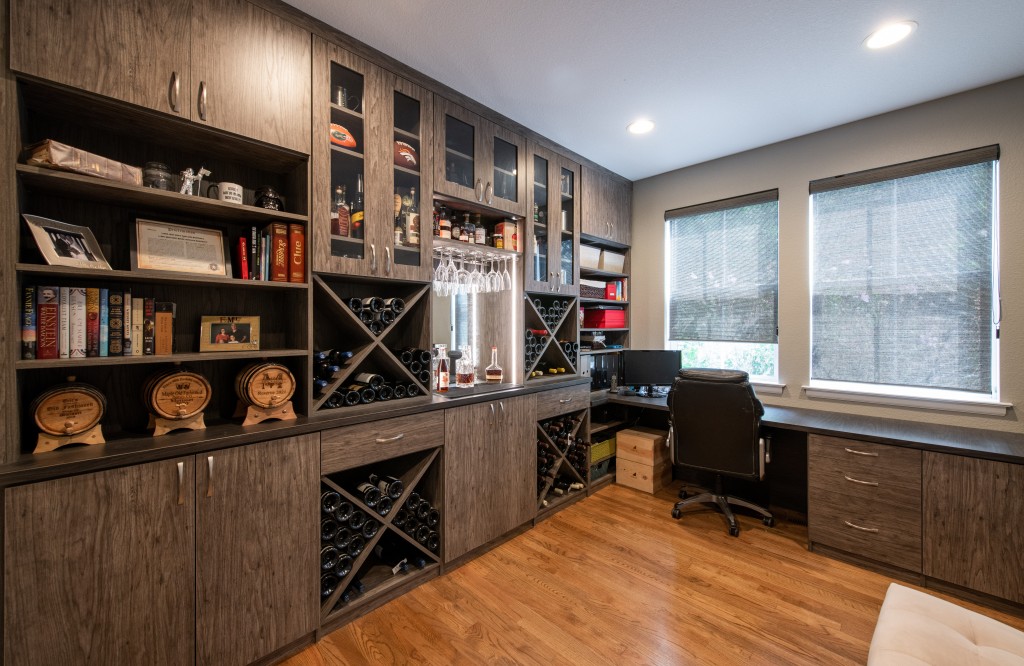 The clients for this project came to us at the height of the COVID-19 pandemic. They love to entertain, but because of the lockdown, the only entertainment that was going to happen would have to be something in their home where they could invite neighbors and friends over.
In addition, they were forced to work from home like everyone else. What they were looking for was a well-organized space designed for work, that could make a quick transition to play.
Who knew quarantine would inspire such a spectacular work/entertainment space?
Before
Prior to the remodel, the space served as an office with some mismatched furniture and a lot of stuff. In order to achieve the results our clients were looking for, it was important to use the space wisely.
After
As you can tell from this photo, these clients are wine enthusiasts and connoisseurs. In addition, they have a nice collection of other liquor such as whiskey that they wanted to make space for.
The goal was to create an interesting, out-of-the-box design that would store everything and allow the clients to mix up and serve drinks to their guests.
The X bins were a perfect way to store the wine. Not shown is a pull out divided drawer behind the lower doors where they store other liquor. All the tools for mixing drinks are housed in a velvet lined divided drawer. The mirror and lighting in the center section added some task lighting–a nice focal point and the perfect spot to bartend.
The office space area incorporates a view out the window while working–something that was important to the couple.
Bookshelves and a cabinet to the left of the large desk provide ample storage for books and other work materials. And to the right of the desk, drawers and a cabinet hide the printer and hold files and office supplies.
The radical transformation of the space from start to finish was just what our clients were hoping for. The end result? A very productive work space where you can slide over to the incredible built-in bar at happy hour time.
Leslie Klinck is a Senior Designer at Closet Factory in Denver, Colorado, which has been creating completely personalized and unique storage solutions for clients for 30 years. View their profile or, to set up a design consultation, contact them at 303.690.6901.
Content for this article provided by Closet Factory.