A Neglected Century-Old Home is Reborn
An interior designer's 1915 Denver Square gets a second life full of color and whimsy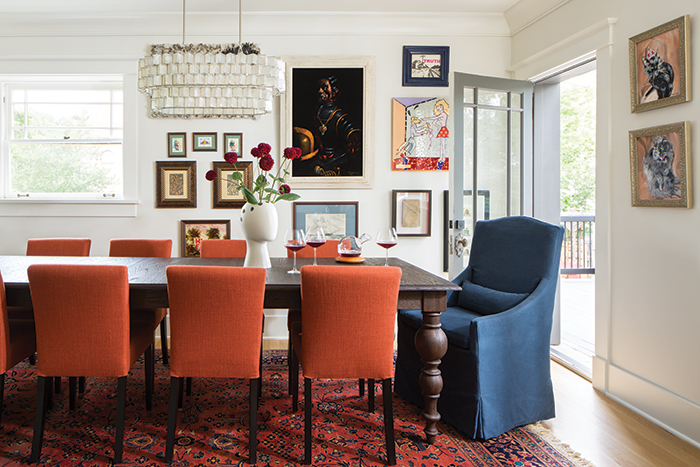 Styling by Eliza Karlson
Finding the perfect home doesn't always begin with instant attraction. Such was the case for Momoko Morton, who had to look past numerous imperfections during the first tour of the 1915 Denver Square that would soon be hers. Due to years of severe neglect, the historical five-bedroom home in Denver's Park Hill neighborhood was in dire need of an overhaul. But Morton—an interior designer for more than 15 years—was able to see beyond the dingy shag carpet, discolored wallpaper, rotting wood floors, overgrown lawn and permeating odor. She and her husband fell for the home's historic bones and Park Hill's suburb-in-the-city feel.
After that initial visit, Morton, architect Robert Fitzgerald and general contractor Doug Stooke—who worked with the couple on a renovation of their former Cheesman Park home—immediately began sketching plans for the remodel, even before Morton's bid was approved.
"By the time we got the keys on closing day, we already had the whole house planned out," Morton says. "We just knew this house could be awesome."
"We just knew this house could be awesome." — Momoko Morton
Morton's must-haves for the renovation included a big kitchen that could double as a gathering space, a master suite, a relatively open floor plan, an indoor/outdoor living space and a ton of natural light. But before her team could check off those items, they had to tackle the biggest hurdle of the project: eliminating the  home's unpleasant odor. "We had to pause the project for a month to get rid of the smell," she says. "We thought taking out the floor would do it—no. We took out the subfloor—no. We took out joists and walls and eventually ended up getting a hydroxyl generator that scrubs the air for bacteria."
Though the home was completely gutted and new flooring, finishes, appliances and fixtures were installed, Morton preserved the home's 100-year history by keeping some architectural elements in place. The original brick fireplace anchors the living room, while the original windows—many with mullion detailing—are still intact. Along with her mother, Morton spent hours cleaning, refinishing and repairing a baby grand piano that came with the house and now sits in the parlor room. Crown molding, Shaker cabinets and a smattering of vintage furnishings feel at home in the age-old structure. Morton even turned objects found in the house into artwork—she mounted and framed the bathroom's original faucet knobs as well as old drawings hidden in drawers.
"For me, a home has to speak to me, and then it'll start to reveal itself in a combination of what it was originally intended to be and how it can be used today," Morton says. "I wanted to reflect the age of the home but update it and make it a lot brighter."
"For me, a home has to speak to me, and then it'll start to reveal itself in a combination of what it was originally intended to be and how it can be used today." — Momoko Morton
And bright it is. Vibrant colors and patterns found in Persian rugs, throw blankets and reupholstered chairs bring each space to life. White walls and ceilings disperse natural light and act as a blank slate for the couple's eclectic art collection—which was primarily acquired by her husband, Morton says. "It's funny—he's a buttoned-up businessman, but all the funky art is his."
Morton has not only preserved the home's history, but they've also preserved its spirit. Passed down within a single family for more than 75 years, the original home was built with tradition and family values at its core. This legacy continues: Morton says the remodeled home is a hub for 20-person dinners with family and friends and will soon welcome the couple's first baby girl. "A lot of people who were bidding on it were developers who would have just scrapped it," Morton says. "I think we were able to give it a second chance and bring it back to the level it should be."
LIVING ROOM BEFORE:
LIVING ROOM AFTER:
The original brick fireplace, flanked by built-in library cabinets, remains the focal point of the living room. Morton purchased the two chairs at a secondhand shop in Denver and had them reupholstered in a striking wood-grain fabric by fashion designer Proenza Schouler for Knoll. The painting above the fireplace is Deserted Road by local artist James Bohling.
Morton, pictured here, transformed the home's original dark, drab dining room into a light-filled kitchen big enough for family and friends to gather while dinner is being prepared.
Morton turned the original home's confined kitchen into a formal dining space, which features an eclectic gallery wall that Morton refers to as the "wall of discontent": "It's basically a wall of pieces by no-name artists that my husband and I dislike of each other's," she explains. Bad Dog by Louis Recchia (the mosaic to the left of the door) is the only exception. Portraits honoring the couple's crowned cats, Baby and Goose, hang to the right. Orange side chairs from Crate & Barrel add an extra pop of color.
A fresh stain and a bit of elbow grease revived the Hamilton baby grand piano that the original homeowners left in the house. The Power of Chase, another Louis Recchia piece, hangs above a midcentury modern-style console from West Elm.
"That was a huge bonus," Morton says of the front parlor room, a necessity in 20th-century homes but a rare find in modern builds. The cane-back bergères were purchased by Morton's mother in 1975; Morton had them reupholstered in Schumacher's Leopard Linen Print fabric with yellow piping.
The master bedroom's gallery wall is a testament to the homeowners' Japanese and Chinese heritages—many of the pieces were purchased on a trip to Kyoto, and the script at top is a Japanese prayer written by Morton's grandmother. Through doors that lead to the bath, Lady Godiva by Salvador Dalí hangs above a vintage '70s liquor cabinet.
MASTER BATH BEFORE:
MASTER BATH AFTER:
Morton says the remodeled master bath, complete with an Americh tub in the Carrara marble-tiled wet room, is her favorite space in the house. Goose, the cat, often perches on the shower bench while Morton enjoys a bath and a glass of wine in the tub.
DESIGN DETAILS:
INTERIOR DESIGNER Momoko Morton ARCHITECT Robert Fitzgerald, Oz Architecture BUILDER Doug Stooke, Mission BuildersSaveSaveSaveSave