A Man, A Watch and His Sanctuary
"We shape our homes and then our homes shape us." – Winston Churchill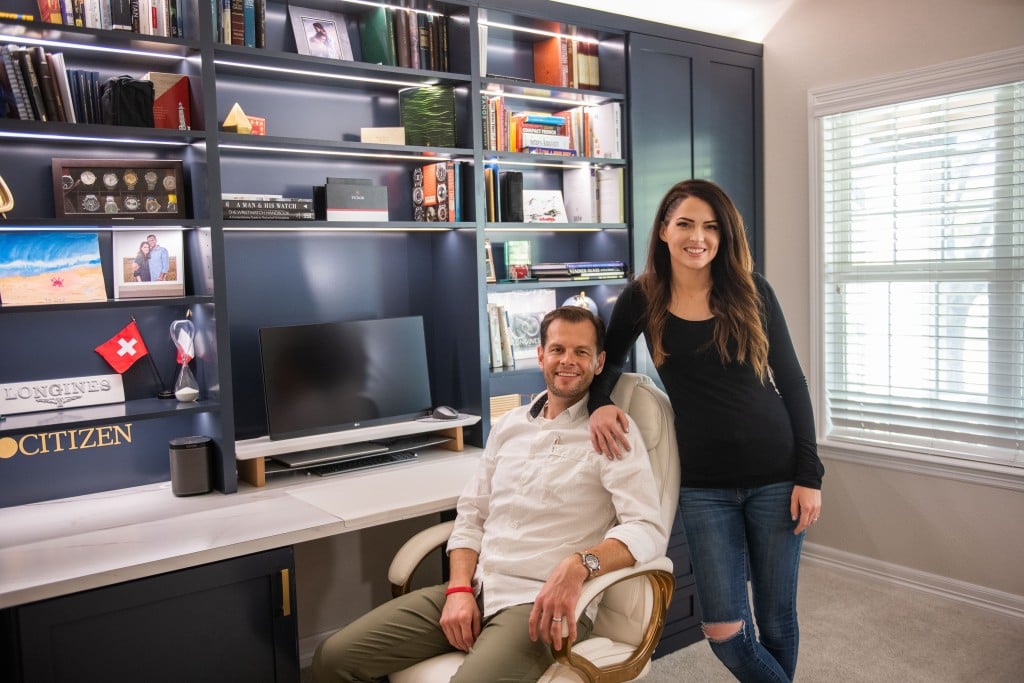 For Aaron and Diana Mortensen, "home" is a place where lives are being shaped, and not just their four children. Aaron, a dentist, and Diana, a symphony violinist, work hard to balance parenting while pursuing their careers and passions.
When I first visited their home for a free design consultation, Aaron, his four-year-old son Calvin and I sat on the floor of his home office, discussing layout options, obstructions, the organizational needs of the space, and Calvin's favorite color, green. Most notable from this meeting was Aaron's design conundrum— how to design a masculine desk, possibly with dark wood or a painted color, but still bring light into the space which had originally been built with a stark vaulted ceiling void of lighting.
One of Aaron's passions is wristwatches. In our second meeting, at the prompting of Diana, he fetched the one he thought might be the inspiration for his home office. I sat and studied his gold watch with a deep blue dial and looked up at Diana's stunning blue eyes and saw a theme. Aaron's keen eye for design combined with his confidence in leaning into his authentic style is rare.
By choosing to partner with Closet Factory, Aaron had access to custom paint colors matched by any brand of paint, extensive custom lighting options and countertops from several manufacturers. We selected a Benjamin Moore color, Hale Navy for the desk, uplighting across the top of his cabinetry to reflect off the ceiling, routed ribbon lighting on each shelf above his desk, and a lightly veined, very durable laminate countertop to mimic marble for his workspace. Aaron then chose brushed gold hardware and painted his chair to match.
The final product was breathtaking, and a couple of months after he was settled in, I brought over a professional photographer and we had a surprising conversation. I had prepared myself for the typical observations from a customer. I expected feedback about the satisfaction of precise organization and the inner peace it inevitably brings. I was even steering the conversation in that direction, perhaps out of habit, but Aaron wasn't concerned with "stuff." He allowed that yes, it's well organized and yes, he gets his work done efficiently, but what has changed in his life is the way he is drawn to the space and the expectations he has of himself in the elevated surroundings. When he sits in this sanctuary, he finds motivation, not necessarily to write the next great American novel, but to improve himself in ways that he values.
He opened a desk drawer and smiled as he gathered a handful of papers and passed them to me. "I made a couple of small resolutions this year and one of them was to improve my handwriting," he told me. "I find it so easy to come in here for ten minutes a day or so and just practice because I want to be here." I gazed at a row of perfect "E's" and looked up at him and saw pure joy. I laughed incredulously and said, "A doctor— improving his handwriting?!" He laughed with me.
I noticed his wristwatch collection and some books about watches on his shelf and commented that the one named "A Man and His Watch" by Matt Hranek looked interesting. He picked it up like it was an old friend, flipping it open to show me his favorite pages, explaining that it was about iconic wristwatches and their owners, some famous and some not. I was struck by his wisdom. Aaron understands the power of a well-designed home and leverages it to become the best version of himself. In a world full of demands and distractions, he created a sanctuary where he will thrive.
Elizabeth Allen is a designer at Closet Factory in Denver, Colorado, which has been creating completely personalized and unique storage solutions for clients for 30 years. View their profile or, to set up a design consultation, contact them at 303.690.6901.
Content for this article provided by Closet Factory.
Photos provided by Libbie Martin.