A Fateful Crested Butte Retreat
The cozy Colorado ski town so captured the heart of an Oklahoma couple that a stunning home seemed like destiny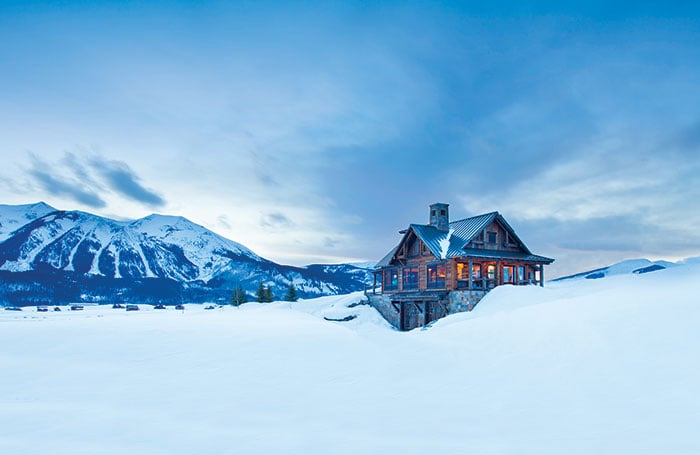 "We'd never wanted a second home, never even thought about it," says Alene Davis, who still sounds surprised when she talks about the four-bedroom getaway she and her husband built in Crested Butte. "We'd been in Colorado vacationing for a month, and we were down to our last three days, and right then, we decided we needed to be here." Alene, an interior designer, and her husband, John, CEO of United States Beef Corporation, live in Tulsa, Oklahoma.
The stars seemed to align. "We called the realtor, and the first day, we found our lot, and then we hired the builder, and then we chose the architect—in three days," says Alene. Even the weather cooperated, recalls builder Scott Hargrove. In Crested Butte, where winter usually means subzero temperatures, "we had a warm fall and a late winter, so we were able to start in December," he says. "We actually poured the foundation on New Year's Eve. Start to finish, I think this project took about 18 months."
Alene's experience in design helped speed the process. "I knew just what I wanted—a cabin feel but contemporary, and I knew what I wanted for a layout. Scott and our architect, Jennifer Hartman, are just excellent in their professions, so easy to work with. I felt that the three of us were a creative team."
The 3,800-square-foot home sits on a small rise with unobstructed views of Crested Butte Mountain. "That little bit of a hill gives them views everywhere," says Hartman. "It was very important to Alene that we keep those views open in every direction, and also to open the house to the outdoors because in Crested Butte we have about six months of snow, so when it's not snowing, you really want to be outside." The western porch is partially covered and has a hot tub and an outdoor dining area. "There's even a pond on that west side, so you have the mountains and the water," says Hartman. "And with that pink glow over the mountains, the sunsets are spectacular."
"I was uncertain at first, but now I think the house is one of the best things we ever did," Alene, who is deeply religious, says. "When we first had the idea of building a second home, I wondered if it was just too much. So I went to the property and sat on this gigantic boulder—it reminded me of a place my grandpa and I used to sit—and I was all alone, praying, and I asked for a sign. In the next 30 minutes, I saw deer pass by in front of me, and a flock of geese flew over the pond. Then there was a rainstorm in the distance, and a rainbow. I thought, 'OK, that's good enough for me.' "
Homeowner Alene Davis and builder Scott Hargrove chose a warm palette of wood, granite and stone. "We used some reclaimed timbers, new white oak for the floor, a white granite with beautiful veining for the counters," says Alene. "The stone we used in the hearth and on the outside of the building is an Oklahoma stone that picks up the warmth of the counters and wood accents."
"Alene really wanted to avoid upper cabinets to preserve the views of the mountains even in the kitchen," says Hartman. "In place of upper cabinets, Scott built this alcove pantry with open shelving that appears to float on the walls." To support piles of plates and pantry goods, a steel structure was created and bolted to the framing of the wall, so that after the drywall was done, the shelves were slipped over the steel dowels that had been welded onto an I beam.
"When I'm here, I feel closer to God. It's my favorite place in the world." — Homeowner Alene Davis
The striking steel stairway climbs from the basement to the widow's walk, forming a sculptural centerpiece for the home. "Alene gave us a picture of some stairs she liked, and we took it from there," says architect Jennifer Hartman. "We were shooting for that floating feeling, and they do seem to hang in the air."
"The bedrooms aren't huge," notes Hartman. "The family priority was really to put the square footage in the big common spaces, so the bedrooms are cozy, not cavernous."
"I love this room because I am a bath girl," says Alene. "I call this the river rock wall. It's amazing because the tub sits perfectly in that alcove and the lights shine up on that river rock and illuminate the colors of the rock and create a beautiful pattern of shadow."
"Alene is so creative," says Hargrove. "She found this picture of some bunks made out of two-by-fours hung on some hardware-store chains. We used some of the old timbers we had, made a little dovetail frame and got some ship's rope. I had some old pulleys hanging around that I'd found at my reclaimed-lumber dealer's place, and we said, 'Well, shoot, we can figure out how to hang the bunks from the pulleys.' "
DESIGN DETAILS:
ARCHITECTURE Jennifer Hartman, Sunlit Architecture BUILDER Scott Hargrove, Hargrove Construction INTERIOR DESIGN Alene Davis  LANDSCAPE ARCHITECTURE Margaret Loperfido, Sprout Studio
SEE ALSO:
When Colorado Meets Connecticut
An Artist-Built Mountain Home in Evergreen
Before & After: A Mountain Aerie in AspenSaveSaveSaveSaveSaveSaveSaveSave
SaveSave