A Denver Home With a Transformed Backyard
Inside the home of designer David Hintgen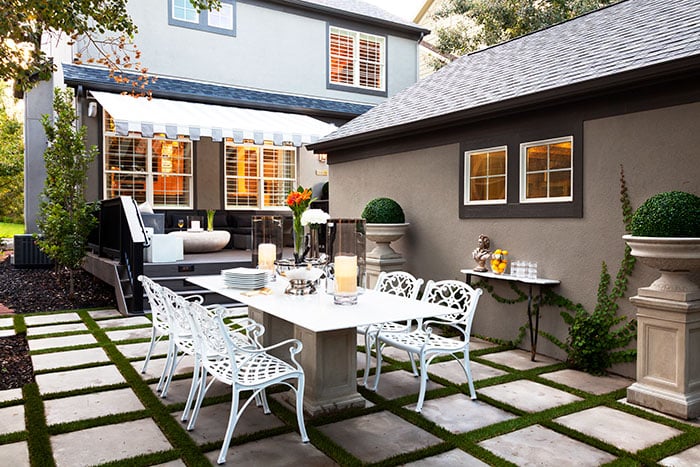 HOUSE NOTES
In spring 2013, designer David Hintgen and his wife, Lisa, left behind condo-apartment life in Cherry Creek North in search of more room for their daughter Grey (now 3). They bought a decade-old, 3,600-square-foot home in Lowry, and in about six months retooled the interiors and dramatically transformed the small backyard into a lush split-level, 1,000-square-foot deck-and-courtyard space. They use it for everything from meals to parties to lazy lounging time. "I wanted it to feel like a European garden—stately," says Hintgen. That led him to a geometric design structured around a latticework pattern, adorned with pedestals, urns, and greenery. He wanted a "zero-maintenance" space and a look that wouldn't turn bleak in winter, so he used artificial turf and flora, plus a host of weather-resistant materials, to create a seamless "indoor life outdoors" vibe.
Shih Tzus Axl Rose and Elvis enjoy the lounging area with the Hintgens' daughter Grey. The deck is Trex, a molded plastic that resembles wood. "It seems costly," says Hintgen, "until you compare what you'd spend refinishing and repainting wood every season." Small speakers provide powerful sound, and outdoor heaters keep the deck usable in colder temperatures. The sectional sofa is made of a screen-patterned mesh fabric that's partly see-through. A glass-topped zinc table has a bluish patina. The strongest focal point: a Phillips Collection fiberglass oval coffee table designed to look like river rock.
With dramatic uplighting, aspen trees around the original yard's periphery give the courtyard a canopied feel. The wooden fence was kept deliberately neutral in color and simple in shape to let the trees and dining area command attention. »
The living room has a warm "greige" (gray and beige) color scheme. Chrome and steel accents abound. Two Restoration Hardware Industrial Scissor Lift tables allow adjustable heights. An acrylic console displays books and knickknacks. Two cylindrical "poofs" have steel frames and removable faux-fur slipcovers for easy cleaning.
Everything in the formal dining room is hard-edged, clean-lined, and contemporary, save tufted chairs and a white-painted vintage chandelier. The dining table is coated with automotive paint for a resilient finish. Star accent piece: a sea-urchin sculpture at table's center.
For the kitchen, Hintgen was determined to avoid a stainless-steel hood over the stove, so he capped the cooking space with a dark mirror. An eating nook features four PlexiCraft acrylic barstools that fit snugly under a Cambria quartz peninsula countertop. A Global Views silver hanging light provides the final polish.
DESIGN DETAILS
INTERIOR DESIGN David Hintgen, DH Interiors​ CABINETRY Concept 32 Custom Cabinet Studio
SEE ALSO:
The Coolest Rooftop Deck in Aspen
A Luxury Resort-Like Home in Denver
A Historic Home on the Slopes of Chautauqua Park