A 1960s-Era Boulder Home Gets a Face-Lift
An all-woman team conducted this full-scale renovation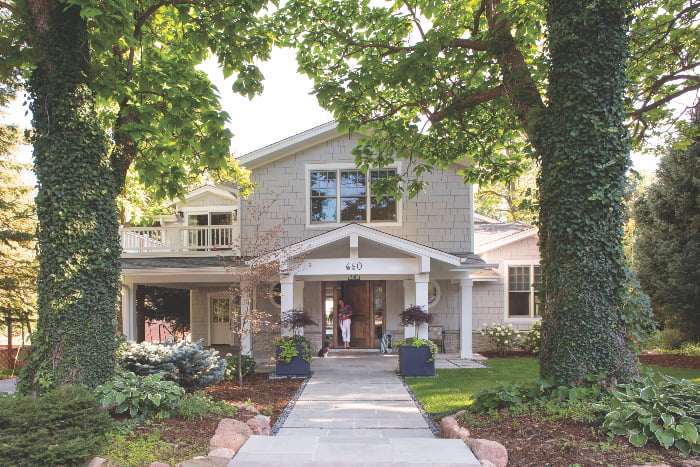 BEFORE
The original house "was probably the cat's meow of 1960s architecture, with a European flair and lots of divided-light, midcentury-style windows," says architect Stephanie Ridgway of 303 Architecture in Boulder. And while the street is charming, Ridgway describes the structure's previous exterior as "extremely vintage." Inside, the rooms were "very dark and closed off, with low ceilings and the wrong windows," adds interior designer Susan Hall of Buttercup Home Custom Interiors, also in Boulder.
"The house didn't flow—the main-floor layout was clunky, the living room had an 18-foot vaulted ceiling, and in the girls' rooms upstairs, there were these crazy rafters so no one could really stand up." The design team knew they would need to move walls and add windows throughout to create more-open spaces, all while making the house feel more cohesive and traditional.
AFTER
After a mini-renovation years back, the homeowners brought in architect Ridgway just to add a second-floor guest suite, but then ultimately decided to go for it, with a full-scale renovation of the entire downstairs, the exterior and part of the second level, including the new guest bedroom and a new family rec room.
"In general, we massaged this house into its next iteration," Ridgway says. "We added a gabled dormer onto the front formal sitting area, centered the front porch on the main gable
of the house, reorganized the windows to create a more traditional-style home, widened the approach to the house and put in a new driveway." It was a big reno, she says: "There is no window or door or siding—or anything—that is original to the house anymore."
ENTRY HALL
Ridgway opened up the once- cramped, circuitous entry hall by removing an office and closet, narrowing the wall facing the front door, and replacing dated stair bannisters with a custom metal railing, designed by Ray Tuomey of Boulder's McLean Forge and Welding and homeowner Sue Fagan. A new custom front door by Lafayette's Schacht Mill Works, with sidelights and new oval windows on either side, makes the entry light-filled and welcoming. When guests walk in, they are greeted by a Hollie console by McGee & Co., set off by Full Circle Wall Sconces from Shades of Light and elegant navy grass-cloth wallpaper by Serena & Lily.
"Working on this house was a labor of joy. We all had so much fun."
— Architect Stephanie Ridgway
LIVING ROOM
AFTER

Ridgway transformed a previously cavernous, unused, forbidding space by lowering the 18-foot vaulted ceiling and adding a charming dormer on the front of the home and windows on the side wall, as well as faux beams. Hall brought in serene neutrals, with a Winslow Extended Sofa and Abigail swivel chairs, all by Vanguard Furniture, on top of a navy, patterned Serena & Lily rug. The grandfather clock, which belonged to the homeowner, adds a personal touch.
BEFORE

KITCHEN
AFTER

The homeowner, Sue Fagan, had previously renovated the kitchen, removing a dividing wall and adding an island with a sink and dishwasher, but it was still not right. The new kitchen is wider and more open, with a wall of windows (and a sink underneath them "so we could bring more of the outdoors in," Fagan says), plus custom Wedgewood cabinets in White Icing and a contrasting, custom- stained island, designed by Tammy Muir-Bury of Wedgewood and Susan Hall. Both are topped with Caesarstone in Statuario Maximus and sit under large Eugene pendants by Circa Lighting. The appliances came from Steve Grandbois at Specialty Appliance.
BEFORE

"All of the art in the downstairs is by local women artists. There are so many talented local artists whose work I love." — Homeowner Sue Fagan
DINETTE AREA
Though an eat-in kitchen existed before, this new version—which opens out onto a large back-patio seating area through new French doors—is so cozy that one could imagine spending entire days here. Hall carried the jewel tones of the dining room (through the door to the right) into this space, with a hand- knotted pink rug by AllModern and an 80-inch, tufted Eaton settee. The RH salvaged-wood, rectangular table sits under Astrid chandeliers by Mitzi – Hudson Valley Lighting. The unusual, artistic acorn installation in the right corner is by local artist Julie Maren.
UPSTAIRS REC ROOM
What was once two upstairs children's bedrooms became one fun family-rec room with the removal of a wall that divided the space in half and the addition of a triple set of traditional windows (with custom window treatments by Rhonda Bruschke of Made in the Shade) and a pair of sliding doors that lead to a reconfigured, second-story deck.
The West Elm Enzo Sofa, which reclines for TV-watching, is paired with a West Elm Stanton leather chair. And because the homeowner loves color, Hall chose a multicolored Momeni rug from the Caravan Collection.
GUEST ROOM
Ridgway borrowed space from a 40-foot-deep upstairs deck to create a new guest-room addition, whose gabled dormer helps balance the home's exterior. Inside, Hall created a Moroccan feel by adding Jali- carved nightstands and a Gracia Rug, all from Anthropologie, and an Emery Scalloped Headboard from Ballard Designs. The two small, embroidered "paintings" near the bed are by New York artist Simone Lourenco.
FRONT EXTERIOR
The original facade was brick and vertical board-and-batten, with one central gable and a narrow, red-flagstone front walkway. The renovation created a more symmetrical, painted-shingle home, with a new 3-foot limestone base that runs around the perimeter.
To add to the curb appeal, landscape architect Adrienne Brewer of Studio Sycamore widened the walkway and created a larger front landing, using Indian sandstone in pearl gray for both, and lined the path with black Mexican-beach pebbles to "give another level of detail" and help with water drainage.
Two large, ivy-covered catalpa trees frame the house, and Brewer beefed up the plantings with hostas and other perennials; up close to the house, she placed two large RH steel planters that hold striking Japanese red-leaf maples.
REAR EXTERIOR
What was once a very simple screened-in, covered porch was turned into a protected outdoor living room, connected to the eat-in kitchen area through French doors. The seating area includes a Mustique aluminum lounge set and pillows, both from RH, as well as a water feature just down the steps that provides background music.
DESIGN DETAILS
ARCHITECT Stephanie Ridgway, AIA , 303 Architecture INTERIOR DESIGNER Susan Hall, Buttercup Home Custom Interiors BUILDER Sandy Weeks, Blue Spruce Construction Services KITCHEN DESIGNER Tammy Muir-Bury, Kitchens by Wedgewood LANDSCAPE ARCHITECT Adrienne Brewer, 303-594-1670, Studio Sycamore