5 Exterior Materials to Elevate Your Home
Choosing the right materials for the exterior of your home results in a natural, timeless look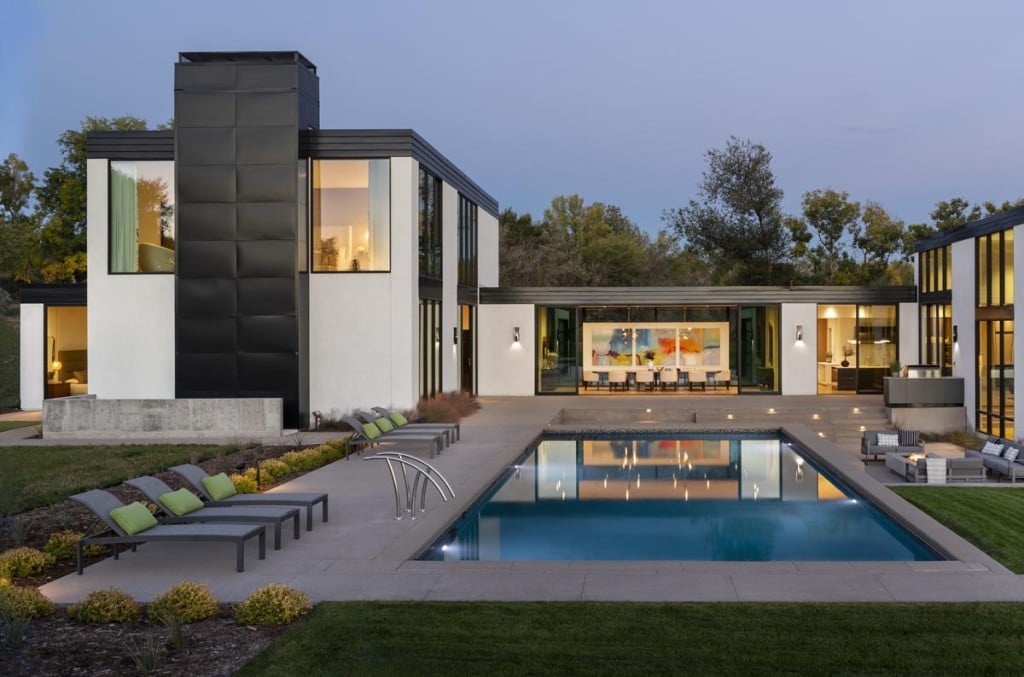 Design philosophy is guided by many principles, but one of the most important is to build homes with location in mind. At KH Webb Architects, we seek to create homes that not only complement the stunning mountain environment in which they are set but are built to withstand the unique weather, climate and other challenges inherent in the Rocky Mountain region.
The most critical element that's influenced by a home's location is the selection of exterior materials. As a standard practice, it's preferable to use a palette of natural materials indigenous to the locale that complement the clean lines of contemporary design and achieves timeless beauty.
Here are five extraordinary exterior materials that are the hallmark of designs.
1. Board Form Concrete
Perfect for people looking for a modern yet natural aesthetic, board form concrete is a versatile choice. It comes in many varieties— from very rustic to a very smooth, almost plaster-like texture that doesn't read as ordinary concrete—it's very warm and inviting.
Board form concrete has been around for ages, yet it is experiencing somewhat of a revival in architectural design. And while it is very complicated to work with, the outcome is outstanding. Here, we complement the board form concrete with steel, wood and stucco.
2. Concrete Panels and Quartzite
Concrete panels are one of our hallmark finishes. They add elegant detailing and a smooth, clean look to modern mountain homes. Prepared in large sheets, they are often shipped from overseas manufacturers and come in a variety of colors. This material pairs well with natural stone, wood and steel and unlike steel panels which can warp, concrete panels remain unchanged regardless of time and weather.
3. Copper, Sandstone and Steel
To the left of the entryway and punctuated by a large window lit from within, copper panels adorn this mountain home. Complemented by natural sandstone and a steel trellis and front door, the copper accents add a burnished, lustrous glow to the home.
Copper naturally acquires a natural patina over time, depending on the environment in which it is located. In moister climates, copper turns green. In dry mountain climates, it takes on the sheen of an old penny with pops of red and brown adding movement to a home's facade.
4. Rustic Concrete, Stone and Metal
Rustic concrete, seen here on the structure with garage doors, is one of the rudimentary exterior materials we employ. It is naturalistic and organic in nature and feels more sedate than board form concrete or concrete panels and is a great choice for homeowners seeking a natural yet modern look for their mountain home.
In addition, this material can be sourced and prepared locally, making less of an environmental impact than materials that need to be shipped in from other locales. For this project, the materials were sourced at a nearby concrete plant.
5. Timbers, Zinc and Stone
For this project in Aspen, our goal was to balance out the strong elements of the timber roof line and the chunky stacked stone supporting the masses and fireplaces. We chose zinc as an accent material to complement the modern rustic look and feel. Zinc, like copper, acquires a warm patina over time and the mottled finish adds visual interest to the timeless appeal of this mountain home. Tucked into the side of the entry, a sculpture made from the same material complements the zinc accents throughout.
Kyle Webb, AIA is the founder of KH Webb Architects in Vail, Colorado, an architecture firm that creates innovative architectural designs that characterize the personality of both the client and the land where it is built. View their profile or contact Kyle at 970-477-2990.
Content for this article provided by KH Webb Architects.