5 Elements of the Ideal Kitchen in 2020
No matter your style preference, these features are current, sophisticated, and bound to please in this new decade and beyond.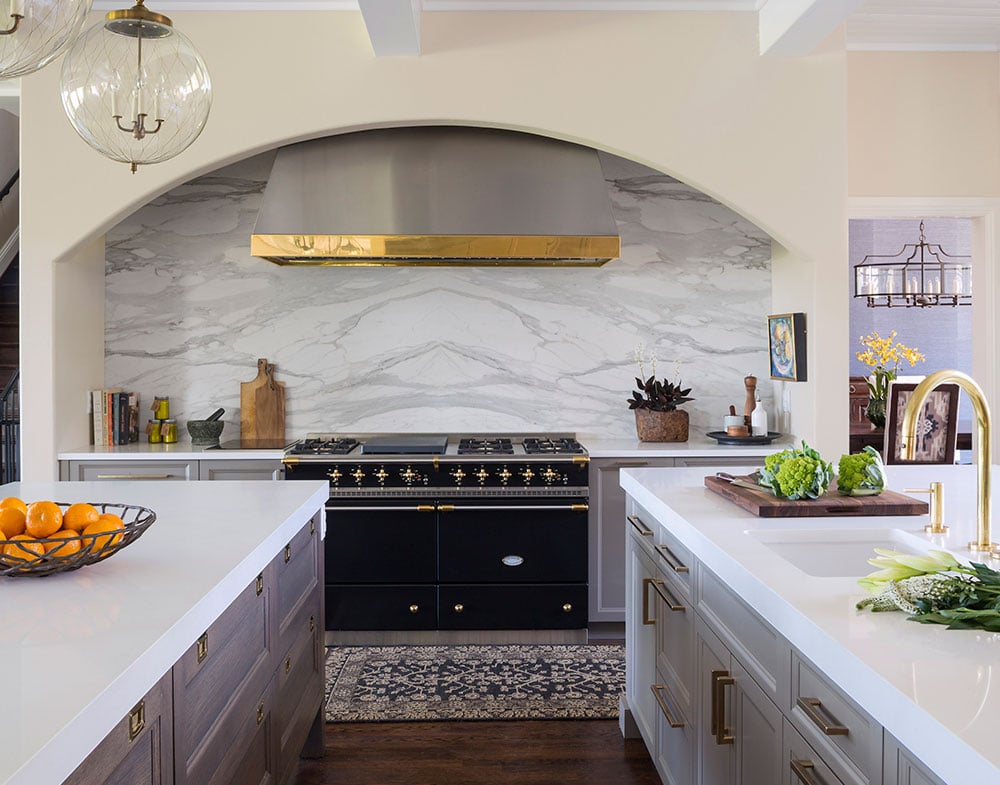 When it comes to home design, there a few facts of life that just won't budge—one being that the kitchen is and always will be the heart and hub of the home. It's where the family gathers around mealtimes, where children congregate to do their homework or find an afternoon snack, and where your guests hover during get-togethers. And while this rule has stood the test of time, there are a handful of kitchen-design elements that are new to the scene or making a comeback—and you won't want to ignore them if you're planning a kitchen remodel any time soon.
No matter your style preference or culinary skill level, these kitchen design features are bound to please.
ORGANIC + MANMADE MATERIALS
Layers of texture are becoming much more relevant and emphasized than just color and continuity. Mixing manmade materials with organic elements—like incorporating metal with natural wood and textured glass—is a sophisticated design choice that feels simultaneously current and timeless.
FLUSH FIXTURES
When it comes to the profiles of kitchen features like lighting, electrical outlets, and cabinetry, bigger isn't necessarily better. Surface mounts and hardware that projects are being replaced by minimal, flush installations—even appliances are moving away from pulls and other types of hardware and becoming accessible by simply the touch of the hand.
CONNECTIVITY
Kitchens are getting smarter with each passing year. Technology has even made it possible to peer into your refrigerator to see what you're short on—while you're already at the grocery store! These advances free up extra time and mental space for cooking, relaxing, or spending quality time with your loved ones—in the kitchen, of course.
LIGHT THAT TRANSITIONS WITH DAYLIGHT
As we become more reliant on technology and screens, the increase in blue-light exposure disrupts our natural circadian rhythms. In the same way our phones and computers can switch to "night mode," the lighting in your home can also be programmed to sense the time of day and adjust accordingly, helping you transition more seamlessly and unwind more easily.
CUSTOMIZATION
Gone are the days of cookie-cutter kitchens. Perhaps the most important design feature of your culinary space, customization—the ability of your kitchen to cater to your personal lifestyle, priorities, and preferences—is the way of the future. At the end of the day, your kitchen is where you'll spend a majority of your one-of-a-kind life, so why not create a one-of-a-kind space that reflects all of your favorite things?
Here's to designing the kitchen of your dreams.
Linda McLean and Cristal Romero are project designers with Kitchen Distributors, which offers award-winning kitchen design throughout the Rocky Mountains. View their profile or contact them at 303-795-0665.
Content for this article provided by Kitchen Distributors.