5 Compelling Reasons to Choose Natural Wood Finishes for Your Home
When it comes to sustainability, health and wellbeing, wood is the product of choice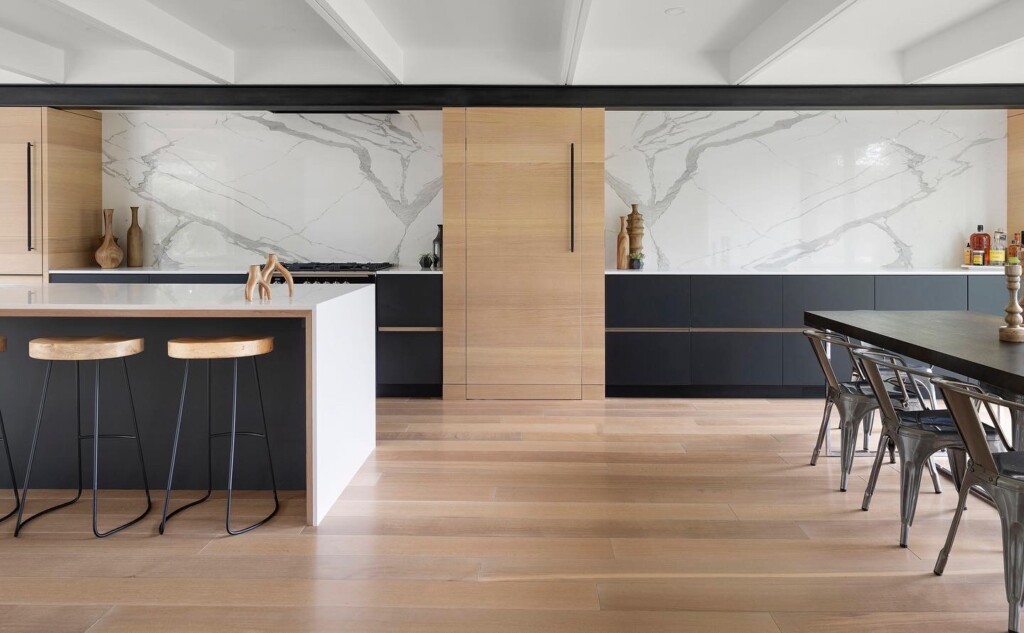 Sponsored Content
When it comes to choosing finishes for your home—whether you're building a custom home from the ground up or embarking on a renovation project—you can't beat the option of natural wood. Not only is wood a more sustainable choice (which is good for planet Earth) it adds value to your home, is plentiful and easy to work with, and even has substantial health benefits (which is good for us humans.) Read on to learn more about the many benefits of choosing natural wood.
Natural hardwoods are an eco-friendly choice
Studies confirm that natural hardwoods used to make flooring are harvested sustainably in the United States. In fact, the net annual growth in U.S. commercial hardwood forests exceeds harvest and mortality by 33% each year. Between 1953 and 2012, hardwood growing stock increased more than 130%. In addition, hardwoods are usually harvested selectively, just a few trees at a time, not using large clear- cutting processes. This cycle of growing, harvesting, and replanting protects our forests.
From a construction standpoint, wood is a high value building material and an economical choice
Building with wood is efficient. In general, projects constructed with wood are completed faster than other systems and can be done year-round in almost any climate. In addition, wood is readily available, often sourced locally from North American forests, and tends to be delivered faster than other materials. Best of all, wood is frequently less expensive than alternative building materials.
Building with wood minimizes waste…
As a durable, reusable and recyclable material, wood can reduce waste and adapt to consumers' shifting needs. When properly designed and maintained, wood structures provide long and useful service and wood's ability to flex and adapt to new uses can increase the lifespan of a building.
…and reduces our carbon footprint
Keeping forests healthy is a critical part of removing harmful emissions and cooling our planet. Trees absorb carbon as they grow and when made into wood products continue to store that carbon over their lifetime. Natural regeneration and planting continue this cycle. Managing our forests sustainably, choosing wood products over carbon-intensive materials such as steel or concrete, and maximizing the reuse and recycling of wood are all smart climate solutions.
Most importantly, natural materials like wood positively affect our wellbeing
Research confirms conventional wisdom that tells us nature and the use of natural materials is good for us. Exposure to wood in our home and work environments is correlated with a drop in cortisol (the primary hormone linked to negative impacts of stress), blood pressure and heart rate. In one study, participants'  focus and concentration improved when asked to perform a task in a room featuring exposed wood surfaces.
Using exposed mass timbers to construct roofs, walls and floors can enhance our connectivity to nature, while also offering aesthetic, structural and environmental benefits. Similarly, adding wood finishings, fixtures and furnishings can also have a positive effect.
Gina Mooers is a Design Consultant for WD Flooring, an award-winning, environmentally conscious purveyor of hand-selected majestic hardwoods sustainably harvested in the US. Their wood products are finished with zero VOCs, and are FSC certified and CARB2-compliant.
Check out the WD Flooring website or call 720-630-8948 to make an appointment to visit their showroom in the Denver Design District.
Content for this article provided by WD Flooring, including supporting information from NWFA, ThinkWood and HardWood Flooring magazine.