When Colorado Meets Connecticut
New England Style in a Mountain Setting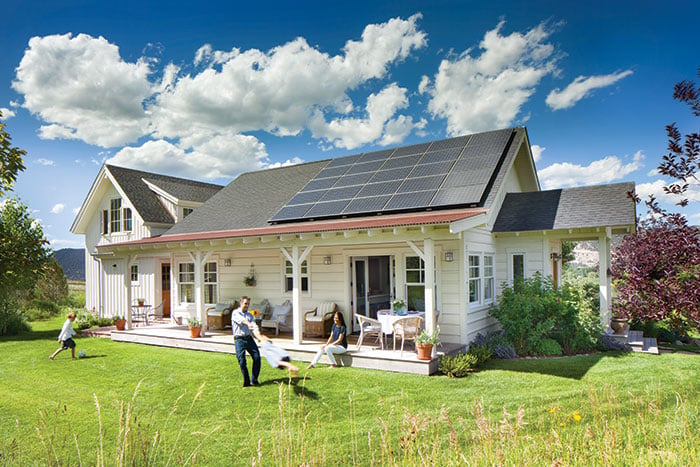 HOUSE NOTES
Michael and Kam Davies built their "forever home" in two phases, with their elegant backyard wedding sandwiched in between.
The property, which has been in Michael's family for almost 30 years, sits on an enviable 35 acres in Basalt, Colorado, with 360-degree views of Independence Pass, the Roaring Fork River and rolling farmland. The Davies parcel is shared between two families—Michael's older brother Brian and his brood are neighbors.
Michael and Kam were still dating when construction of phase one began in 2003. Michael recruited a bunch of ski patrol friends to help him carve out the quarter-mile driveway and build the home's initial 1,000 square feet, which included a tasteful but compact kitchen, living room and bedroom.
Two years later, with 100 family members and friends looking on, Michael and Kam married on their land in a grove of cotton-wood trees. Officiating the ceremony was Kam's uncle, her mother's brother. "That was incredibly important to us, as my mom had passed away and his beautiful words made her presence felt that much more," says Kam. After a "heavenly" day, the couple made their grand exit in Michael's father's 1928 Ford Model A down their torch-lit dirt driveway.
"Accessories and art for your home don't need to be precious; they need to be precious to you." — Kam Davies, Designer & Homeowner
By 2010, with a toddler son and a baby daughter on the way, the family needed more space. For phase two they called in reinforcements, hiring architect Doug Rager and builder Max Filiss to add 2,300 square feet that would include bedrooms for the kids, a mudroom and a second-story master suite. "It was always our intention to expand the house even when we built phase one," says Kam, "so it was a very organic evolution."
From the get-go, phase two's goal was to meld two worlds—the classic and cozy East Coast aesthetic of Kam's Connecticut childhood and the rural, roughhewn landscape they called home. "For me, coming from New England, a farmhouse has always been my dream," says Kam, who is also the home's interior designer. The couple needed a house that worked well with the doors open in summer and would serve as a haven to "come home to and be completely enveloped" after a day spent skiing, hiking or biking.
The result is a charming, uncomplicated, chock-full-of-light house that seems perfectly suited to a happily ever after.
An antique bistro table, from Golddigger's Home Interiors in Basalt, holds the family's straw hat collection. The photo above it, an original by legendary  Native American chronicler Edward S. Curtis, was a gift from Michael's parents. Kam calls the large chinoiserie vase her "true homage to blue and white."
Because the family spends so much hang time here, the living room is "timeless but not stuffy," says Kam, with a George Smith couch and four hand-embroidered Chelsea Textiles pillows (the "jewels in the room"). The coffee table was originally a bench topped with a fluffy cushion at the foot of Kam's girlhood bed.
It isn't because she has a Zen, Puritan aesthetic that Kam designed a judiciously sized kitchen. "Instead of having a lot of big, rambling spaces, I wanted it cozy," she says. "A little bit squished actually feels kind of good." Behind the refrigerator is a cavernous butler's pantry with loads of storage. The family uses the high-traffic counter, with its CB2 barstools covered in Kathryn Ireland's Greta fabric, for homework and painting projects, and for hors d'oeuvres, wine and "lots of gooey French cheese" when friends come over. Kam gave the watercolor, painted by artist friend Sunni McBride of Old Snowmass, to Michael for Valentine's Day one year. She purchased the antique Swedish farmhouse table from a local friend who was moving, and the French-style bistro chairs from Serena & Lily.
One New England must-have for Kam was a stair runner. "I've never met a stripe I didn't love," she says. Cherry floors throughout the house camouflage dirt and pet hair. The window frames and doors are fir, equally light and forgiving. Kam took the photo of the tree on a trip to Kenya at age 22 with her father.
Affectionately coined the "Boho beds" and inspired by bohemian lounges the couple visited on pre-kids trips to France, the four twin-size cushions with jumbo pillows are the playroom's pièce de résistance. Ideal for sleepovers, movie nights and forts, they also served as the perfect excuse for Kam to mix and match fabrics by 10 of her favorite designers, including Bainbridge Blues, Hill Brown, Jane Churchill and Pierre Frey. The vintage tin schoolhouse numbers are from a New England antiques store.
Looking west to the small apple orchard on the family's property, the master bedroom has a neutral, placid palette so the textiles can take center stage. "I'm a complete textile junkie," says Kam, who chose fabrics from Peter Dunham and David Iatesta for the Stickley bed's Euro pillows and seafoam throw. She turned a vintage French grain sack—"a little nod to the rural environment we're in"—into a rectangular accent pillow. The above-the-bed painting, a wedding gift from Michael's parents, is by artist Peter Vought.
DESIGN DETAILS:
ARCHITECTURE Doug Rager, P.C. Aspen, CO INTERIOR DESIGN Kam Davies, Davies Design Group Basalt, CO BUILDER Max Filiss, Divide Creek Builders Silt, COSaveSaveSaveSave