Wallpaper with a Brooklyn Accent
Batya Stepelman, the founder of WallTawk, unravels the many secrets of wallpaper—from installation advice to picking a design with staying power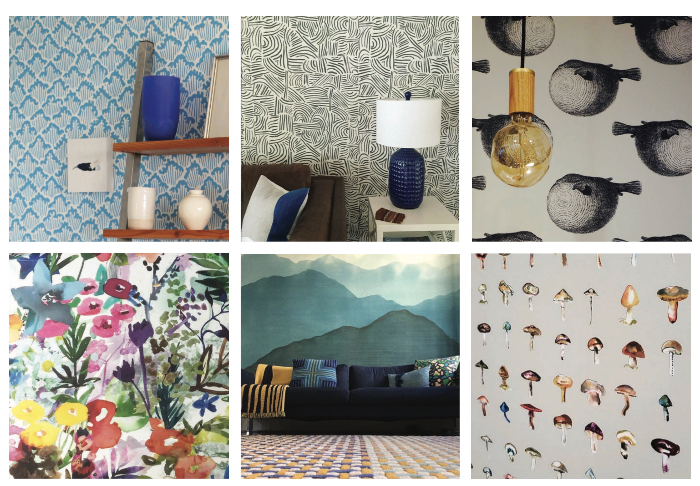 When former New York City lawyer Batya Stepelman and her husband moved to Colorado eight years ago, something about their 1895 Victorian-meets-Denver-Square house demanded wallpaper. "All the walls were this sad-looking 'beige-ish' white," Stepelman says.
Now, the property has a newfound personality—with nine rooms wallpapered in everything from aboriginal art by Australia-based Willie Weston to Flavor Paper's New Orleans Toile. "I think it's really fun to come home to a space that is colorful and has pattern and feels lived in and loved."

Portrait by Matthew Eaton
Stepelman has gone through a metamorphosis as well, having founded WallTawk, a wallpaper design consultancy, in 2016. "It adds so much, so quickly, that it becomes addictive to do," says Stepelman, who works with clients ranging from homeowners to developers like Fiona Arnold of Mainspring (whose soon-to-be-open Room for Milly, a Denver bar, has Stepelman's wallprints all over it).
WallTawk represents 66 wallpaper brands, and Stepelman has also created her own: Denver Damask, which brandishes Red Rocks, Union Station and more in its motif (drawn by local artist Meredith Feniak). Here are Stepelman's tips and tricks for wow-ing with your walls.
1. KEEP IT FRESH—BUT NOT TOO FRESH
To not get sick of your choice, stay away from wallpapers that are super, super trendy. That said, I feel like wallpaper got a really bad rap when people never swapped it out, as they did furnishings or lighting. If my parents had just modernized the wallpaper in their kitchen, it would have been great, but they stuck with some kind of 1970s' craziness!
2. START SMART
For somebody who's never done wallpaper before, the powder room is a great place to start. It's usually a very small space—so not a ton of paper and not the biggest expense—but it turns it into a little jewel box. You can go a little bit out of your comfort zone and do something unexpected. I also love master bedrooms, where wallpaper tends to be a little more muted, the patterns more soothing.
3. INSTALL RIGHT
I work only with Wallcovering Installers Association installers—basically, the installers guild. They are truly specialized and understand the ordering process and how patterns line up. A typical installation probably takes six to eight hours—a day project—as long as you don't have to have
4. TRY UNEXPECTED OFFERINGS
I love, love Flavor Paper—they just released Cannabliss, which is a scratch-and-sniff marijuana paper. Sian Zeng has a magnetic wallpaper with accessories that can go on top, which is great for kids' rooms. Flat Vernacular is another favorite, and they have glow-in-the- dark wallpaper. I just added a company called Sarah & Ruby; their papers are basically giant paper tiles that fit together. And then there's Emma Hayes out of New Zealand—her patterns are gorgeous.
5. THINK FAMILY-FRIENDLY
I would never suggest super-luxury papers for somebody who has a very active house. If you have kids or pets, maybe use shiplap or wainscoting on the bottom half of your walls and just paper the top. There are also a lot of papers that are coated to wick water easily; some are even washable, which means you can gently take a sponge to them. I've had all my papers up since I've had kids, and I have almost no damage. My entryway wallpaper is the cosmos, and I thought my kids would take a marker and connect the dots. That made me very nervous!
Top image: A collage of eye-pleasing wallpapers from WallTawk suppliers; clockwise from top left: Aranami by Farrow & Ball, Tulum by These Walls, Mr. Blow by Abnormals Anonymous, Forager by 17 Patterns, Yunnan by Pierre Frey and May Meadow by Rebel Walls.