Treasure Island
A fashion maven's modern-metro duality in the heart of Hilltop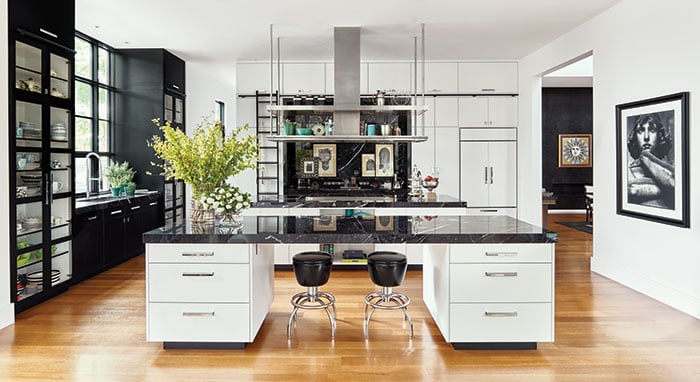 Terri Garbarini is self-admittedly a pack rat. The Denver native has spent her life collecting items from around the globe, and she doesn't like to let go. So when she and her partner Eddie Turner built an International Style, Bauhaus-inspired, modern home in Hilltop last year, she made sure there was enough space to showcase her treasures. The kitchen is the prime example of her show-it-all mentality: floor-to-ceiling glass cabinets that highlight hundreds of vintage glasses, dishes, cake stands, bowls and other collectibles.

Nook A circular banquette in Phillip Ramos upholstery provides a comfortable seating area. The banquette woodwork is by Barsch, and the light fixture was purchased on 1stdibs. The doors and windows are Pella, and the custom hood is by Weld-Wright Fabricators.
"It's so much fun to have the space for all of my things in one place and be able to see them and enjoy them," she says. Because the couple spends most of their time in the kitchen, preparing Italian or Mexican feasts for houseguests and friends, an open floor plan and natural light was also key to their kitchen design. "I love the high ceilings and the warmth of the space," says Garbarini, who founded her eponymous Cherry Creek women's clothing boutique 35 years ago. "The light is amazing with the huge windows. The whole room is so airy. It allows us to breathe."

Butler's Pantry A colorful assortment of appliances line the shelves in this pantry, next to the main kitchen. The artwork is by Roger Salucci, and the black-leather stool is vintage.
Oddly enough, the kitchen was the one space the couple spent the least amount of time on the building process, leaving much of the design to Scott Parker, principal architect at Nest Architectural Design. "I knew I wanted it to be really clean but not too severely contemporary," says Garbarini, who picked out the dramatic black-and-white palette. "It's the most important room in the house, and we love to cook together, so I wanted it to be functional." She offered Parker direction on how the kitchen should work (along with 6,000 Pinterest images), and he provided the interior elevations, while Aspen Leaf Kitchens, Ltd. built the cabinets and double islands.

Cooking Island Cookie, a 10-year-old wire fox terrier, stands on a vintage leather stool. The range is by Thermador, and the hands-free faucet is by Moen. Aspen Leaf Kitchens built the lighted, floor-to-ceiling cabinets.
Scale played a huge part in the design, Parker says. "To get to the kitchen, you have to walk through a dining room with 22-foot ceilings, but you experience a feeling of expansion and coming into a space that's more contained," he says. Although the kitchen is connected to the family room and banquette eating area, it has a feeling of a separation, he adds. "The whole room just really works. Everything is right off of the kitchen, so there's flow throughout the space. People can have a good time."
Garbarini agrees. On late-summer days, she and Turner open all the French doors to the central courtyard and let their guests roam freely through the spaces. "We put food out on the island as a buffet, and we all find places to sit inside and outside," she says. "There is always room to spare. It's so easy when you have the space."

The Great Eight: What I Love in My Kitchen
by Terri Garbarini
1. BUTLER'S PANTRY. We can hide a mess in there really quick, because it's off to the side of the kitchen. We feed our dog back there and put all our gadgets in the open shelving.
2. HANDS-FREE MOEN FAUCET. It's so easy to fill my kettle every morning or to fill up a pot of water for pasta. And if my hands are gooey, I don't have to  touch the faucet. The only thing is that you have to get used it—every time you walk by, it can turn on and startle you. It scared the hell out of me a couple of times when we first moved in.
3. LIGHTED LIQUOR CABINET. When we open the cabinet door, an automatic light comes on. In our former house, liquor bottles would get jammed in the back, and we would keep buying things we already had because we couldn't see them. Now, there are no dark back corners where things can hide.
4. THERMADOR STEAM OVEN. We're still making friends with the steam oven, but Eddie recently made ribs on a low heat, and they were so moist the meat was falling off the bones. I also like it because it's small, so it's easy to heat things up fast.
5. BREAKFAST BAR. It opens up in the morning so I can grind my coffee beans and use my French press and the cream frother, but when I'm done I just close the door and there's no mess or clutter on the countertops. The kitchen always looks clean and tidy, and it's a joy. I'm a clutter person, but now there's a place for everything.
6. SMEG TOASTER. I thought it was the coolest thing because it looks like a 1950s Cadillac. It's modeled after the Art Deco era, so it really fits in my kitchen. Plus, I can put four pieces of toast in there.
7. BACON PRESS. I have a serious problem with cured meats—we eat bacon a lot. I love my cast-iron bacon press, because it gets the bacon really flat so it's not curled at the ends. I bought it at Peppercorn in Boulder 25 years ago.
8. LIGHTED FLOOR-TO-CEILING CABINETS. I'm a collector, so I have multiple vintage-glassware sets, cake stands, martini glasses, dishes and so much more. The cabinets are so beautiful at night that sometimes we leave them on as the only light in the room. They sparkle.
DESIGN DETAILS
ARCHITECT Scott Parker, Nest Architectural Design INTERIOR DESIGNER Tina Stoecklein, Nest Architectural Design BUILDER McGuire Scroggins, Project Manager, Old Greenwich Builders KITCHEN CABINETS Elizabeth Kness, Aspen Leaf Kitchens, Ltd.