The Lady's All Hearts
Dynamic spirit, joie de vivre and an all-knowing feminine mystique thrive on Matti Berglund's canvas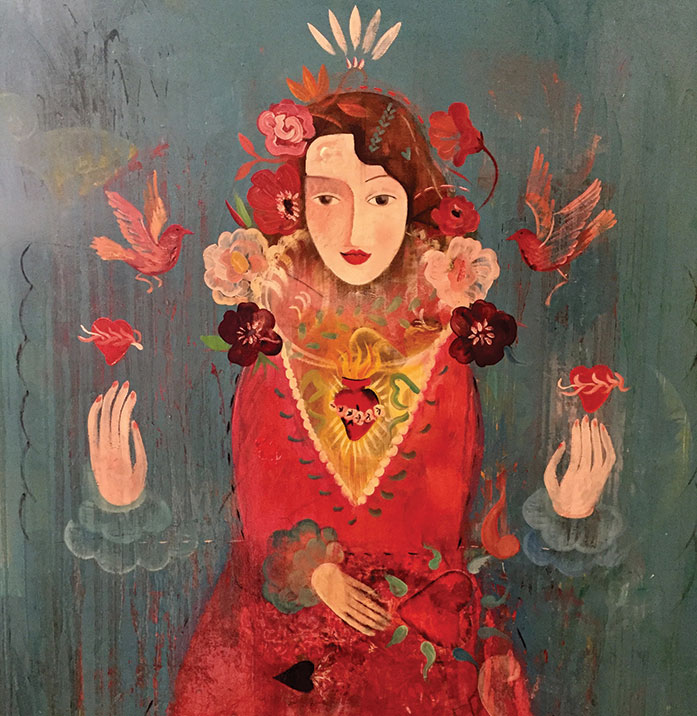 At nearly 60, Matti Berglund is riding a rush of creativity and energy like never before. "I can paint anywhere," she says, with an earnest twinkle in her eye. "I am unstoppable. I made my bathroom my studio at one point. I feel so inspired by the life around me. I feel inspired by my things, all the objects in my house that I have collected for years that have deep meaning to me. They are my history. I love young people, their talent, their energy. I get a lot of stimulation from their creativity."

Berglund with a Paris flea-market bag she hand-painted
Berglund's electric life energy flows through-out her small home in Denver's Art District on Santa Fe, dotted with all those inspiring objects she collected: old toys, emblems from stores, antique portraits, wooden santos and other religious art. "I love imagining all these things' 'past lives' and all the love they have collected over the years," she says. Berglund paints from the heart, with the eye of a playful child and the discipline of a mom of three now-grown kids—a mom who decided to give art her all, finally. She basks in the diversity of her neighborhood—the grittiness, the Mexican and Native American overlays, and notes of folklore—and draws inspiration from all of it.
Born and raised in Oslo, Norway, to parents who owned and operated a clothing store (her mother was a talented seamstress), Berglund describes herself as an odd middle child, who would watch the world from under a large dining table for hours at a time. She saw beautiful women strolling in to buy her mother's intricate clothing creations and peeked at Dutch-style dark portraits that hung in the family's dining room. That perspective and a tradition in folklore informed her art, which most often depicts women, sometimes fragile, sometimes whimsical, always feminine and mesmerizing, never rising to the formality of a portrait.

Girl with Lotus
"The women I paint are mostly imaginary," the artist says, "but a part of them are self-portraits. They can take different forms and be inspired by different personalities. That could be Marie Antoinette, if only she was more spiritual. Frida Kahlo sometimes. Maybe they represent the way I want to be, or the way I want to be looked at, adored." Some of them are inspired by her red-haired older sister, who died in her 20s and greatly influenced the artist. The newer ones draw their fire from her only daughter, who is quickly becoming a bona fide radical environmental activist.
"My style is a mix. I love diversity, culture, juxtaposing. It is eclectic, spiritual, naive, sometimes referred to as folk and colonial art."
— Matti Berglund
Women, layered in a variety of contexts with meaningful elements, are Berglund's artistic stamp. They look old-fashioned, without mimicking a particular style. They permeate the soul, without being literal in their appearance. Their image has evolved over the decades of painting, yet their essence has remained the same.

Embrace
Berglund describes herself as Norwegian, and American too. She arrived here at 19, determined to get a business degree from the University of Denver. Within a semester, she switched to art. As she was preparing to go back to Norway in her senior year, she met her husband. They married, had three kids and lived in multiple places, the last of which was Santa Barbara, California. He passed away five years ago, and she returned to Denver for good, telling herself that it was all or nothing this time with her art.
"Being an artist was different when I had a husband who made a good living," she shares. "Now it is my full-time job, and that comes with pride. I can make my living as an artist; my property taxes are due, and I can pay them all on my own."

Mermaid
Denver is also the place where Berglund found herself a real champion in Anuschka Pashel, who owns Bloom by Anuschka, a floral and home-decor boutique. "Only a year ago, I was working at 5 Green Boxes at Union Station," Berglund says. "I sent some of my info to Bloom [also located in Union Station] and got an email immediately from Anuschka. She remembered my art from many years before, when she had just started her flower business and could not yet buy a piece." As if it were meant to be, Anuschka became Berglund's rock, a grounding force that inspires, pushes and supports.
Berglund's trust in the universe and her love for it all inform her process. "There are layers and ghost images to my paintings. A lot of them are accidents. There is something special about having a willingness to leave it to nature."
Berglund's work can be found at Bloom and on her website, mattimade.com.