The Importance of Sustainable Architecture
Tips from the pros at Sopher Sparn Architects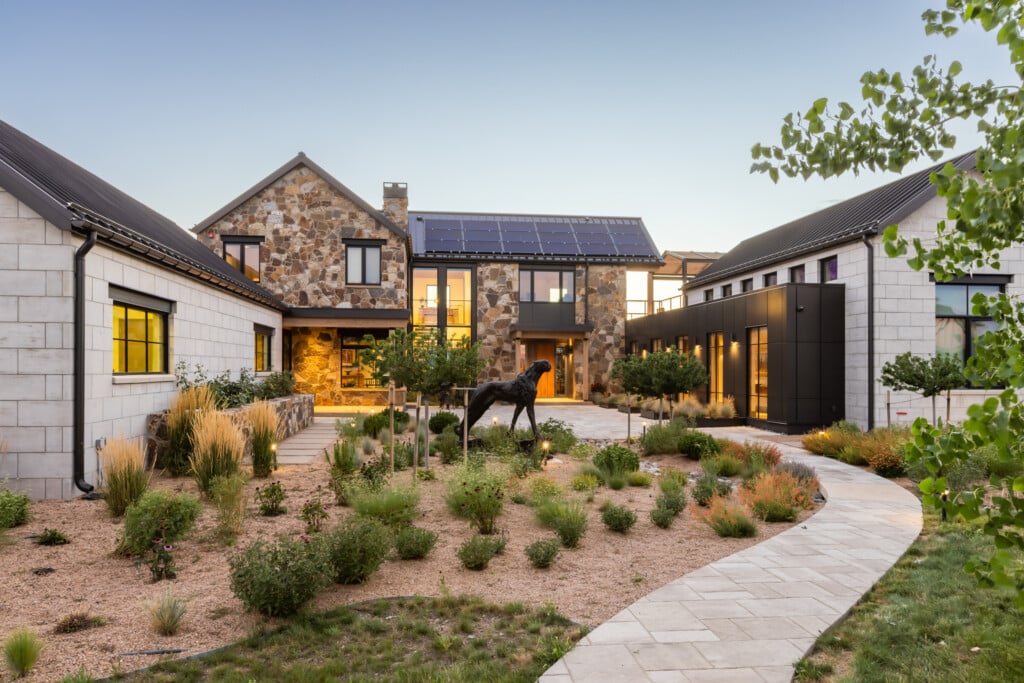 Sponsored Content
The urgency of sustainability in architecture cannot be overstated in today's precarious environment. Not only does sustainable design create buildings that reduce carbon emissions and generate zero energy (which in turn helps us do our part for the earth's wellbeing) it allows us to create buildings with longevity that withstand the test of time, reversing the trend of our throwaway culture.
Sustainable Practices in Architecture: Materials, Processes and Systems
The selection of materials makes a big difference in the sustainability of a design. For example, mass timber reduces carbon emissions and provides increased resistance to wildfires. Green roofs reduce building energy use by cooling roofs and providing shading, thermal mass and insulation. Interior material choices like non-toxic drywall and zero VOC paints and carpet are paramount to creating a healthy living environment.
In addition to materials, the processes we employ during building also contribute to positive change. For instance, onsite energy storage from solar panels makes use of natural light to offset electrical usage.
Finally, there are systems we can put into place that can make a huge difference. Grey water systems take excess water from inside the homes and reuse it to create an irrigation system outside the home to water flower beds and gardens, etc..
Benefits of Sustainable Architecture
Sustainable Architecture benefits homeowners (and all of us, really) in three main ways. Economically speaking, sustainably designed homes are designed with high performance in mind, which saves homeowners money. In addition to fewer maintenance costs, these homes have an average of just 10% of the energy costs of the average home.
With regard to health and wellbeing, a sustainably designed building uses substantially less energy and water long-term and is built using fewer chemically toxic materials, resulting in higher air quality and less toxic waste generation.
Finally, sustainably designed homes provide environmental advantages with increased resistance to wildfires and smoke exposure.
Examples of Sustainable Design
To help put all of this information into context, here are two residential projects we have worked on that are exemplary models of sustainable design.
Eagles Crossing
Aside from this home's beautiful exterior, what lies beneath is what is most intriguing: a sustainability plan designed to go below net zero and perform at an incredibly high rate. Working with the National Renewable Energy Lab (NREL), CSU Energy Institute, and The Rocky Mountain Institute, our team was able to derive a state-of-the-art sustainability system that ultimately resulted in a LEED Gold Certification.
These green practices include ground source heat pumps, a grey water system, solar panels, onsite energy storage, and a perimeter green roof just to name a few. To maintain a healthy home for its occupants, we added a whole house water filter system, indoor air quality system, and used environmentally friendly finishes and materials to reduce emission.
Jay Road Farm
This stunning Net Zero Energy residence was designed to connect the owners and their family to a unique piece of land. The 8,000-square foot house uses a super-insulated envelope, a wind turbine, on-site photovoltaics and solar hot water arrays to achieve its energy goals.
With a HERS rating of -22, it is one of the most energy-efficient buildings in Boulder County. The modern design creates an open, clean living space with contemporary features and amenities such as a home theater, pool and water slide.
In conclusion, the benefits of using environmentally-friendly materials and practices to design your new home are immeasurable. The industry is constantly evolving with innovations that not only help our planet, but produce strong, durable homes for families to enjoy.
Syd Berkowitz is the Marketing + Operations Manager at Sopher Sparn Architects, a Colorado-based architecture firm known for its innovative planning and design solutions. Their firm is unified by the integration of client values, commitment to quality design, sound construction and sustainable design principles View their profile or contact Sopher Sparn Architects at 303-442-4422.
Content for this article provided by Sopher Sparn Architects.