The Editor's House: A Love Story
Our Editor in Chief Kate Meyers moves into her best friend's house, honoring its essence while making it her own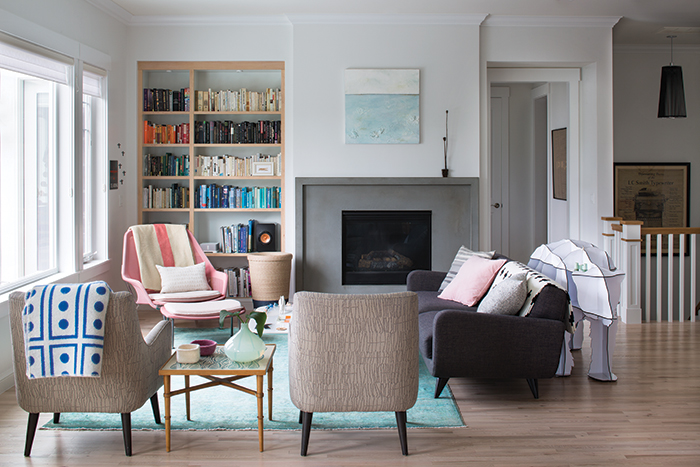 What do a Jewish girl from Pittsburgh and a Mormon gal from Salt Lake City have in common?
Turns out, a lot. Spunk, love of family, crazy dance moves, a weakness for caramel cheese corn, shopping and taking long walks while gabbing nonstop. I fell for my friend M.C. Vincent the moment I saw her dressed like a witch and stirring a magic potion complete with dry ice during a Halloween party for Mr. Harris' third-grade class at Coal Creek Elementary. Those daughters of ours are now in college, so it's been a while, but the girl crush abides. When I applied for the job as editor of this magazine and explained what I would be doing, M.C. said, "I don't know anything about it, but I'm stoked!"
In her exuberant, come-what-may-and-love-it attitude, she offered to be my middle-aged intern (for free). She came in on Tuesdays and helped with whatever was needed, but mostly she was a one-woman PR powerhouse, charming everyone, boasting about the magazine's greatness and serving as my date for industry events. We were so excited to watch the Anne Hathaway/Robert De Niro movie The Intern, only it wasn't nearly as funny, fun or true as we were.
One afternoon while waiting for the elevator after a long day at the magazine, M.C. told me she and her husband, Jeff, were moving back to Salt Lake City so they could be of more help to their aging parents. I tried to be controlled, but the tears had their way. After their house sat on the market for seven months, my husband, Scott, and I, who had come up short finding the right spot in Old Town Louisville, decided to have a gander.

The living room then—"Now" photo at the top of the article
It's a funny thing to walk through a house where you once lounged comfortably and joyously as a friend and peruse it as a buyer. The house had great light (a must for me) and views of the foothills, but M.C.'s style is more traditional than mine, and so was her house. Fortunately, all the things I immediately knew I would change were cosmetic. (See "7 things I believe in" below.)
The house already had a love-filled soul. From the moment they moved in, it had been a gathering space for loads of kids, family and friends. For dinners and sleepovers big and small. For celebrations, graduations and M.C.'s beloved Halloween parties. This house was about something. I wanted to inherit that and honor it. M.C., true to form, cried when I told her we wanted to buy it. We had the husbands negotiate because we would have been hopeless. Within a few weeks, the deal was done.
The house already had a love-filled soul.
We hired Tom Ramsey of WestMark Construction to oversee the renovation. Tom guided the redo of our old house, and he is a trusted friend. From closing to move-in, it was a three-month process. We were about 10 percent over budget, mostly due to some unforeseen landscaping issues. There will be more landscaping (we hired LeAnn Ostheimer from Lifescape to help us) in stages as budget allows.
We wake up daily amazed and humbled by the fact that yes, we get to live here.
I would say that our house is 80 percent done, and the other 20 percent will take a lifetime. You can't rush the patina of living, but my hope in the decorating process was to create a welcome, comfy space with great art and good humor where everyone felt welcome and had something tasty to nosh, a bed if they needed and Ping-Pong if they so opted.
My hope was to create a comfy space with great art and good humor where everyone felt welcome and had something tasty to nosh, a bed if they needed and Ping-Pong if they so opted.
So far we've hosted multiple Louisville Supper Clubs for 20-plus guests, had five or six family dinners with no less than 16 at the table and entertained gaggles of my daughter's CU friends. My gentile husband dished out the world's best brisket for a Rosh Hashanah that seated 25. And on it goes. M.C. and Jeff have a variety of guest rooms to choose from when they visit. I don't normally say a prayer before sitting down to a meal, but when I'm with them, I do. Because they have given me an example, because I'm so grateful for them and for our good fortune at knowing them and laughing with them and their children, and especially for the love that we share and so much desire for the world.

Living/dining space then

Living/dining space now
My dear friend Kate made the felted bowls on one of two matching side tables we found on 1stdibs. The blanket is ZigZagZurich.
We closed off the original foyer's wide doorway to create one long wall and added Granada tile for a more formal entry. The bench is Blu Dot. The vintage Mod Livin' chair was re-covered in patterned pink velvet. The oil painting is by Pamela Wilson; the felt antlers are by Boulder artist Maryanne Quinn.
The Steen storage cabinet is Room & Board, and the dipped portrait is from a print series by Oliver Jeffers. (I fell in love with the original on Pinterest.)
We love the feel and durability of our Krion kitchen countertops from Porcelanosa. All pendant lights are from Schoolhouse Electric. Counter stools are Crate & Barrel.
Scott was immediately drawn to this devil surfer by tattoo artist Don Ed Hardy from Boulder's 15th Street Gallery. It took me a while to warm to it, but I was won over. I love the tension this painting adds to my generally soft, happy art. The bar cart is a vintage Ikea design that has been with Scott for ages, and everyone appreciates its larder. We'll never afford a genuine Rothko, but that doesn't mean we can't love a framed print just as much.​
My husband says I'm one bunny short of a crazy person.
Kidrobot's Smorkin' Labbits (bunnies with cigarettes) became a relationship motif and are strategically placed throughout. The stuffed one on our bed was an anniversary gift. The downward-facing bunny was a move-in-day present. The coffee table is from BoConcept.
Our big splurge, the pink Vitra chair, came with us from the old house. The sofa and side chairs are from Room & Board, and the side table is from 1stdibs. We stumbled upon the polar bear bookcase (made in France) at Clic gallery in New York City. Longmont cement guru Taylus Schley created our mantel. The painting above it is by Golden, Colorado, artist Julie Havel and was purchased at the Cherry Creek Arts Festival. The bronze sculpture was a gift from a dear friend, sculptor Carolyn Olbum.

Everyone comments on the look and feel of our master bedroom flooring from Porcelanosa. The rest of the room is filled with items collected throughout our lives—quilts, posters, ceramics and a wooden ponga tree we hauled home from New Zealand.
7 things I believe in:
(what I needed for a design happily ever after)
When we were discussing the potential purchase of the Vincents' house, I told my husband, Scott, that in order to take it from traditional (their style) to modern with bits of cottage (our style), I would need the following.
1. LIGHT FLOORS. One of my many Scandinavian design loves is light floors. They warm me. We had the original dark oak floors sanded and whitewashed by Denver Dustless and changed out brown carpet for Linkfloor Oak White from Porcelanosa for our bedroom and my office. I love the whitish gray color and that it requires no maintenance, and guests always comment on how great it feels underfoot.
2. WHITE PAINT. Like sunlight, white paint elevates my mood. We tried about eight variations on a big wall to see how it looked morning, noon and night. Benjamin Moore's Decorator's White in semigloss prevailed.
3. STRAIGHT LINES. The fireplace, a stone and wood version with a curved bottom had to be removed, and we had Taylus Schley of Stones Design Co. in Longmont create a modern, linear cement mantel based on a drawing of my husband's.
4. NO TV IN THE LIVING ROOM, MANY BOOKSHELVES. I have never had a TV in my living room because it's not what I want going on in there. We are both book lovers, so we needed mass shelving for our treasured tomes. We ditched the built-in TV cabinet, and McCue Carpentry created new shelves based on a design by Scott. My friend Anuschka Pashel suggested I organize our books by color, and I listened.
5. ART, ART & MORE ART. We love art for so many reasons. Because it makes us happy every time we look at it, because it reminds us of our travels or a stage in our lives, and especially because it supports artists. The photo above (on MissPrint wallpaper) is by Australian photographer Prue Stent.
We fell in love with Michele Bryant's airplanes during a New Zealand adventure.
My office gallery wall includes cameos of my mom and uncle when they were kids, a photo of my grade school taken by my friend George Lange, my daughters' drawings and a picture of my dad's medical school class. I feel surrounded by a loving history.
6. WHIMSY. I love joyful surprises and a sense of humor, so framing unusual things—coasters, dish towels or the Japanese handkerchief (with bunnies!) above is one way to create that.
We liked the longhorn against the gray of our house because it was such a nontraditional statement on a very traditional exterior.
Batya Stepelman of WallTawk brought us a collection of wallpapers, and we fell in love with the bats and Venus flytraps from Flavor Paper.
7. PILLOWS, BLANKETS & QUILTS. I love having these every-where, all the time, for constant coziness, pattern and color. The owl pillow on the guest bed was made from a dress I wore when I was a kid.
Design details:
CONTRACTOR Tom Ramsey WestMark Design & Construction CABINETRY Jim McCue and Evan Anderson McCue Carpentry PAINTING Painting Plus of Boulder WALLPAPER MAVEN Batya Stepelma WalltawkSaveSave
SaveSaveSaveSaveSaveSaveSaveSaveSaveSaveSaveSaveSaveSaveSaveSaveSaveSaveSaveSaveSaveSaveSaveSaveSaveSaveSaveSaveSaveSave
SaveSave