Five Interior Design Trends To Make Your Home Your Own
Tailor your design to truly reflect your style and personality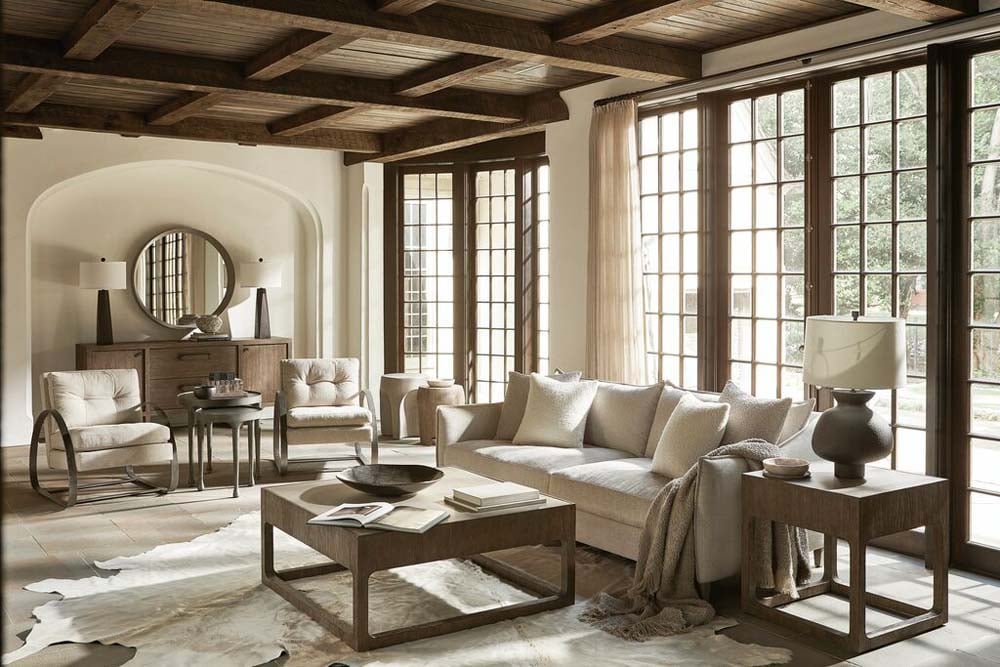 Sponsored Content
The design of your home is not just about function, it's also about form. Sure, you want your furnishings and accessories to be comfortable and serve the needs of your family and yourself. But you also want your home to be a true reflection of your story. It's about functionality and aesthetic.
Here, we offer five tips to refresh your space and create the sanctuary you're craving. From starting with a solid foundation to layering in unique details that make the difference, it's a formula for creating a relaxed, yet refined home unlike any other.
Layer in texture
To achieve a high-interest, multi-dimensional look to your home, layer in different materials, shapes, sizes, fabrics, and surfaces. Quality finishes bring depth, warmth, ambiance and a sense of uniqueness to your space.
The primary bedroom pictured above features a melange of warm tones in the same family but varying in intensity. The sumptuous mix of woods, leather, soft fabrics, a nubby sisal rug, upholstered headboard and mottled plaster wall finish create an earthy sense of tranquility and calm.
This living room space is a mix of light and dark layered together, with smooth and textured wood surfaces, a tufted leather sofa and sleek leather chair and ottoman, grounded by a neutral bohemian rug in the center pulling the elements together. The pinstripe appearance of the fireplace surround is mirrored in the striped appearance of the console to the left and in the backs of the chairs in the foreground.
Elevate your space with organic materials
What greater artist than Mother Nature? Bring the beauty of the natural world indoors with organic materials to create an earthy feel and honor the connection to the environment outside of your home.
The rich colors and intricate pattern of the wood console above, topped by gold and cream accent pieces, create a dazzling focal point at the entrance to this home.
And below, wood block set against a dark painted brick complement the striking custom entry table created from a giant tree root encased in a rectangular steel frame.
Soften your space with curves
For some reason, curves are just somehow friendlier, more inviting in a living space. People can gather comfortably and be part of the conversation. The soft curves of the sofa above, centered around the circular coffee table, are warm and appealing and the shape allows the sofa to be centered in the room, unlike the commonly seen arrangement of sharp angles of squares and rectangles pushed to the perimeter of the living space.
With a round table there is always room for more. Basking in the natural light of floor-to-ceiling windows, the table above features a sparkling metallic columnar base and is flanked by dining chairs with gently curved backs and upholstered in cozy boucle. A whimsical bubble chandelier hovers overhead, rounding out the space.
The sexy curves, sumptuous leather with basketweave stitching and unexpected details of these distinctive chairs would make a statement in any space. Each of them invites you to cozy up and envelope yourself in luxury.
Punch up your design with prints and patterns

Set amongst a backdrop of timeless neutrals, elements such as accent pillows and smaller upholstered pieces bring color and movement to a space. Layer in texture and interest with pieces that push the boundaries of your design. Try something unexpected, something unique, something that ties the elements of your room together.

Surround yourself with artwork that speaks to you
Sure, you could browse an online art shop for something affordable, something that "matches" your decor, something that is popular on every show and in every magazine. But that's not really the point of art, is it? The artwork you choose for your home should should be personally meaningful to you. It should reflect your experiences and express your individuality. Choose colors you love and pieces that not only serve as a focal point but create the ambiance you are trying to achieve in your home.
Brent Simon is an owner at Colorado Style Home Furnishings, a South Denver-based fine furniture showroom that offers over an acre of top-quality comfortable, sophisticated in-stock furniture and accessories. View their profile or contact one of their highly experienced design professionals at (303) 741-4240.
Content for this article provided by Colorado Style Home Furnishings.