Taking Center Stage: The Dining Room
Transform your space from a pit stop to a destination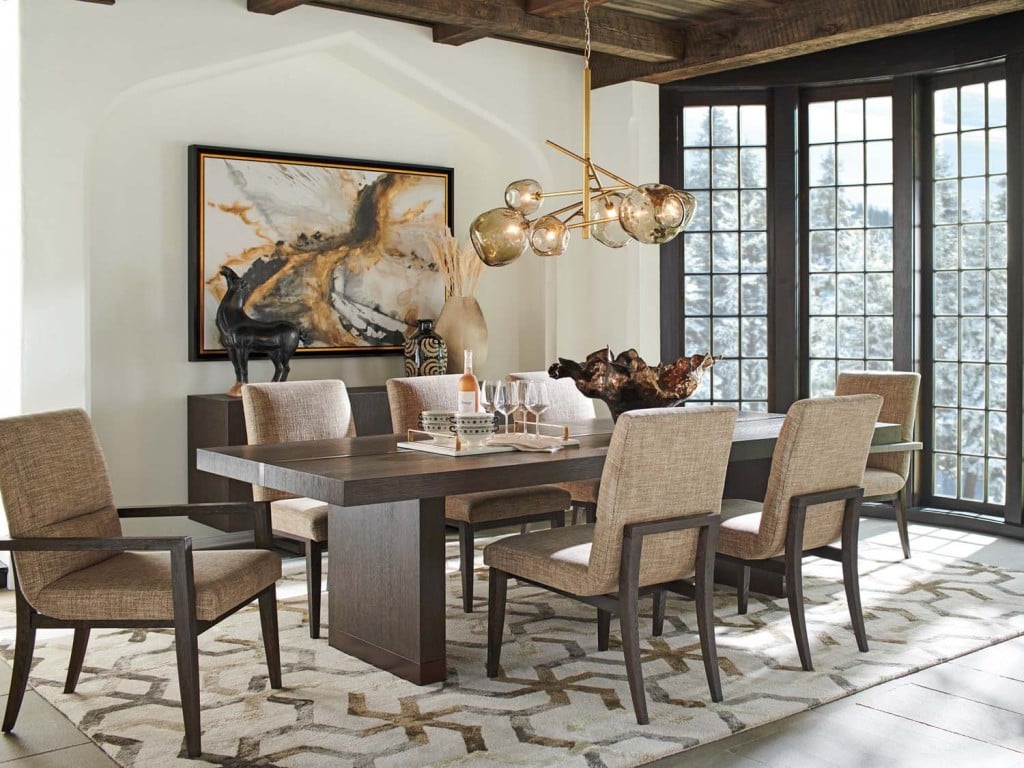 For a while there, our dining rooms seemed to be experiencing an identity crisis. During quarantine, they were no longer just lovely spaces to gather for meals and conversation. They became work-at-home spaces, homework zones, or worst of all, messy drop zones.
Thankfully, as life is getting back to normal, our dining rooms are being rightfully restored to their former status as an important gathering space for friends and family. With the holidays right around the corner, it's the perfect time to transform your dining room into a cozy, comfortable space that invites people to not only enjoy a lovely meal but to linger and chat and enjoy each other's company. Here are a few tips to help you make the transformation.
Ditch the matchy-matchy
Once upon a time, traditional matched dining room sets were de rigueur. But these days, people are opting for more of a mix-and-match approach, looking for ways to express their unique style and personality in their homes. A solid, quality table can be matched with a wide variety of chairs, from a wooden chair with a simple silhouette to uber-functional bench seating to upholstered armchairs you never want to leave.
Choose the right table
Your dining table is the centerpiece of the dining room—the place for meaningful gatherings with family and friends. It needs to work with the space, style, and functionality of your home. The most important consideration is making sure the table you choose fits the available space. You don't want a massive table that you can barely fit around. On the other hand, you don't want a table that's so small it is dwarfed by the space.
In addition, a dining table is an investment, so you want to make sure it is functional for a variety of uses. Choose a table that fits your family for everyday use with extensions to accommodate more people for parties and special occasions. As far as style goes, the sky is the limit. Dining tables come in a variety of shapes (round, oval, rectangular) and materials. There are many varieties of wood to choose from—maple, walnut, cherry, etc.— with finishes that add depth and character to the space. Or try something different— concrete, stainless steel or stone. The important thing is to find the table that speaks to you and fits the vibe of your home.
Add comfortable dining chairs
Choose dining chairs tailored to your style and personality, not just ones that match your table. Mix mediums. Try something unexpected. Look for unique options tailored to your aesthetic. Comfy chairs upholstered in pretty fabric or sumptuous leather invite guests to linger instead of pushing away from the table in search of a more comfortable setting. Bench seating topped with a cozy cushion allows more people to gather around in an intimate setting.
Create texture
As you design your dining room, layer pieces in to create texture. Think of European homes that collect furniture and accent pieces over a long period of time as inspiration. It's easy to replicate a furniture store showroom, but your home will feel more authentically "you" if you choose elements individually and purposefully.
Add lighting and artwork
Nothing sets the tone for a fabulous meal like lighting. Center your space with a fabulous chandelier overhead to give the room a glow. Add side lamps to your serving buffet for softer, cozier light. Personalize your dining room with artwork that invites you in—colorful paintings or prints, panoramic photographs, beautifully framed textiles—whatever brings you joy and expresses a bit of your individuality.
Ground your space
Finally, anchor your dining room space with a fabulous area rug, one that warms up the space and makes the space inviting. Choose a flat fiber for easy cleanup or go big with a fluffy shag for ultimate comfort underfoot.
Brent Simon is an owner at Colorado Style Home Furnishings, a South Denver-based fine furniture showroom that offers over an acre of top-quality comfortable, sophisticated in-stock furniture and accessories. View their profile or contact one of their highly experienced design professionals at (303) 741-4240.
Content for this article provided by Colorado Style Home Furnishings.