Ski Queen for a Day in Crested Butte
Basking in the royal treatment at Scarp Ridge Lodge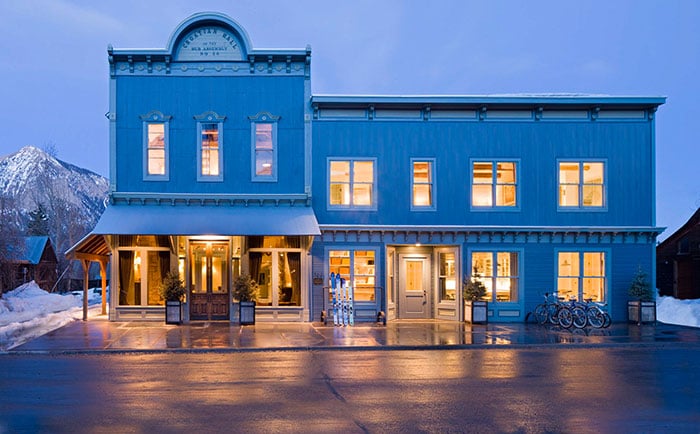 I'm frazzled and frumpy after the long drive to Crested Butte, but everything changes once that door opens. Blinking the winter glare from my eyes, I'm embraced by the soothing atmosphere of Scarp Ridge Lodge. Is there some sort of mountain fairy godmother waving a wand around here? Because even my champion grade stress doesn't stand a chance in this place: The luxury is laid-back, the lighting is soft, colors are muted and sounds are hushed.
And that's particularly ironic, given that Scarp Ridge Lodge is one of the globe-spanning Eleven Experience properties, named after the famous eardrum-shattering "11" amplifier setting from the comedy classic, "This Is Spinal Tap." In this case, however, the super-elevated rating refers to accommodations, amenities, activities and customer service that push excellence above and beyond.
For starters, Scarp Ridge Lodge is knock-your-woolly-socks-off beautiful. It's the result of a complete re-imagining of an 1885 saloon and dancehall originally built for Crested Butte's Croatian miners. Interior spaces are understated and casually elegant—plenty of plush seating, fresh flowers and reclaimed hardwood floors scavenged from a Kentucky farm. The décor is an easy and eclectic mix of quintessential alpine (elk and moose antlers, of course), up-to-date natural-fiber neutrals and weathered antiques laden with time-worn charm.
With a smiling staff in matching black ski jackets poised to take care of my every last need, who am I to argue? It's time to leave the real world behind and settle in for the enchanted ride.
First rule? You rule. Thirty days before you arrive, an Experience Manager will contact you to completely personalize your itinerary. Ice climbing? Sure! BBQ at the top of a mountain? No problem. The Eleven Experience team once orchestrated a guest's birthday party that included a customized 4th of July parade float and backcountry ski excursion all in the same day. Your wish is their command.
An upscale locker. The chic minimalist cubbies are a far cry from your rusty, malodorous high school memories. With ample dry space to stow damp jackets and soggy mittens, they're also equipped with boot warmers and a cork board for pinning personalized welcome messages. The staff leaves a surprise gift for every guest too.
Stunning suite, swag-a-go-go. Five spacious king-bedded suites offer sophisticated comfort in pale wood and linen, with book-bedecked sitting rooms and vintage mining-era accessories. The minibar is beyond: with fresh, local and uncommon foods, including a delicate selection of charcuterie and cheese in tiny glass jars. Bathrooms are spa-like, with heated Belgian Bluestone floors, a glass-walled steam shower and a deep and decadent tub. The medicine cabinet is stocked like a hipster apothecary's dream, from green-tea-infused dental floss to beard lube. Best of all: The staff flips the switch on a supplemental oxygen supply during the nightly turn-down service to help guests manage the effects of the altitude.
Bunkroom nirvana The design of the labyrinthine, 3-level, 7-bed slumbertopia was inspired by the game Chutes and Ladders, and it's really almost too much fun to fall asleep in. Equipped with Legos and Xbox, the scene is set for the ultimate high-country pajama party.
Amenities at every turn. Guests are encouraged to roam freely throughout the lodge, as in a private home. There are fireplace-warmed lounges upstairs and down, a chalkboard-walled and toy-filled kids' playroom, and a media room for cozy movie nights and slideshows of your day's exploits. The spa features a saltwater pool with an underwater sound system, a sauna and steam room. And there's a copper rooftop hot tub ideal for stargazing. A personal chef prepares breakfast and lunch each day, with dinner add-on available by request. Healthy snacks and a wide range of beverages are stocked in cleverly concealed lobby fridges.
Your snow cat awaits. Wake up in the morning and wonder what that rumbling noise could be? It's the backcountry version of a royal carriage: a giant Tucker Sno-Cat waiting to whisk you off on a dream day of skiing. Going up is an adventure in itself. The Cat is both beast and beauty, customized with leather seats, reclaimed wood accents and a movie screen. A mere ten miles (and 45-minute ride) up into the Elk Mountains, you reach the remote outpost of Irwin, a former silver mining boomtown. Base camp for the day, at 10,400 feet, is the perfectly adorable log Movie Cabin, originally built for The Adventures of the Wilderness Family in the 1970s. The staff brews espresso while guests put on their ski boots, and they serve a gourmet lunch here too.
The guides are exceptional. As the only snow cat ski service accredited by the American Mountain Guide Association, Eleven Guides know what they're doing. Friendly, patient and professional, they even managed to calm my nerves as I strapped on an avalanche beacon. With low guide-to-guest ratios, skiers of varying skill levels can rest assured that they are in good hands. They make it possible for guests to experience best-in-a-lifetime skiing—catching air off a rocky ledge, swishing between trees, or cruising through smooth and sparkling bowls.
The skis are bespoke. Eleven provides Placerville, Colorado-made Wagner powder skis, custom-designed for the terrain at Irwin.
The snow, the snow, the snow. Irwin is uniquely situated to receive a freakish abundance of light and fluffy "cold smoke" powder. With 600 inches of average annual snowfall, and over 1,000 acres in which to play, this is the place for true snow connoisseurs.
Magnificent peaks. During the day, the Cat ferries ski groups back and forth, and the views from Scarp Ridge are incredible. From the highest point, at 12,300 feet, you get a dazzling 360-degree panorama of surrounding 13-14,000-foot peaks.

The Movie Cabin
Happily ever après. Celebrate the day with a frosty craft beer at the Movie Cabin or during the limousine-licensed Cat ride back to the swanky cocoon of the lodge, where guests are greeted by zesty Turmeric Ginger Elixir shots, tasty hors d'oeuvres and a private bartender poised to create custom cocktails.
TURMERIC GINGER ELIXIR:
(A magic potion of vitamin-C-rich, anti-inflammatory, superfoods formulated by Scarp Ridge Lodge's in-house chef, Brittany Pankey, to help restore aching muscles and boost energy levels. Provided courtesy of The Eleven Experience)
Ingredients:
Ginger
Turmeric
Honey
Lime
Black Pepper
Chia Seeds
Spindrift Lemon Sparkling Water
Thyme
Instructions:
Place 2 ice cubes in a small glass
Stir together lime juice, turmeric, honey, black pepper, chia seeds, and ginger and pour over the ice cubes
Top off with Spindrift (or soda water)
Garnish with a lime and 2 thyme sprigs
IF YOU GO:
Full Experience winter pricing (for the entire lodge, including breakfast, lunch, all activities and at least one day of professional photography) starts at $17,180, based on a 10-person occupancy. Detailed pricing and summer rate options available by request. Elevenexperience.com
SEE ALSO:
The Periodic Table of Ski Resorts
A Denver Staycation in Style
Cozy Up in These Luxury Winter RentalsSaveSaveSaveSave
SaveSave