Roger Reutimann's Striking Sculpture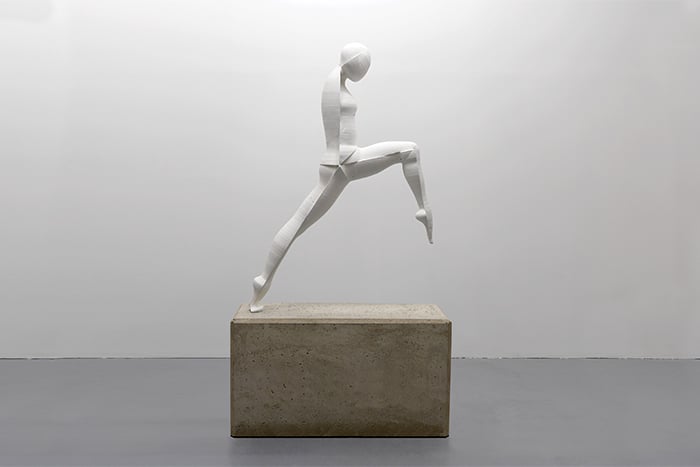 "I grew up in Switzerland in a tiny little village away from civilization, very stuck in the Middle Ages," says Boulder artist Roger Reutimann. "To get to school, I walked through forests, over two hills and [past] a castle." Reutimann spent his childhood in a 400-year-old farmhouse with three generations of family, playing classical piano and building sets for school drama productions with tools borrowed from his father, who owned a construction company.

The artist puts the finishing touches on Perception #5.
It took the 56-year-old artist almost four decades to re-create the part of his life he so cherished—tinkering and building—but this time in the mountains of Colorado. His 2,300-square-foot warehouse studio in Boulder doesn't necessitate a walk through the woods but rather a 12-minute drive from his Table Mesa neighborhood and the 1960s, remodeled split-level he shares with his partner, Jon Kolaska, and their two yellow labs, Sky and Loki. Both front and back yards display a sampling of Reutimann's striking sculpture.
The path in between these bookend settings included multiple careers and twists of fate, including stints as a chef, a portfolio manager and an art fair executive, before Reutimann found his way back to art in 2006. The first step in that process was a serendipitous decision to enroll in a sculpture class. Walking into the light-filled room on the first day, the stars aligned. "That's where all my childhood experiences came in," he says. "I loved it."

Perception #18
"There is no single truth. There's only perception. That's the whole point of these sculptures." — Roger Reutimann
Reutimann is now a full-time artist, spending his days welding, fabricating and painting human-like sculptures, some as tall as 16 feet, that shape-shift as you walk around them. The chiseled, 6-foot-7 sculptor speaks with a Swiss/German accent as he explains his love affair with the "inexhaustible subject of the human figure." His first sculptures were inspired, he says, by his desire to perfect that figure. More recently, though, his pieces have evolved to play with perception. They look human from one angle—a ballerina on pointe, a person captured in a yoga pose or running through space—only to become an amalgam of geometric bits from a different side, all a nod to his love of cubism and his fascination with the different ways in which people see things. "I reached a point where I no longer saw an improvement in my artistic development," he says. "I began to minimize details and focus more on essential lines that describe an abstracted figure."
His excruciatingly detailed process involves sketching; building a maquette (a 1-foot preliminary model); engineering a steel structure that's strong enough to hold hundreds of pounds of clay or plaster; assembling that material onto the steel structure; and then sculpting it with a chisel, a rasp or one of the many "woodworking tools I'm used to working with from childhood," he says. "Once that's done, I make a silicone mold, which ends up being the most valuable part of the whole structure. My molds never leave the studio."

Perception #2
Reutimann then pours wax into the completed mold, and it's that hardened wax shape that he sends off to a foundry in Loveland to be cast in either bronze or stainless steel. Additionally, he says, "I can use those same molds to make fiberglass casts, and those casts I make myself." The final step is painting his sculptures with candy-colored, high-gloss automotive paint. Ninety-nine percent of his pieces get spray-painted over a meticulous, five-step application. "I love color and how durable automotive paints are. I just love a perfect finish because it can elevate a piece of art."
Near the studio entrance sits a rather large pile of metallic body parts—hands, heads—which Reutimann refers to as his sculptural graveyard. "They are parts of sculptures that have not been cast or are waiting to be welded," he says.
There's a solitary photograph taped on his wall—Reutimann backstage at a Denver concert with music legend Elton John, looking very much like the über celebrity he is in dark sunglasses and a floral tuxedo jacket. It seems John's longtime manager saw Reutimann's work in a London gallery and thought Adam and Eve and Homage to Michelangelo would appeal to Sir Elton. They did.

Common Unity
The piano player is not alone. Reutimann's Perception #9 stands in the grandiose lobby of The Ritz-Carlton Chicago, and Coco Rocha, a Canadian-model friend who was visiting him, became the subject of Perception #2, which decorates the offices of the royal family of Dubai, as well as a Royal Caribbean cruise ship. The 6-foot-7-inch-tall hunter-green gem looks a bit like a dancer in a Bob Fosse-choreographed move from the front and a curiously beautiful but unidentifiable shape from other angles. Says Reutimann, "Only the front view is showing the silhouette of the figure. The left and right views are abstract. I always wondered how it's possible we all look at one object and have completely different experiences. There is no single truth. There's only perception. That's the whole point of these sculptures."
Reutimann's work is represented by the William Havu Gallery in Denver, as well as galleries in Miami and Palm Springs, California, and private art dealers in Michigan and London. Five of his Perception pieces were recently exhibited as part of Neo-Cubism: A New Perspective at Boulder's Dairy Arts Center. His next show will be this summer in Mykonos, Greece.
SEE MORE:
www.rogerreutimann.com
SaveSave