Piecing It All Together
Abstract artist Kate Petley invigorates the senses with her current collection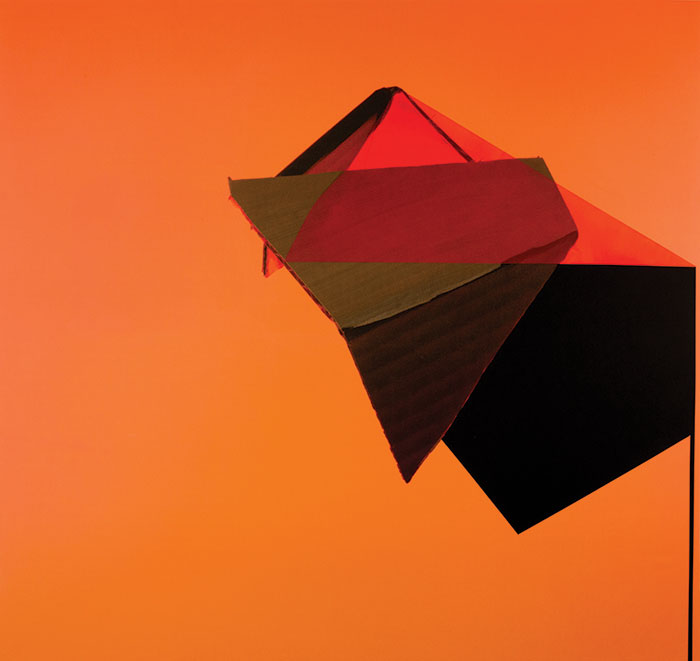 "Transformation lies at the heart of my work," says New York-born, Texas-bred artist Kate Petley. Head-to-toe chic—from her sophisticated bob to silver tennis shoes—Petley is an intriguing combo of intense and welcoming, with a contagious passion for her work. Her art is a mélange of colorful geometric shapes, jutting angles and overlapping folds. Paramount to her purpose is the exploration of the luminous surface and the response it evokes from viewers, particularly in our image-overwhelmed culture.

Artist Kate Petley in her studio.
To achieve her vibrant pieces, Petley blends sculpture, photography and painting. First, she fashions an arrangement of scraps—think junky pieces of cardboard, folded paper, messy pieces of tape—materials with no story of their own to tell. "The materials are empty, which allows me to impose whatever I want on them," she says. Once arranged, the work is lit and photographed, and then enlarged and printed onto canvas. Finally, Petley intuitively adds touches of paint to the canvas surface, anchoring shapes to the photographic image. "I may paint very minimally or every inch—it just depends on what the image needs. If I don't feel like I can make it better or change it in a way that's going to change the viewers' perception and really push on the way they feel, then I'm not going to do it."

Evenly Matched
After years of focusing on large, complicated sculpture made from found materials, the seed of inspiration for her current work was planted during a collaboration in which a slide projector was used to project colored patterns onto large fiberglass vessels. The result, in Petley's words, was stunning. "I wanted to find a way to freeze that color—that really intense, luminous, saturated light that kind of knocks your socks off, that you just really feel," she recounts.

Almost Falling
I wanted to stop that and hold it." Soon after, she began experimenting with plastics, resins and fiberglass. Years later, another collaboration introduced her to the possibility of marrying photography with her work. "Fast-forward almost 30 years," she says, "and I've drawn them all together—the sculpture, the found materials, the lighting, the saturated color and the painting. It's all there."

Fold #9
Petley earned her BFA from the University of Utah, and it was there she fell in love with the mountains, skiing and a healthy, outdoor lifestyle. Post-college, she returned to Houston and in 1987 dove "all-in, full-time" into art. "Houston's art scene was amazing—wild, open and experimental," she says.
But in 1999, after more than a decade, Petley and her husband decided it was time for a transformation of their own and moved to Colorado—first to Pagosa Springs and then in 2008 to a beautifully renovated, 1970s bi-level home/studio in northwest Longmont. "We sacrificed a lot," she says, "but most artists do what they have to do in order to protect their work and their ability to keep working. That becomes the real focus."
Find more of Kate Petley's work at katepetley.com, on Instagram @katepetley and at robischongallery.com.