Nate the Great: An Exclusive Interview
How celebrity design guru Nate Berkus keeps it personal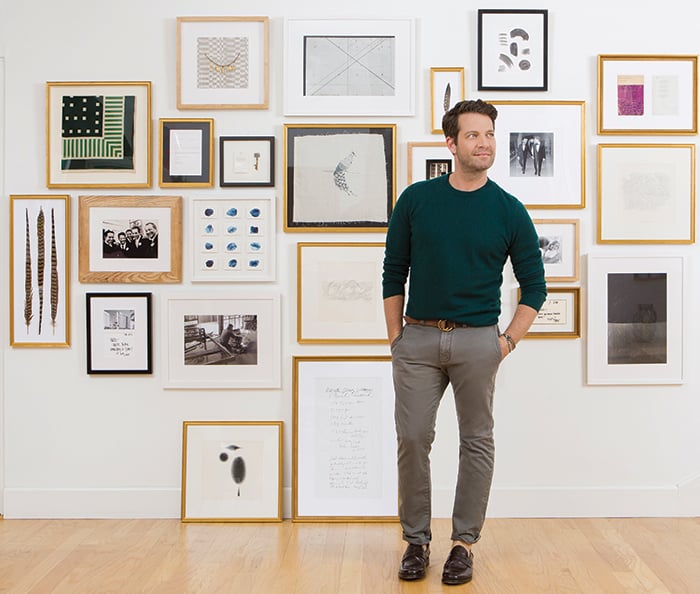 Nate Berkus' first design project was fueled by teenage angst and mazel tov. As a bar mitzvah gift from his interior designer mother, 13-year-old Berkus transformed the unfinished basement in their suburban Minnesota home into his room, a present that granted him free rein over its aesthetic, as well as privacy from his "messy, filthy, horrible little brother," who he admits is now a close friend. Inspired by an early-'80s punk phase, his palette of black, gray and red quickly lost its luster, but the project planted the seed for a design philosophy he upholds more than 30 years later: Your home should tell your story.
Since founding his eponymous Chicago-based design firm at age 24, Berkus has risen to the top of TV design personality fame with this governing principle in tow. Via The Oprah Winfrey Show, American Dream Builders and, most recently, TLC's Nate & Jeremiah by Design—co-starring his husband, Jeremiah Brent, who is also an interior designer—Berkus has helped hundreds of clients create spaces that reflect their individuality. To boot, he has authored two books and created decor and textile lines for Target and The Shade Store, and his firm recently debuted on the 2018 AD100, Architectural Digest's annual list of the world's top architects and designers.

A Seattle home designed by Berkus' firm, Nate Berkus Associates. [Photo: Christopher Dibble Photography]
When did you know you wanted to be an interior designer?
My first real job was at an auction house in Chicago, and I was a terrible assistant. In fact, the woman I worked for would go into the owner's office and cry and say, "Please fire him. He's terrible." But instead of firing me, [the owner] Leslie Hindman decided to challenge me by putting me in charge of a series of monthly auctions of decorative things. So I found myself going into people's homes and saying, "If you move the sofa away from the wall three feet, you could have [room for] this beautiful bookcase coming up in my auction on Saturday." It was natural for me to walk into a space and want to reorganize it. I'd always been sensitive to the value of each item in a room, so it just felt like a really natural step.
Where did your love for antiques and flea markets originate?
Growing up with a mother who was a designer meant that we would go to estate sales and auctions and antiquing to look for things. It really began a lifelong desire and joy for the hunt and the discovery of something of value in a place where you wouldn't expect to find it. One of the reasons our firm uses probably 80 percent either vintage or antique furniture and lighting in any given project is that it's just so much fun for me to look for.

Swatches from Berkus' collaboration with The Shade Store.
What matters most to you in your current living space?
I've always had the same priorities. It's always been people, then pets, then things. Everything in our L.A. home has a story, and we're connected to it. There's a pair of handwoven photographs of Joshua trees by my late partner, Fernando Bengoechea; if I had to say what had the highest emotional value, it would probably be those. When I look around, every room tells the story of who I am and who I've been, who I've loved, what I've seen, where I've traveled, and also a little bit of where I hope to go.
How does having a 2-year-old alter your space?
When I was a kid, there were rooms we were taught to respect from a very young age. So the idea of completely removing everything fragile or of value was not how we were raised, and it's not how our daughter, Poppy, is being raised. We're teaching her that certain things are hers and certain things are Daddy's. That said, I'm a neurotic parent. I'm not going to pretend that I didn't look around our home and glue foam corners on everything. So it shifted a bit, but it didn't shift us away from living with the things that we really loved.

A dramatic dining room doubles as a gallery in a Los Angeles stunner  designed by Nate Berkus Associates. [Photo: Roger Davies]
"I hate trends. I think they're designed to make us feel bad about what we bought last season." — Nate Berkus
What's one design trend you'd like to see fall by the wayside?
So here's the thing—I hate trends. I think they're designed to make us feel bad about what we just bought last year or last season. And you know, our homes are not fashion. It's a device to make us want to buy stuff and sometimes get rid of the stuff we love. I love the idea of a home evolving over time. You should be adding layers that complement what you already have instead of looking around and feeling badly that you don't have what's on the cover of every magazine at the moment.
What does every room need?
Something vintage or old, something that holds a meaningful story, and something that was just a little bit more expensive than you wanted to pay, because when you buy something that you really love for your home, you have it forever, and usually the things that we really love are just that much out of reach. When you buy something you really adore, you'll always find a space for it. I have things in my Los Angeles home that I had in my first apartment in Chicago, 20 years later.
SaveSave