Modern Christmas Trees
Matt Bliss' tribute to his grandfather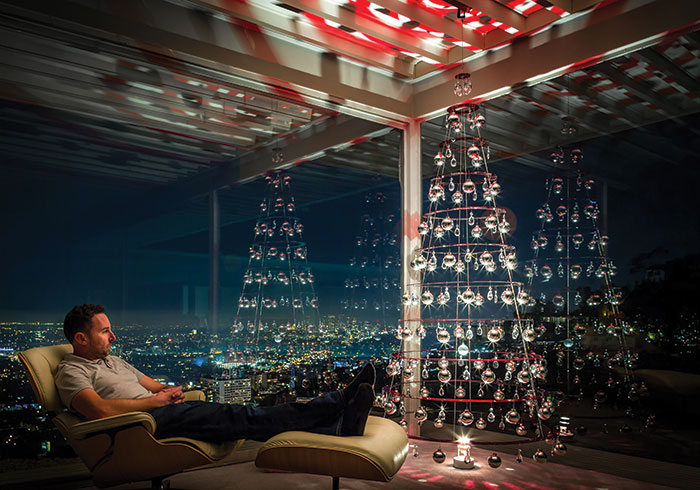 Entrepreneur Matt Bliss sports two forearm tattoos, one of his late grandfather and one of a Christmas tree. They serve as a visual accompaniment to the story of his late grandfather Lawrence "Bud" Stoecker. An engineer and architect by trade (and, according to his grandson, a humble, creative genius with a great sense of humor), Stoecker designed his first Christmas tree for his wife, Lollie, and their five children in 1966.
Constructed from a series of concentric cardboard rings held together by wire and suspended from the ceiling, the tree dazzled with shiny ornaments, colored lights and tinsel. Over time, the materials evolved from cardboard to Masonite to plexiglass, and each year Stoecker used different embellishments to ensure that every tree was completely original.
"All of our Christmases were spent in Broomfield with my grandparents," says Bliss, a 44-year-old Colorado native. "And for me, the tree was the highlight. I remember my brother and I lying on the floor with our heads tucked under the tree, looking up in wonder as my grandpa rotated the tree above us."
When Stoecker was diagnosed with Alzheimer's in 2010, Bliss wanted to carry on his grandfather's tradition. "I started my business, Modern Christmas Trees, as a tribute," he says. "It's been a unique way to honor my grandfather and share his legacy with families all over the world." Stoecker passed away in September 2012, and Bliss was granted a patent on the original design a week later.
Inspired by midcentury-modern design, Bliss's current iteration comes in four sizes and colors. All include sleek, glass chandelier crystals and acrylic rings. Even better than a star on top, the finishing touch on each tree is grandpa's signature engraved on the bottom ring.