Meredith Feniak: A Long Time Blooming
A circuitous journey led this Denver native back to her roots and eventually to her calling as a botanical artist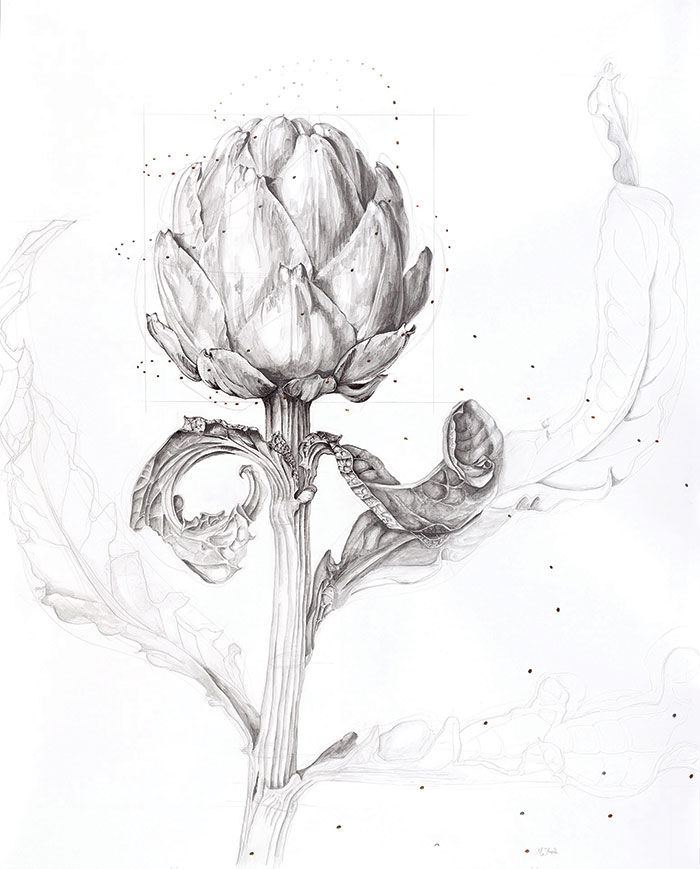 If a cat has nine lives, Meredith Feniak has had at least four. After working as a model, headhunter and elementary-school teacher, she found her sweet spot as a botanical artist just five years ago. And she'll be the first to admit it was a bit of an Elitch Gardens thrill ride getting there.
Growing up in the Hilltop section of Denver, the daughter of a potter mom and architect dad (and the granddaughter of a dollhouse maker and composer), Meredith relished drawing and painting, dancing with the Colorado Ballet Academy and sewing her own Halloween costumes. But she never craved a creative life. "From as early as I can remember, I wanted to be a mathematician," she says, pouring homemade chai tea in her hip, turn-of-the-21st-century Capitol Hill home and studio. (Chai, her cardamom-colored Australian cattle dog mix, lolls nearby.)
Post high school, Meredith enrolled at Boston University but was soon disenchanted by her prerequisite classes. After just one semester, she returned home and happened to be spotted by the owner of a Greek modeling agency in a downtown elevator. She immediately struck out for Athens, then Tokyo, and in just six months earned enough money to finish her studies at New York University, ditching math for education. She worked for a year as a Manhattan headhunter, then landed a position as a third-grade teacher in Morristown,
New Jersey, and married her college sweetheart, Jonathan.
And then September 11 happened. Jonathan was working as a supervisor for a delivery company, and his territory included the World Trade Center. That morning he happened to be in Lower Manhattan and called Meredith immediately. "The phone rang in my classroom, which had never happened in six years," she says. "So I knew he was OK, but it took him a long time to get home. He finally just walked through a tunnel, still covered in dust, and I got pregnant that night with twins." Twin boys, it turns out, who are now 15 years old.
The family returned to Denver in 2008 to care for Meredith's mother, who had cancer. "My mom said, 'You need to get back into art.' I think she knew that I was going to need something healing," says Meredith.

Cactus
Eventually Meredith stumbled upon the Denver Botanic Gardens' School of Botanical Art & Illustration, and it was kismet. "My mom was a flower gardener," she says, "and plants were a comfort thing, just all good vibes." She calls the local art school a "hidden gem" because they have not only drawing classes, but also classes in other mediums, such as watercolor, colored pencil, acrylic painting and egg tempera. "I think quite a few people steer clear of it because it's plants," she adds, "but it's one of the few programs in the United States where you can graduate with a certificate in botanical illustration. I loved it."

A Longer Now
Just two years after graduating, Meredith has covered some major artistic ground. In addition to illustrating seed packets for Botanical Interests of Broomfield, she creates botanical art on silk canvases using a handcrafted concoction of pure carbon and mica. She has also gilded private clients' homes and Bloom by Anuschka's storefront windows in Cherry Creek, created a mural for Next Door restaurant in Union Station and exhibited her botanical work across the Mile High region.

A Softening
How to explain this rapid-fire success? "Two things: I was in the right place at the right time, and I never said no," she says. "If somebody asked me, 'Can you gild glass?' I'd say, 'Yeah!' And then I'd run home and research the heck out of it." Next on the docket: a large installation and work for sale at The Center for Visual Arts on Santa Fe August 4 – Oct. 21., a new crop of paintings at Bloom in November; and creating a life-size drawing of a tree ("let's see if I can go big!") by combining illustration, painting, metals and embroidery. "My problem right now is, how do I execute it?" she says.
Like her twisty route so far, she will surely figure it out.


Images of works in progress from Meredith's Instagram feed. The artist works mostly with metals and paints prepared by hand.
Paintings range from $900 to $5,000, meredithfeniak.com, Instagram: @meredith_feniak