Love & Cool Shoes
How a passion for sustainable footwear and old-school production turned into a family business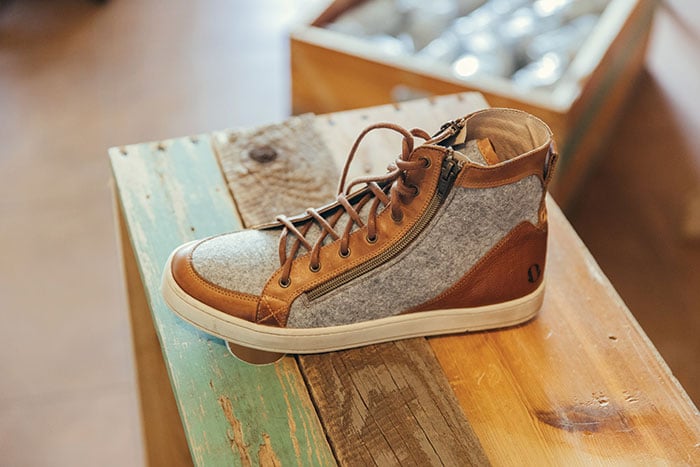 Mike and Angilina Taylor spend their spare time questing for jazz music festivals, hitting the ski slopes and finishing each other's sentences. The rest of the week, these parents of two boys, Huck (3) and Duke (6 months), work out of their Carbondale home, designing high-style, hand-crafted shoes.
Their brand name, 5028 (pronounced Fifty-Twenty-Eight), was the address of Angilina's grandparents, who ran a mom-and-pop hardware company out of their home in Santa Barbara, California.

Angilina Taylor, Mike Taylor, Duke (6 months) and Huck (3) embrace the mountain lifestyle of Carbondale in their free time. "We love camping, hiking and being outdoors together. We are big travelers, so we've kept our kids on the move quite a bit," Angilina says. [Photo by Elliot Wilkinson-Ray]
"My grandpa is my biggest role model," Angilina says. "It was an inspiring environment, so I was kind of paying homage to that."
Mike and Angilina's partnership didn't begin with business. The two met through mutual friends at the 2005 New Orleans Jazz Festival. Years of friendship passed, and Angilina found herself working full-time in Long Beach, California, designing shoes for Taos Footwear, while Mike held multiple sales jobs in Boulder and Denver. By 2015, a long-distance love turned into a 303-marriage. Angilina, ready to leave the assembly-line mentality of her job, moved to Carbondale with Mike.

Men's First Love suede chukka boot starts at $165. [Photo courtesy of 5028 Shoes]
"Once you start making 150,000 pairs of shoes or whatever it is, the craft kind of feels like it's lost in that somehow," Angilina says of her days working with big brand names like Teva, The North Face and Oakley. "Working in Europe is much more like returning to the craft, like what a cobbler is. This is an art form, whereas before it felt really far removed from it."
The couple decided to merge their skills and came up with the eco-friendly concept that is 5028. The company launched in October 2017, based on the idea that timeless, unique footwear can be thoughtfully produced with a price tag below $200. Each shoe is curated from leather, felt wool and textiles that Angilina handpicks from family-owned factories in Portugal and Spain. Practicing an approach called upcycling, Angilina selects from dead-stock materials left over from large or canceled orders.

Fabric Samples Apart from enlisting occasional outside help for marketing, the company is solely run by the couple out of their Carbondale home. "We have a designated office space where we design and hold meetings, but our garage is our warehouse," Angilina says. [Photo by Elliot Wilkinson-Ray]
The pair adopted a pledge-to-buy website, which allows them to source a more exact amount of supplies needed—a demand-focused, less-wasteful approach. For each purchased order, the Taylors donate $5 to mental-health-support nonprofits.

Women's Reprise upcycled leather sneaker starts at $145. [Photo courtesy of 5028 Shoes]
Day to day, Angilina handles the creative process and Mike takes on the entrepreneurial side by attending pop-up events and artisan fairs and engaging in social media to market their shoes. Both travel to Portugal and Spain to meet with the cobblers who execute their vision.
"Working in Europe is much more like returning to the craft, like what a cobbler is."
— Angilina Taylor
"From handoff to sample, it usually takes about six weeks for it to arrive. Then we pick the products we want to launch," Angilina explains. "In between visits to the factories, we email about new ideas and use the pictures or swatches we've brought home to communicate our new design ideas."
A current favorite for the couple is The Walrus, a men's high-top, leather sneaker that is also one of their most popular in stock.

Men's best-selling, no tie (note the side zipper) The Walrus shoe starts at $185. [Photo by Elliot Wilkinson-Ray]
"I love these kind of shoes with double zippers, so you don't have to tie them—you can zip them on and off," Mike says. "It's always the one that gets picked up by people walking by, who are like, 'Whoa, this is cool.'"
The pair's design playbook includes a wide range of styles for women, from ultrachic, hand-painted, embossed leather booties to super-casual nubuck sneakers. From jazz to love to footwear, these two bring plenty of old soul to the equation.
Peruse the collection and place your orders at weare5028.com.