Le Méridien Hotel
Feminine French accents and "ski couture" flair make this downtown Denver stay a stylish one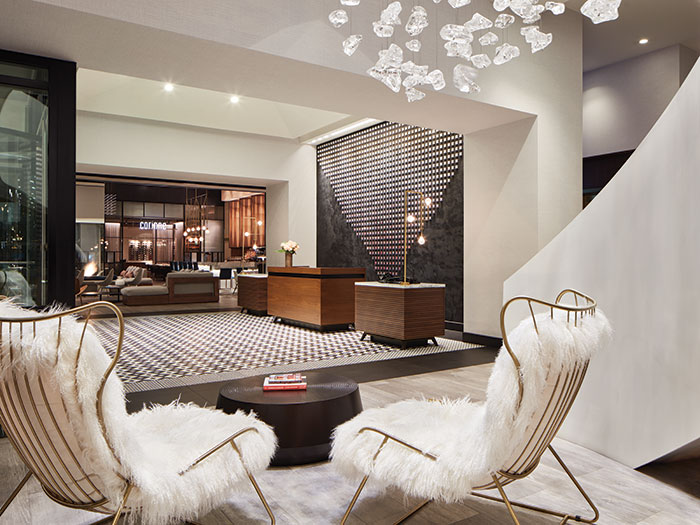 She's a lovely lady, Le Méridien, and that's just the way she was intended to be. The design company behind one of Denver's newest boutique hotels, Simeone Deary Design Group, drew inspiration through the "eyes of a traveling French lady." That's right, the muse behind the project was a fictional Parisian whose expectations of beauty and comfort were unparalleled. The result was a uniquely feminine hotel with style and grace.
A twinkling chandelier greets guests the moment they enter Le Méridien. Passersby are frequently lured inside to take a closer look. However, don't let the sparkles fool you; this stay isn't stuffy.
Like many of Denver's new hotels, Le Méridien features a range of art, and many pieces are works by local artists such as snowboarder Samantha Madd whose "Mountain Range" painting graces the wall of several hotel rooms. This "ski couture" style is incorporated throughout the hotel in color, form or pattern.
From the grand entrance to the charming rooms, Le Méridien is all about providing the traveler with a creative experience. As Gina Deary, owner and principal at Simeone Deary, noted, the Le Méridien is a design-focused brand for creative people—people who enjoy design, art, writing, etc. That creative spirits is alive on every level of this downtown Denver property.
The hotel's furnishings are a mix of mid-century modern and contemporary. One can easily imagine a runway show taking place in the hotel's chic lobby, with lovely ladies decked out in white furry boots and chiseled men robed in tight-fitting black turtlenecks and silver snow pants.
If this all sounds rather fabulous that's because Le Méridien is fabulous and no detailed has been overlooked. For instance, when you visit, take a look at the miniature Marie Antoinette faces behind the front desk.
Guests of Le Méridien can enjoy cocktails at the lobby bar, aptly named The Lobbyist, or a drink at Denver's highest rooftop bar, which is sure to be a big hit this summer.
Any meal at Corrine Restaurant at Le Méridien will be delightful, but weekend brunch is tough to beat. Offering a to-die-for Pecan Praline French Toast and a brunch cheeseburger that's indescribably delicious, this downtown Denver restaurant should be on your must-brunch list.
While the Le Méridien dazzles, AC Hotel Denver Downtown—located in the same building and also designed by Simeone & Deary—is a luxury yet no-nonsense hotel, perfect for the business traveler or urban explorers. The muse for this hotel property design was a Spanish man.
"It's not really an affair," says Deary, "but it's the idea of these two masculine and feminine ideas coming together under one building as Le Méridien and AC Hotel."
Author's Note: Check out Le Méridien's Discover Denver package. It includes bicycles, backpacks, bike locks, a map, an amenities kit and more. It's the ideal way to spend a warm spring day in the Mile High City. SaveSaveSaveSave