In-Town Haven
Online-design entrepreneur Jessie Dixon reveals her personal style in a Denver home that harnesses the subtle power of neutrals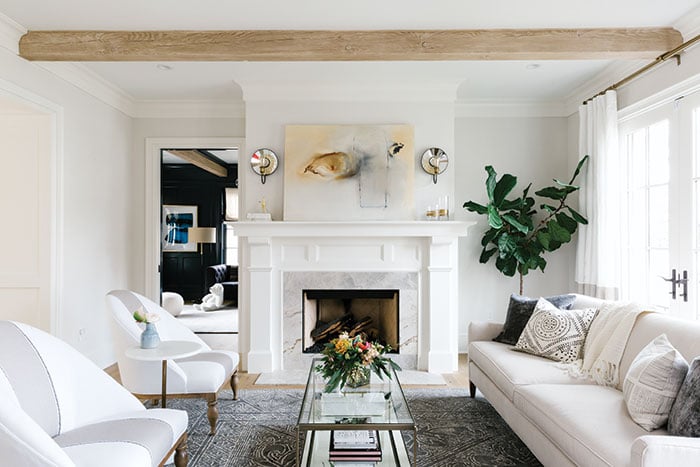 Most of the time you have to work hard to get exactly what you want. But once in a while, you stumble upon something that's just right. For Jessie and Andy Dixon, a new-build in the Denver Country Club area was just that: the perfect thing at the perfect time.
"We found it right after it was built," says Jessie, COO of Havenly, an online interior-design firm. The home had fallen out of contract at the exact time the couple resigned themselves to building their own. "We feel so lucky."

Entry  The round mirror above the console—both from Wisteria—complements all the right angles and makes the space appear bigger. Two small stools from Fresh Industries, with a modern take on glamorous retro brass, sit under the entry table and serve as additional seating for guests.
The Dixons—who have two kids, ages 9 and 7—had outgrown their previous home on 7th and Lafayette and were thrilled to avoid the stress of a new-build. "We thought, 'Why would we go through two years of headaches when this was already done?'" Dixon says, leaning over the kitchen counter, comfortable in jeans, a cardigan and pale, modern glasses. Her personal style—deliberate, classic and subtle—informs everything in her home.
Indeed, everything inside is clean-lined and, well, just plain clean. Shelby Girard, Dixon's co-worker at Havenly and the home's lead designer, gestures around the spotless kitchen and says, "Yes, it's always like this." Dixon laughs and adds, "I need to have everything put away. My kids are like I am. They make their beds every morning and keep things neat. White doesn't scare me."
"My kids are like I am. They make their beds every morning and keep things neat. White doesn't scare me." — Jessie Dixon, Homeowner

Dining Room "This is one of my favorite spaces," Dixon says of the light-washed dining room. The doors at the far end open onto a patio with a fire pit, a natural extension for entertaining. The chairs and chandelier are from Serena & Lily, and the table is from Crate & Barrel.
Dixon, who has a business degree from Northwestern University and is not a designer, used Havenly's clever online-design process in every step, beginning with a style quiz that determined her color palette and material preferences, as well as the general feeling she wanted to create. She chose Girard ("You get to pick the designer you work with, which is a unique element to this platform," she says) in part because their styles align.
Girard then provided Dixon with ideas based on her inspiration images and renderings of each space. Dixon then rated the ideas and messaged feedback along the way. Havenly provides a shopping list at each step and, once the client makes decisions, seamlessly purchases all the furnishings and accessories through their vendors. "It's really fun and very visual," Dixon says.

Family Room and Kitchen  The Kim Salmela striped chair on the left from One Kings Lane is one of Dixon's favorite pieces. It's understated but interesting, with a personality that "is just Jessie," says Girard. Floor-to-ceiling curtains from Loom Decor, with a simple stripe down the side, subtly match all the others in the house, which serves Dixon and Girard's goal of creating individuality in each room with consistency throughout. The entire family room is a composition of black and white—the oversized black lamps over the counter provide the perfect balance—while the pantry, not pictured, is painted a navy blue.
The business angle behind Havenly makes sense: Dixon and her co-founder, Lee Mayer, saw a huge opportunity when they noticed a pool of designers looking for part-time work and a pool of clients with vastly different budgets and needs. Havenly connects the dots, allowing clients to spend as little or as much as they'd like and design rooms a la carte with the help of designers all over the country.
Since it was founded four years ago, Havenly has raised $26 million in venture capital and opened four physical locations (Denver's is at 3501 Wazee Street) for free consultations. "I was excited to experience the process the way the clients do," Dixon says. "It's so inspiring to see what the designers do every day, and our new home was the perfect canvas. It was delightful."

Family Room  Outside the French doors of the family room, where the Dixons spend most of their time, the kids often play soccer. The garage (not pictured) has a back door that leads directly into the yard, making it easy to transport sports equipment back and forth. The art on the mantel is from Artfully Walls, and the ivory love seat is from Interior Define.
Her home is a testament to the power of neutrals—each room blends into the next with a masterful weave of the same palette. Beiges, whites, blacks and every so often a burst of navy give the whole home a timeless grace and calm flow. Striking stripes and textures add interest without distraction, and an open layout contributes to the consistent and connected atmosphere.

Library  The unexpected and rich Benjamin Moore Hale Navy walls in the library would pack a punch even if this weren't the only room in the house not painted white. "I would never have decided to paint this room in navy lacquer on my own," Dixon says. "But it's one of the things I love most about this house." The black Chesterfield-style sofa, by Interior Define, gives the space a masculine feel. "Most people don't combine black and blue," Girard says, "but I think it's really sophisticated.
Dixon says she's not sure where her affinity for a calm aesthetic originated, but she notes that style does run in the family. She grew up in St. Louis and moved to Denver when she was a sophomore in high school; then she lived in cities all over the country before settling back here. "My style is pretty different from my mom's," Dixon says, "but she has great taste.
My dad lived in California and had a cool Cali aesthetic before it became cool. My grandfather owned a hotel, and we got a white sofa he ordered when he was renovating the rooms. So maybe that's when I started to love white," she says and then laughingly admits, "I remember spilling hot chocolate on it and being mortified. And I have no idea how my mother got the hot chocolate out—probably a professional upholstery cleaner!"

Entry  Black railings and a chandelier by Circa Lighting act as the home's striking bones, fleshed out by the creamy neutrals that continue throughout. The bench is from West Elm, and the rug is from Crate & Barrel.
Dixon and Girard chose a mixture of high-end and affordable furnishings and accessories, splurging on one or two items in each room that Dixon absolutely loved. A striped chair in the living room from One Kings Lane weighed in over budget, yet "almost everything on this wall is from Target," Dixon says, pointing at the artfully arranged vignettes on the built-in shelves in the window-walled dining room. The precise placement of beautiful objects is what polishes the space and makes it feel fully designed, Dixon adds.

Guest Room  A deep-green bed from Interior Define and bold curtains by Loom Decor stand out among the neutrals. "Since it was the guest room, we felt like we could do something crazy," Dixon laughs. The artwork is by Artfully Walls, the lamp is from West Elm, and the pillows are from Willa Skye.

Formal Living Room  Ceiling beams match the white-oak wood floors and lend the home an old-farmhouse feel, while abstract art leaning up against the hearth and the low-slung modern furnishings bring it decidedly into the present. A rug from Serena & Lily grounds the airy space.
"We considered all of the spaces at once instead of doing the design room by room," Dixon says. "It was a puzzle to make each space different, but cohesive as a whole."
DESIGN DETAILS
ARCHITECT Chalet INTERIOR DESIGNERS Shelby Girard & Kylee Trunck at Havenly LANDSCAPER Higher Ground Designs