In Living Color
Westward Foundry puts a bold twist on Colorado design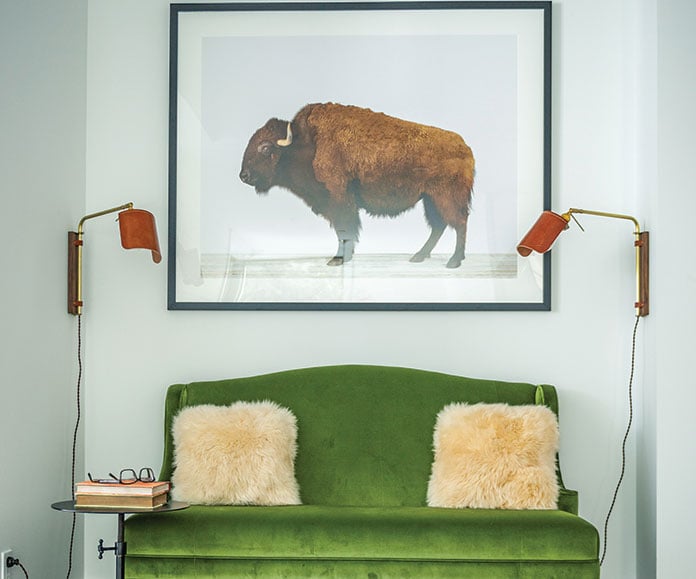 Boulder husband-and-wife team Jordan and Lindy Williams have standout style and fine chemistry. She's the design mastermind, and he runs the business side (though he was once a creative and is a Tisch School of the Arts grad). As Westward Foundry, they're a full-time united front, leading a team of five in a new downtown Boulder workspace that was once Joe's Grocery.

Jordan and Lindy Williams in their Boulder studio.
The down-home, Old West vibe remains, but the look is fresh. "It feels like with 50 percent of our clients the husband says, 'I want masculine Colorado rustic,' and the wife says, 'I love living in Colorado, but I don't want a Colorado rustic house,'" Lindy says. So she keeps both parties happy by bringing in feminine touches, soft textures, earthy elements, loads of function and bold color.
"I think color is super-fun, especially when you pick colors that are a little off, a little quirky, a little unexpected," Lindy explains. "You take the most mainstream colors, and you just go one level further toward the unexpected. Then I think it captures peoples' attention, and it also creates emotion."

Great Room. This room used to be a garage. "The house is historic, so we weren't allowed to add to it, but we were allowed to convert the garage as long as we didn't move windows," says Lindy. "The space flows into the kitchen, but we also needed an entry area, so we created this built-in. The back side is a mudroom, so there is storage on both sides. Elton R Construction built it, and they got really creative."
"When I'm done with spaces, I want someone to walk in and think, 'this is so cool!' I never would have thought of this myself but it doesn't look like a designer did it; it looks like someone collected these pieces over time … and everything has a story," says Lindy.

Mudroom. "This entry space is on the back side of the great room. The husband is one of the owners of Frasca, and they wanted their home to feel like an old Italian farmhouse, so the Italian marble tile gave it an old-world touch," Lindy says. "The 'H' in the tile was his wife's idea. It makes you think this house has been around for hundreds of years." The built-ins provide plentiful storage and are painted in Farrow & Ball's Railings for drama. The Lostine custom coat rack is a workhorse, holding everything from coats and bags to sunblock and a pretty plant, Lindy says.
The highlight reel of Lindy's creative process looks something like this:
1. FUNCTION & FORM "I walk into a space, and holograms of furniture start flying around in my head and placing things. I can see pretty quickly the right furniture layout—for me, function is the most important thing. We always ask our clients, 'What is this room used for? What do you wish it were used for? What are the problems?' And then we work from the architecture."
2. SIZE "Chelsea Thowe, one of our designers,  creates very detailed 3-D renderings of the space, which start with simple furniture blocks. Once we figure out the correct size for furniture and rugs, we start looking for specific pieces."
3. COLOR "After we have a model, my brain usually jumps to some kind of color palette or color inspiration. I love color so much. When you use color, you have to make sure you repeat it throughout the house and there's some through-line. Otherwise it can look like a rainbow threw up. Instead of being cool and fun and bright, it's busy, jarring and confusing. For clients who prefer more neutrals, we use strategic doses of color that complement the aesthetic.
4. TEXTURE "Next, I love to bring in the fuzzy and the scratchy, and then add depth with velvet and leather."

"This landing is at the top of a stairwell in a huge, modern Surround Architecture house," says Lindy. "There's nothing else around, so we knew it needed to be this special, very complete moment that felt 'Wow!' I knew I wanted a really bright color, and then I started layering from there. I love that the rug doesn't match at all, except there are two spots of the exact-perfect green." The sofa is custom Kravet, leather lights are Lostine, leather poufs are Cisco Brothers, and pillows are Fibre by Auskin.
Lindy's Go-Tos
1. Baskets. It starts with the practical, because of storage for dog toys, kids' stuffed animals, books or extra blankets. Baskets are a nice way to hide things. They add texture, without requiring built-ins everywhere.
2. Cisco Brothers. We love their eco-friendly, U.S.-made furniture and almost always include a piece.
3. Something Fun, that's a bit of a surprise. Whether it's a pattern with leaping deer or a bold-colored vintage cabinet.
4. Interesting Modern Art. One-of-a-kind art doesn't have to be expensive, but it makes all the difference in the way a home looks, and feels, to its owners.
5. Leather, because it's durable and speaks to Colorado. I often use a caramel shade in a nontraditional way. Leather pendant lights, for example, may not shout "mountain," but you get a sense of earth.
6. Wallpaper. I put wallpaper in almost every house, and almost always in a powder room. Why not!? Life is short—have fun, and throw something playful on the walls.
7. Celerie Kemble Betwixt Fabric from Schumacher. I love it in all color choices.
8. Something Vintage: a huge cabinet or dining chairs or an unusual rug or pillow.
9. Schoolhouse Lights. They've got this great old-and-new feel. I love that they're made in Portland, Oregon, and they offer amazing quality for the price.