Hugo Matheson's Kitchen Faves
The Boulder-based co-founder of The Kitchen restaurants shares his culinary must-haves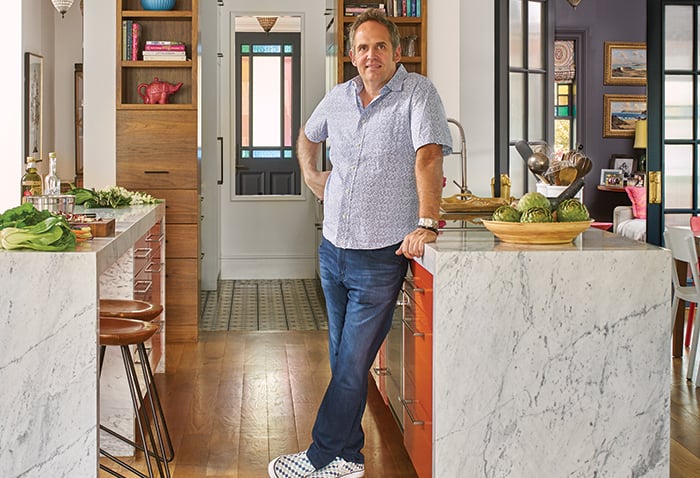 Hugo Matheson and Kimbal Musk opened The Kitchen in Boulder in 2004, just as the farm-to-table movement hit Colorado. We got to tour both of the founders' Boulder kitchens in our 2018 Kitchen Issue, and now we're picking each of their brains when it comes to their culinary must-haves. Here are Matheson's favorite things.
1. The gluggle jug (fish-shaped pitcher), a gift from his grandmother, makes an easily recognizable glug-glug sound when you pour water out of it. Originally designed by Thomas Forester & Sons in England in the 1870s, the pitchers are synonymous with the Dartmouth Pottery Company, which closed in 2002. WADE CERAMICS now makes and sells them.
2. VICTORINOX CHEF KNIVES. Matheson takes pride in their long life and in the fact that they are not overdone or pretentious. "They are durable; there is no need for a fancy knife," he explains.
3. BIJU'S MADRAS CURRY SPICE from local chef Biju Thomas of Biju's Little Curry Shop. The mix is a mild version of the traditional spice, and the street food of southern India inspires all Biju's blends.
4. This pan came with the Jenn-Air Induction Cooktop. "I wish they sold these commercially. I've tried to buy more of them because they are so well-made—heavy enough, but also a shape that allows me to rotate them on the stove while cooking."
5. Matheson uses the mortar and pestle daily while cooking and sees it as an essential tool of the trade that every cook, pro or not, should have.
6. From a stack of cookbooks, Matheson chose DELIA SMITH'S WINTER COLLECTION (1995) as the one he always returns to for inspiration. Smith is a well-known celebrity chef in England who has written more than 20 other cookbooks.
7. "They make me smile," he says of the cheery SUR LA TABLE SPATULAS. He likes them because the edge scrapes harder things without scratching the pan.