How to Make Your Party Green
Tips and tricks for entertaining guests with minimal waste. (Also, a recipe that combines sustainability with taste.)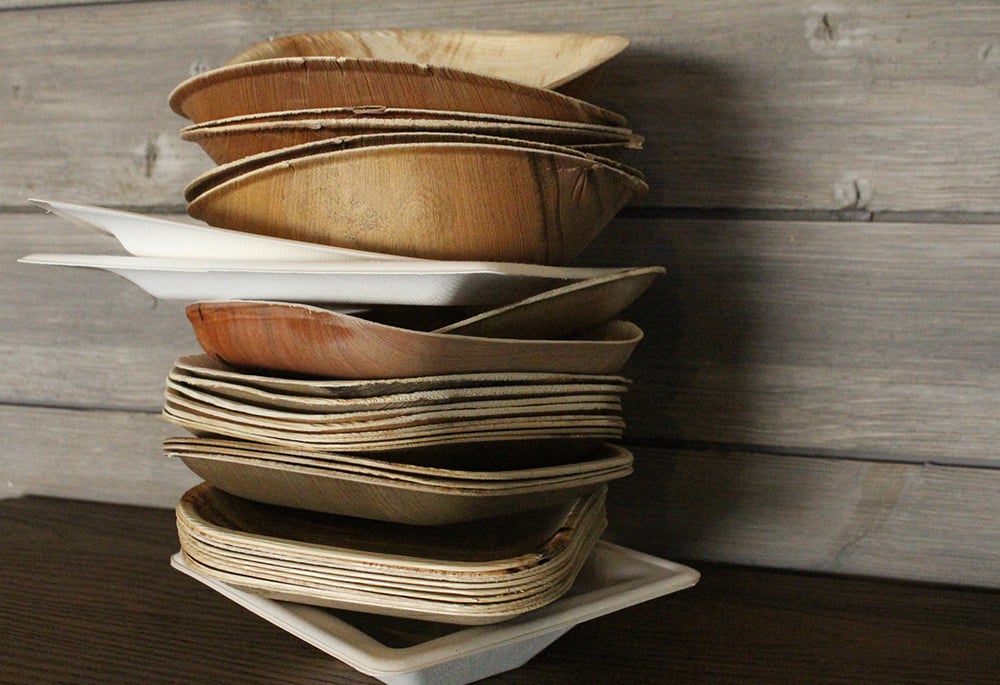 Hosting a party at your home is not only demanding — it is a guessing game. How much food should I buy? How do I set up efficiently? How do I clean up properly? And the newest (and most important) question of them all: How can I be the least wasteful?
Innovation and creativity are key when making a conscious effort to practice sustainability in our homes. Here is a list of some favorite party hacks at the moment:
Compost. Not only does it create naturally rich and safe fertilizer, it also helps reduce methane emissions created by organic waste in landfills. The practice of composting has never been easier — whether you utilize a local drop-off facility, sign up for one of Metro Denver's many compost pick-up services, or create your own system at home. We love SCRAPS for corporate and at-home composting.
Avoid using single-use towels. Most of these towels contain a bleach that is not compost-friendly. We recommend keeping a stash of old rags and t-shirts for clean-up. And let's face it, they get the job done way better than paper napkins.
Buy in bulk. It is much easier to avoid extra and unnecessary packaging when purchasing products that are not pre-wrapped. Take your reusable bags and containers to the produce and bulk section of your grocery store to prevent using the non-recyclable plastic bags provided.
Challenge yourself to re-think food waste you usually toss. You would be surprised what could be turned into a unique sauce, side dish, or topping! Your guests will be wowed by how you transformed those leftover pieces of a protein and produce. Here is what we are whipping up in the kitchen right now.
Salmon Crudo Spoon
10 servings
Salmon belly, often discarded from a salmon fillet due to its higher fat percentage which cooks faster than the rest of the fillet, can be used as a delicious appetizer for your guests. Pair it with your favorite acid and oils for a delicious, one-bite eat.
INGREDIENTS
1 oz chili oil
2 oz ginger soy sauce
½ of an avocado
½ of a lime, squeezed
6 oz of salmon belly, raw
½ of a medium shallot, minced
1/2 tsp extra virgin olive oil
micro green cilantro for topping
Daikon radish for topping, julienned
coarse salt
DIRECTIONS
Finely dice the salmon belly and toss with shallots, extra virgin olive oil, and a pinch of salt. Save half of the extra virgin olive oil for the avocado mash.
In a separate bowl, mash the avocado and mix with lime juice, extra virgin olive oil, and a pinch of salt.
In a serving spoon or shooter glass, add your ginger soy sauce. Add a few drops of chili oil on top of your ginger soy sauce. Evenly distribute the salmon belly to each serving, then the avocado. Top with the micro green cilantro and daikon radish. Serve chilled.
Emily Maynard is the Marketing Project Manager with Footers Catering, a premier full-service catering company serving the Denver metro area, the Front Range, and the mountain regions. This recipe was developed by Footers Executive Chef, Heather Carr. Since 2017, the culinary team has been reimagining the foods they serve so they can better serve our planet. Visit their website or contact them at 303.762.1410 to learn more about their Sustainability Initiative and how they can help make your party green.
Content for this article is provided by Footers Catering.