Take Your Closet to the Next Level With These Hidden Storage Solutions
Nine storage solutions to keep you organized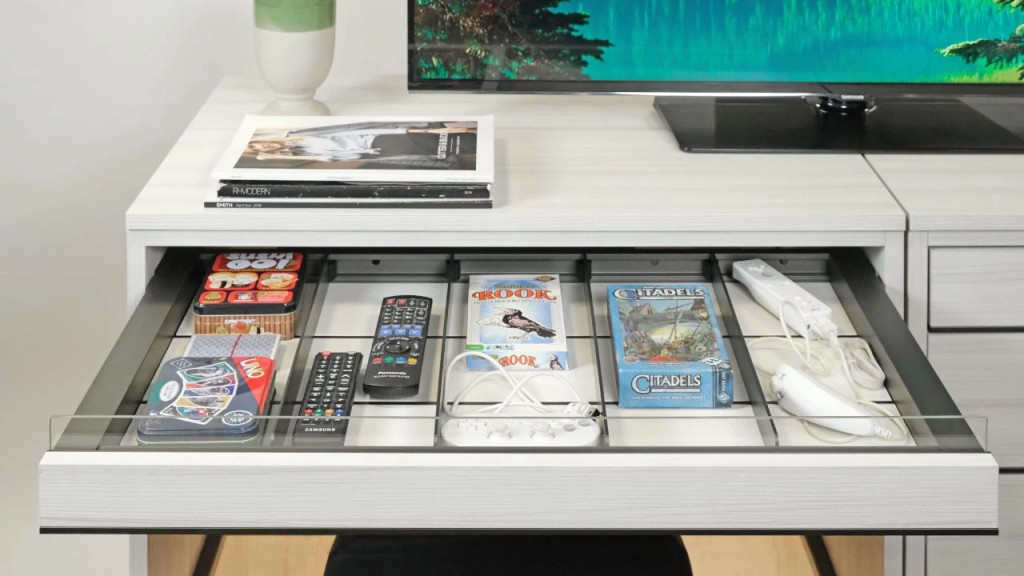 Is there anything more satisfying than storage solutions that are not only brilliantly useful but also tucked away out of sight? Here are nine of our favorite sneaky storage solutions that will help you keep your precious belongings discreetly organized.
Fold-out ironing board
Many of us grew up with laundry rooms that predominantly featured a full-size ironing board hanging from a rack on the wall. This handy fold-out ironing board is designed to be functional, but also conveniently swivel and store away and out of sight, leaving room on the wall for artwork or stylish hooks.
Jewelry drawer inserts
We all know what it's like to search through a jumble of jewelry in a jewelry box looking for the one special piece we have in mind. This pull-our jewelry drawer keeps watches, rings, bracelets, necklaces, etc. separated and easy to access. Best of all the drawer tucks away securely into the shelving unit.
In-drawer power station
It doesn't take long for countertop surfaces to become overwhelmed by cell phones, tablets, laptops and more, all competing for precious charging space. This handy in-drawer charging station cuts down on the clutter and ensures that all of your devices are ready to use on-demand.
Foldaway mirror
Finding wall space for a full-size mirror isn't always doable. This foldaway mirror is the perfect solution. Plus, it swivels to accommodate just the right view.
Pull-out laundry hamper
What better way to literally avoid airing your dirty laundry than this clever fold-out laundry hamper? No more stinky laundry or piles of dirty clothes scattered on the closet floor!
Hidden belt storage
Sure, you can hang belts on a bulky rack, or stack them up on the handle of a hanger, but why would you want to if you could simply roll them up and tuck them away in this lovely compartmented drawer?
Pull-out pants rack
This sleek pants rack pulls out for easy access, then tucks away to keep your pants neat and tidy. And best of all, no tangled-up hangers to deal with.
Pull-out shoe drawer
No more tripping over piles of shoes in your walk-in closet. This slide-out shoe rack allows you to stack up all your favorite kicks and then discreetly slide them away.
Accessory Inserts
These open-front pullout accessory drawers are perfect for so many uses- sunglasses, belts, ties, scarves, jewelry and more. Perfectly organized and easily accessible, this feature keeps clutter off your dresser top.
Leah Ansel is a Design Consultant with California Closets in Denver. For more than four decades, California Closets has been making space for what belongs. They offer a highly personalized and collaborative design service that enriches every customer's interior life thanks to professional teams of design consultants and installers, as well as manufacturing and customer care specialists. View their profile, visit californiaclosets.com or call 303.754.0415 to set up a free design consultation.
Content provided by California Closets.