Half Baked Harvest Butternut Squash & Apple Pizza
An exclusive recipe from food blogger Tieghan Gerard's new cookbook, Half Baked Harvest Super Simple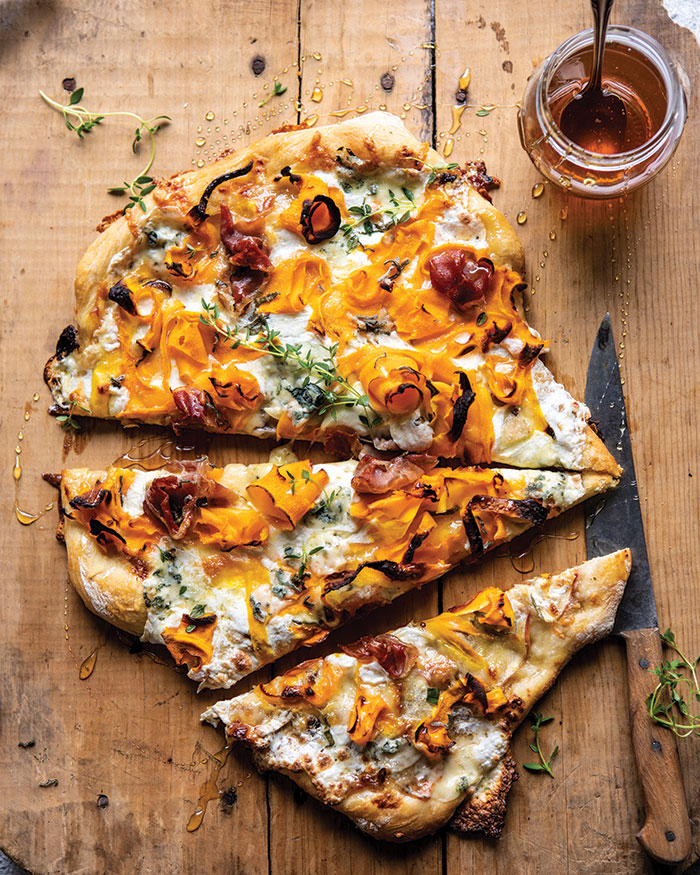 SERVES: 4
PREP TIME: 15 minutes
COOK TIME: 15 minutes
TOTAL TIME: 30 minutes
1 tablespoon extra-virgin olive oil, plus more for greasing
2 shallots, thinly sliced
½ pound No-Knead Bread and Pizza Dough or store-bought pizza dough
2 tablespoons apple butter
1 Honeycrisp apple, thinly sliced
1 cup shredded mozzarella cheese
½ cup shredded sharp cheddar cheese
½ small butternut squash, shaved into ribbons using a vegetable peeler
8 fresh sage leaves
3 ounces thinly sliced prosciutto, torn
Kosher salt and freshly ground pepper
Crushed red pepper flakes
2 ounces blue cheese, crumbled (optional)
Honey, for drizzling
Fresh thyme leaves, for serving

Published by Clarkson Potter, an imprint of Penguin Random House, LLC.
1.  Preheat the oven to 450°F. Grease a baking sheet.
2. Heat the 1 tablespoon of olive oil in a medium skillet over high heat. When the oil shimmers, add the shallots and cook until fragrant, 2 to 3 minutes. Remove the skillet from the heat.
3. On a lightly floured work surface, roll out the dough to a ¼-inch thickness. Carefully transfer the dough to the prepared baking sheet. Spread the apple butter over the dough, leaving a 1-inch border. Add the sautéed shallots and the apple slices. Layer on the mozzarella and cheddar; then top with the butternut squash, sage and prosciutto. Season the pizza with a pinch each of salt, pepper and red pepper flakes, and sprinkle the blue cheese (if using) on top.
4. Bake until the crust is golden and the cheese has melted, 10 to 15 minutes. Drizzle with honey and sprinkle with thyme to finish. Slice and serve.
No-Knead Bread and Pizza Dough
MAKES: 1 pound of dough
PREP TIME: 10 minutes
RESTING TIME: 2 hours or overnight
COOK TIME: 45 minutes
TOTAL TIME: 55 minutes, plus resting time
3 cups all-purpose flour, plus more as needed (see Note)
2 teaspoons instant yeast
2 teaspoons kosher salt
1 (12-ounce) beer
1 tablespoon extra-virgin olive oil
In a medium bowl, stir together the flour, yeast and salt. Add the beer and olive oil, and mix with a wooden spoon until combined. Cover the bowl with plastic wrap, and let sit at room temperature until doubled in size, 1 to 2 hours.
TO USE AS PIZZA DOUGH
Turn the dough out onto a floured work surface, and divide it into 2 equal pieces. Use half of the dough as directed in any given pizza recipe and save the remaining dough, wrapped in plastic wrap, for another use.
NOTE: To get the right consistency in your dough, start with your base amount of flour, and then add more as needed, 1 tablespoon at a time, until the dough is smooth but not dry. It's better to have a dough that's on the slightly sticky side than a dough that's too dry. The dough should be a bit loose; it should not feel dense or heavy.