Fantasy Islands: 13 Kitchens That Welcome Us In
The kitchen space is one to be savored—by the chef, the family and whomever else might be invited to partake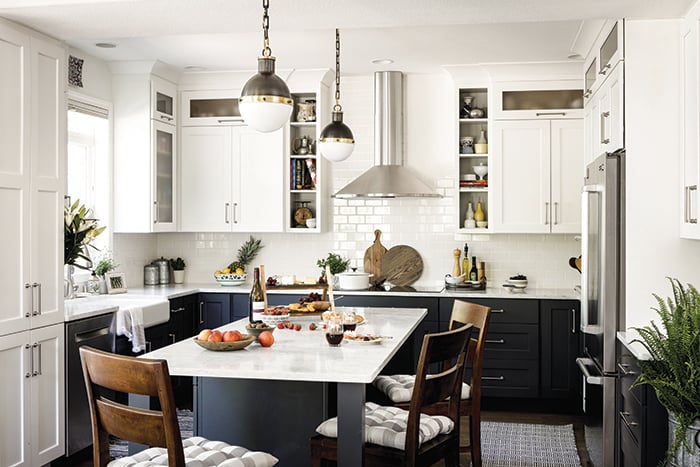 The kitchen space is one to be savored—by the chef, the family and whomever else might be invited to partake. Here, 13 dreamy kitchens that welcome us in.
OLD WOOD, NEW WHITE:

Photo: Emily Minton Redfield
"Texture and light are the most important design elements," Alvarez Morris interior designer Carolyn Morris says of this Denver pool house she created with architect and partner Carlos Alvarez. The single-wall kitchen was "not intended to serve everyday life," says Alvarez, "but at the same time, it could. It has all the basics." Gray-washed white oak cabinets from Aspen Leaf Kitchens have contemporary clean lines but echo the finish of the 200-year-old reclaimed barnwood ceiling and antique Belgian farm table. The white painted floor, white Carrara marble countertops, Nation chandelier from Bourgeois Boheme Atelier finished in white plaster, and white mod Panton dining chairs counterbalance all the woods. Alvarez adds, "Our ideas are very modern in nature, but our materials are very rudimentary, organic and rough around the edges." »
Interior design: Carolyn Morris, Alvarez Morris
Architect: Carlos Alvarez, Alvarez Morris
Cabinets: Aspen Leaf Kitchens
Builder: Character Builders Colorado
SNOWMASS WHITE:

Photo: Jeremy Swanson
With a calming color palette and a waterfall-edge island that stretches 16 feet in length, this Snowmass Village kitchen could be mistaken for a showroom. But interior designer Karen White approached the room with living in mind—she created the work space for a retired East Coast couple who built the house as their full-time home. "The kitchen might look pristine," she says, "but it can handle serious cheffery—feel free to cook spaghetti sauce!"
The quiet palette pairs gray painted cabinets by Hallmark Cabinet with a white glass tile backsplash and matte-finish Neolith Estatuario countertops from Spanish manufacturer TheSize Surfaces. "The clients loved the look of real marble but had lived with it before and did not want the maintenance in their busy, working kitchen," White says.
The large countertop island and Design Within Reach barstools ready the space for the gatherings that often include the couple's children and grandchildren. The room's overhead showstopper is a Honeycomb Suspension fixture by Italy's Luceplan. »
Designer: Karen White, Karen White Interior Design
Architects: Tim Hagman, Kurt Carruth
Builder: Scott Duryea, Rudd Construction
DESIGNER'S PLAYBOOK
Go-to paint color: Sherwin-Williams' Shoji White is a great warm white. The walls in this kitchen and great room are a high-level plaster finish with Shoji as a base color.
Primo faucet: I am really loving touch faucets in kitchens. I have this Brizo Solna in mine and have put them in lots of kitchens lately, and they are getting rave reviews.
THE FAMILY ROOM:

Photo: David Patterson
When Mara and Chris Rhodes, owners of Soda Mountain Construction, built their own Steamboat Springs home, they had to put themselves in their clients' shoes—making design decisions, sticking to a budget and creating a kitchen to serve their family's needs. "I'm in here so much, and this is where our family, including our three small children, gathers," Mara says. "In my life, everything revolves around the kitchen."
With its timber-beamed ceiling and clerestory windows, the kitchen is a designated family zone thanks to its large island, where five barstools easily pull up. "It is countertop-level for easier use by young children," says cabinet designer Barb Stimson. The island is topped with a single slab of white Caesarstone, which, Mara says, is virtually indestructible.
Mara says she also chose appliances that were reliable and affordable. A KitchenAid standard-depth refrigerator and a 36-inch gas Thermador range are perfect, Stimson says, "for a mom who cooks most meals from scratch." Hence, the double oven. "We almost never eat out. It's great when you have a bunch of kids over—I can cook six pizzas at once!"
A subway tile backsplash, glass-paneled pantry door, hammered farm sink, locally made steel-and-timber dining table with benches, and beautiful walnut countertop (on the right) crafted by Chris give the kitchen its design sensibility. But when it comes to splurges, Mara notes the handmade Cisco glass pendants: "I saw them at a Four Seasons, and then in a magazine. And I said, 'That's the one.' I searched for more affordable options, but there was nothing of that quality. Those fixtures were the first thing we ordered before we even started building beyond the foundation. They were a big expense. I skipped top-of-the line appliances to afford my pendants because I knew I would have regretted a retail purchase of 'kind of' what I wanted." »
Designers: Mara and Chris Rhodes, Soda Mountain Construction
Interior designer: Kathleen Rosenkrantz, Soda Mountain Construction
Cabinet Designer: Barb Stimson, Barb Stimson Cabinet Designs
Dining table and benches: Kevin "Cactus" Nemec and Brian Leach, metal fabrication and woodwork, Cactofab
DESIGNER'S PLAYBOOK
We are encouraging people to go smaller—it's better for the world. Downsize to get the quality you want. Big isn't always better.
Go with what will last in a kitchen. It's easy to let cost be the driving force behind every decision. But spending a little more on the front end saves you in the long run.
ELEVATION STATION:


Photos: Brent Moss
This Aspen condo's modern kitchen is designed to embrace its homeowners' culinary passions: coffee and wine. Bulthaup cabinetry wraps the room in a minimal palette, with stainless steel on the island's bar top, stone-gray laminate panels on the island and countertops, and a back-painted glass backsplash, all trimmed in Bulthaup's signature aluminum. "The homeowners were really the drivers for the feel of the space," interior architect Dana Ellis says. The kitchen, therefore, features a countertop espresso maker (with milk-foaming capabilities) and two wine refrigerators. Prouvé barstools invite guests into this exclusive cafe. »
Designers: Dana Ellis, AIA, interior architect, Rowland+Broughton
DESIGNER'S PLAYBOOK
Find the power in creating beautiful moments in your home. You can do it iwht an arrangement on your dining room table or soaps and shampoos in the bathroom. Looking at those things mindfully and seeing the beauty—for me that is very powerful.
HELLO, HANDSOME:

Photo: Callie Hobbs
In his Lone Tree kitchen, "this client gravitated toward simple lines, strong colors and interesting details," Julie Madigan of Celebrity Custom Homes says. "The colors and materials are masculine and stylish, yet so very welcoming."
The 18-foot-by-16-foot space opens to a great room that shares its ebony-stained knotty alder box beams and mill-run hickory flooring. The charcoal-stained Kitchen Craft cabinets from The Kitchen Showcase Inc. pair nicely with the striking granite slab countertops.
Adding to the drama are the metallic Murray Feiss pendant lights flanking a custom-built stainless range hood. "This big, heavy metal thing is such a contrast to the contemporary island lights," Madigan says.
The practical layout accommodates a lot of entertaining. "There's an easy flow and a veggie sink in the island that doubles for food prep or serves as an ice bucket for a nice bottle of wine." Leather-wrapped stools tuck under a 12-inch overhang. "The barstools really encapsulate the homeowner's masculine style," interior designer Kristen Thomas says. "He likes things clean and orderly, and really simple."
Interior designer: Kristen Thomas
Kitchen designer/builder: Julie Madigan, Construction Coordinator, Celebrity Custom Homes Colorado
DESIGNER'S PLAYBOOK
Every single space needs five elements: wood, metal, reflection (glass, mirror), texture and life (flowers, plants). This is the decorating mantra I live by, and I've never not done it. The mix makes a room feel good, and you will feel really good in that space.
COVERED IN CALACATTA:

Photo: David Patterson
A two-and-a-half-year renovation turned an Aspen log cabin into a contemporary stunner. "It started as an easy fix and became a complete gut," says Paris-based interior architect Nathalie Ryan.
The kitchen is the central piece of this vacation home, she says: "The owner loves cooking, and it was very important to him that it be a place where he could cook for his wife and friends." Ryan addressed the kitchen's audience by creating a large square island that offers bar seating on two sides. "It's where everybody lives," she says, "a real North American kitchen where people cook and a lot of things are happening."
In anticipation of the gatherings and culinary excitement to be created in the space, Ryan kept the materials and visual noise to a minimum. The island's top and the walls are all covered in Calacatta marble. Two sinks—a larger one with a dishwasher in what Ryan calls "the cleaning zone" and a small one near the range for cooking and preparing—occupy the island. In the cooking zone, "under the hood, two sliding marble doors hide kitchen accoutrements you don't want to see—spices, oils, everything you need when you're cooking," she says. "The doors slide open during prep time then slide closed when people come."
The floors and wood surfaces are walnut, and the base cabinets and island are brushed stainless steel with details in polished stainless. "The mix of the two finishes—this is couture details," says Ryan, who, as head architect for Christian Dior stores worldwide, has a history of relating fashion to interiors. The cabinets are made-to-measure, she says: "The owner had very specific needs in drawers to organize knives and tools." The range hood—a custom design—is also polished stainless steel. »
Designer: Nathalie Ryan, interior architect, Kirei Studio
Architects: Andy Wisnoski, design partner; Stephen Holley, partner in charge; Kip Kummer, project architect; Poss Architecture + Planning and Interior Design
Lighting Designer: Emily Gordon, President, Elumenate Inc.
DESIGNER'S PLAYBOOK
Realize what you like and don't like. Design is like wine—you choose one because you like the flavor, not because of the label or the price.
When you travel and go to a hotel, you'll have things that you find amazing and things that are really disturbing to you. If you find something well done, take note; remember it. For example, lying in bed, trying to read and the light is hitting you in the eye, or 'Oh, this feels so good' because the lighting is done properly. It is important to think through these details when you're doing a project.
BARN RAISED:

Photo: Emily Minton Redfield
"Rustic meets luxury" was the design catchphrase for this kitchen housed in a rural barn, designer Teresa Davis says. "The rustic elements were balanced with beautifully crafted elements, gorgeous soft fabrics and soulful antique pieces." Eventually, the barn will become more of an entertaining venue for family gatherings, work events and enjoyment. But until their full-time residence on the property is complete, a family of five calls this well-equipped barn home.
At one end of a large great room, white shiplap walls, with reclaimed wood on the ceiling and floors, frame the window-lined kitchen, where eschewing upper cabinets allowed for what Davis calls "the most glorious views of rolling hills and a serene pond." Lower cabinets—built by the homeowner's father—are mostly drawers. "They are so user-friendly and are designed and organized to hold utensils, working tools and dishware, Davis says. "When you eliminate upper cabinets, it requires very careful planning with the bottoms."
Industrial design counters the farmhouse finishes: A custom black studded hood crowns a custom French Lacanche range, and leathered black granite countertops line the perimeter of the room and top the island. Iron-and-glass Currey & Company pendants over the island offer an unexpected, feminine shimmer. "We wanted to incorporate something a little sparkly into this space," Davis says. "We like to think of the barn as a fluffed-up man cave."
Designers: Teresa Davis, Post 31 Interiors
Architect: Brad Norris, Norris Architecture
DESIGNER'S PLAYBOOK
The best little secret in this kitchen is the pop-up power outlets that lie hidden until called into use. They are installed into the countertop so that they are unseen and don't interrupt the visual flow. All hidden—and work like a charm.
SPARKLE & SHINE:

Photo: Emily Minton Redfield
When long-time clients of Certified Kitchen Designer Elisabeth Aiello came to her looking to downsize and modernize the kitchen in their new Cherry Creek home, Aiello created a space that does both. "The warm aspects of the materials chosen help the contemporary design maintain a welcoming feel," she says.
Aiello's clients chose Sub-Zero and Wolf appliances—including a 48-inch range topped with a custom hood made by Weld-Wright Fabricators. The island's white oak bar top ties in the ceiling's beams with the Rutt cabinetry, which combines soft white and dark gray painted finishes.
Countertops and backsplash in Superlative quartzite were something the homeowners fell in love with during the design process. The room's color palette was chosen to highlight the sparkling pockets of mica found in the stone's veining pattern.
On the sink wall, upper cabinets buck tradition with white glass fronts, aluminum edges and an absence of hardware thanks to push-to-open electronic lifts. Clean and contemporary cabinets and drawers bring copious storage to the space.
This kitchen is the perfect example, Aiello says, "of what the homeowners set out to do with this project: downsize without sacrificing quality or livability." »
Designer: Elisabeth Aiello, CKD, Kitchen Distributors
Contractors: Paul and Mary Kobey, Kobey Development
Architect: Semple Brown Design
DESIGNER'S PLAYBOOK
It is always important to identify your focal point. This could be the hood over the range, or as in this project, a beautiful slab of stone; it can be anything that leads to inspiration. From here, use this inspiration as a place to start building your design. Pull colors, styles, and any other ideas you can form that focal point, and try to incorporate that into your overall design concept.
INTO THE WOODS:

Photo: Brands & Kibbs
Keep it simple. That was the design directive for architect Charles Cunniffe and interior designers Debbie Karmin and Susan Schwartz of Karmin Schwartz Design for this Aspen vacation home. The kitchen is perched on one corner of the second floor's open plan, where its large windows, Cunniffe says, were placed to make mountain, valley and Independence Pass views part of the décor.
With the landscape as the focal point, the designers chose a quiet backdrop aesthetic—a kitchen wrapped in custom, cerused-finish English oak cabinets and European oak floors and ceiling. "This palette flows throughout the house," says Karmin. "The warm colors create a juxtaposition between the clean, tailored lines of the design and the coziness of the space."
The woods' warmth lends casual comfort to the 395-square-foot work space, where friends and extended family often gather.
The kitchen island and surrounding counters are topped with slabs of Iceberg quartzite in a leathered finish. The backsplash is the same stone but with a polished finish.
Appliances are seamlessly integrated into the cabinetry—a range keeps wall ovens from breaking the expanse of full-height cabinetry. The wall of storage also houses a food pantry and a utility closet. Open shelving offers storage for shapely and often-used dishes. "The Bocci pendants," says Schwartz, "add a twinkle to the room that is warm and balanced, yet surprising."
Designers: Deborah Schrayer Karmin and Susan Diamond Schwartz, Karmin Schwartz Design
Architect: Charles Cunniffe, Charles Cunniffe Architects
Cabinetmaker: Scott Paoli
DESIGNER'S PLAYBOOK
Charles' Designer Tip: Always keep it simple, clean. Concentrate on workflow and  durable yet elegant materials. The rest will work itself out. Every kitchen is a different size and configuration, but if you follow those simple rules, it will work.
Debbie and Susan's Designer Tip: Kitchen hardware is worth the splurge—great hardware can make or break a kitchen. It is like the jewelry that finishes an outfit. Also, comfortable and interesting barstools are a must. And another must: great lighting!
GLOBAL INSPIRATION:

Photo: Raul Garcia
"Clean lines, symmetry, functionality without clutter, good ergonomics and a unique, one-of-a-kind look." For designer Kevin Vesel, those are the key attributes of this 600-square-foot Denver kitchen and dining area. Vesel designed the European-inspired, contemporary space for a travel-loving couple who, he says, had a very clear vision.
The couple's guests gather at a dining table and chairs custom-made by local craftsman Ethan Hutchinson and, steps away, the kitchen island's standing-height walnut countertop. The prep side of the island features a snow-white Krion countertop with a deep sink. A wall of tall cabinets—Veselbrand's Europa line with integrated finger pulls—and appliances anchors the kitchen's far end. These vertical elements, from back to front, include a Miele integrated freezer column, three pull-out pantries that open with a simple touch and a Miele convection oven and steam oven (stacked). Veselbrand's wire-brushed, stained and cerused eco-walnut veneer wraps the entire wall of functional storage and appliances. "I love this kitchen for its ease of use from pantry to prep to cook to plate to clean—everything flows easily," Vesel says. "And when you're done, everything has a home, and the kitchen can look clean and uncluttered quickly."
Between the kitchen and dining area, a wall of floating shelves features a collection of sculpture, and wide storage drawers below give the kitchen/dining area the air of an international art gallery. The center of the wall is actually matte-glass sliding doors that open to reveal a television. It's the perfect setting for sharing a slideshow of the latest travel photos—and is a certain crowd-pleaser. »
Designer: Kevin Vesel, Veselbrand
Architect: Semple Brown Design
Dining Table and Chairs: Ethan Hutchinson
DESIGNER'S PLAYBOOK
I think that induction cooktops are the only way to go in a contemporary kitchen, integrated for a clean look. They are easy and quick to clean, and, most importantly, they are a joy to cook on at any experience level.
TEXTURE FIRST:

Photo: Emily Minton Redfield
After a water leak wreaked havoc upon her client's Cherry Hills Village home, interior designer Jonna Mulqueen decided to turn the disaster into an opportunity to reimagine the kitchen. The room's coffered ceiling and its double island, along with its large beams that connected the island to the ceiling, were removed. "That island was an obstacle and an eyesore," Mulqueen says. "I wanted to create a bright, airy space that screamed, 'Come cook in me!' "
Mulqueen teamed with kitchen designer Marcus Otten to create a space that was also easy on the eyes. With cooking in mind, the pair chose Sub-Zero and Wolf appliances.
"My client initially wanted a white kitchen," Mulqueen says. "While I do love this look, I felt it was too sterile for her." Instead of color, she explains, "texture was the driving force." The designing pair chose a custom two-toned, textured, studio-finish paint on maple for the perimeter cabinetry. The new island, replete with storage space and seating, is walnut—finished in custom portobello-glaze stain—and topped with antiqued pewter. Cabinetry surrounding the refrigerator is a midnight-stained mahogany; Mulqueen selected a honed Calacatta Oro marble slab from Decorative Materials "that would be the entire focal point of the room—on the back wall and the perimeter countertops." The François & Co. hood is a mixture of stone and antiqued pewter—which, Otten says, "complements the island's countertop perfectly."
"I like to build a room around the senses," Mulqueen says, "and this kitchen is so textural it is bananas."
Kitchen Designer: Marcus Otten, Exquisite Kitchen Design
Interior designer: Jonna Mulqueen, Uncommon Nest Interiors
DESIGNER'S PLAYBOOK
Marcus' Designer Tip:  A specific kitchen item no one should live without: a push (with your knee)-to-open double wastebasket compartment below the sink.
Jonna's Designer Tip:  Select only accessories and décor items that you love. What you choose should speak to you instantly and should represent the way you live, not the way your neighbor down the street lives.
COOL & FUZZY:

Photo: Ric Stovall
Tucked inside a Bachelor Gulch ski-out log cabin condo (yes, you read that right), this vacation home has a surprisingly sleek, modern interior. Designed by longtime collaborators William Landeros and Jed MacKenzie for Italian homeowners, the kitchen is what MacKenzie describes as modern minimalist. "We really only used about three finishes," he says. Sand-beige aluminum wall panels on the backsplash; Cashmere soft-touch lacquer on the lower cabinets and island; Taj Mahal quartzite on the countertops and waterfall-edge peninsula; and stainless steel for appliances, fixtures, and toe kicks. "It's almost a nonfinish," MacKenzie says of the stainless. "The finishes are rich, sophisticated and unique. And the layout for the kitchen is logical and intuitive."
Designers: William Landeros, CKD, and Jed MacKenzie, CKD, Bulthaup
Interior designer: Noorani Greiner Designs
DESIGNER'S PLAYBOOK
Simplify! I think people can be caught up with too many elements, too many things going on. A focus on quality and thoughtful finishes (not too many) will make an overall stronger statement in the end.
BRING ON THE TUX:

Photo: JC Buck
An 18-year-old kitchen in northwest Boulder was in dire need of an update—the 1999 version wasn't serving its blended family (five teenagers!) very well. The homeowner "wanted a timeless design that exuded quality without breaking the bank," designer Megan Daughtry says, adding that the pair landed on a "tuxedo" color scheme: dark base cabinets (Cyberspace from Sherwin-Williams) and white wall cabinets (Benjamin Moore's Glacier White). "The look is uplifting, crisp and sophisticated."
Although modest in size—just 13 feet by 11 feet—the kitchen's new fashion is a tailored fit. The work zones and 8-foot-long island's orientation keep passersby out of the cook's way. Stools gather around the end of the island nearest the living area. The solid-wood Greenfield cabinets extend to the ceiling. On the range wall, a subway tile backsplash and contemporary stainless hood complement the suite of stainless KitchenAid appliances. Bookshelves with painted-gray interiors flank the hood. Daughtry designed them an inch shallower than the adjacent cabinets to show a recessed 'step' in the crown molding and draw attention to the hood," she says.
Marble countertops sourced from Colorado Stone top the lower cabinets and island. "The Carrara has gorgeous veining and a softness that will patina beautifully over time," Daughtry says. Hicks pendant lights by Thomas O'Brien for Visual Comfort, with their brass details and square chains, are the fashion-forward cuff links on this kitchen's black-tie makeover.
Designer: Megan Daughtry, principal designer and owner, Second Nature Interiors
General Contractor: Keith Donohue, Cumberland Construction
DESIGNER'S PLAYBOOK
Backsplash tile: Daltile 3-inch-by-6-inch glossy white subway tile is a steal at $1.76 per square foot.
Storage smarts: I always specify a 33- to 36-inch two-drawer base cabinet with a pegboard liner and wood dowels near the dishwasher to hold stacked plates and bowls, as well as a 33- to 36-inch two-drawer base cabinet near the cooktop/stove for sauté pans, saucepans and lids.
MOM'S DOMAIN:

Photo: Shauna Intelisano
When a single mom wanted to transform her boring, builder-grade, suburban kitchen into something that would encourage creativity in an activity she loves (feeding her family), she turned to kitchen designer Angela Otten, now at Inspire Kitchen Design Studio, and interior designer Kristina Sterling. The homeowner also requested a walk-in pantry in the corner of the room, a big sink, nice appliances and "a couple of things like the steam oven and a specific ice maker that I haven't had a lot of people request," says Sterling, who answered the call with a 48-inch Wolf range, a steam oven and a microwave drawer. The range hood was custom made and finished with liquid metal. Bridging the space between the range and hood is an Ann Sacks handmade-tile backsplash, which also inspired the color of the Homestead cabinets. "We went through about five different whites until we found the right one—not too blue or too yellow or too creamy," says Otten. The upper cabinets have water-glass panels that echo the look of the translucent pantry door (not shown here). Pendant lights from Denver's Fusion Light and Design continue the white scheme.
Adding color to the design mix are dreamy soapstone countertops ("nonporous, so a great material for a kitchen," Otten says), a chalkboard wall (a family favorite saved from the previous kitchen) and blue stools (a DIY painting project for this mom and her preteen daughter). And as a reward? The Scotsman ice maker that "makes ice similar to Sonic Drive-In," Otten says. "It's the homeowner's personal favorite."
Kitchen Designer: Angela Otten, William Ohs
Interior Designer: Kristina Sterling, Seek Interior Design
DESIGNER'S PLAYBOOK
Kristina's designer tip: A big decision is whether you want a painted cabinet or a stained cabinet. Either "I love a white kitchen" or "I love walnut"—that's where we always start.
Angela's designer tip: One of my favorite things to do is work in zones, and the prep zone is most important. I always have a prep sink, a single pull-out trash, cutting boards and knives all in the same area.SaveSaveSaveSaveSaveSave
SEE ALSO:
The Magnificent Nine From Our Kitchen Issue
10 Ooh-La-La Kitchens
A Gift Guide for the Kitchen
Bright, Bold and Blue
SaveSaveSaveSaveSaveSaveSaveSave