Do This (Not That!) With Your Master Bedroom Decor
Four tips (and mistakes to avoid) to create a master suite that is truly a sanctuary for relaxation and restoration.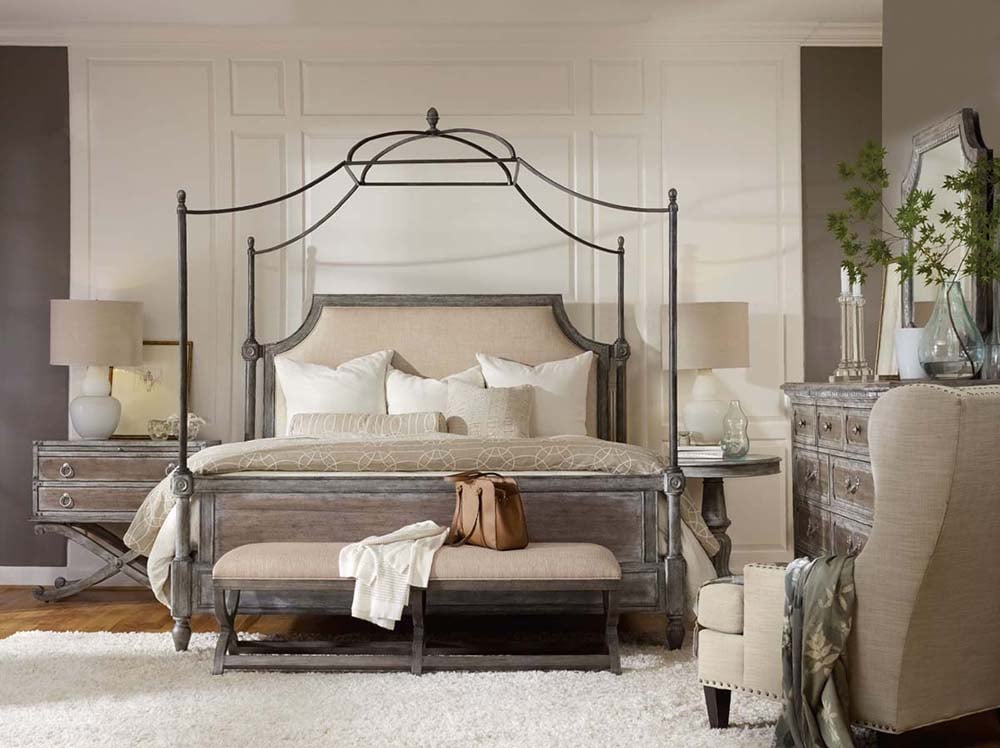 Your bedroom is a place of peaceful retreat—it's where you go to relax, unwind, and get deep, restorative sleep. You'll also spend more than one-third of your life in your bedroom, so it should be designed to help you recharge, unwind, and reconnect to everything that's important to you.
Finding the best bedroom furnishings and decor doesn't have to be a difficult task. When selecting the perfect items, it's important to determine which key features will transform your master bedroom into a place of Zen—as well as reflect your unique personal style. From modern to traditional, finding key bedroom furniture pieces can help make your bedroom the ultimate place to unwind in your home.
Here are four tips (and mistakes to avoid) to create a master suite in your Colorado home that is truly a sanctuary for relaxation and restoration.
DO THIS: Make the bed the focal point. This may seem obvious, but your dream master bedroom starts with choosing the right bed. It is important to remember that your bed will set the tone for your bedroom's overall style, so pick something you are excited about.
Consider the style, size, and materials used to create it. Sleigh beds and canopy beds give your bedroom a distinctive look, or you can choose something classic with a headboard crafted of solid wood. Carved accents will take the aesthetic to the next level. Keep an eye out for added features like upholstered headboards and footboards boasting neutral colors that will match any bedding.
NOT THAT: Don't get distracted by other design features without getting clear on your dream bed first. Once you've got this key feature in place, then you can build the rest of the space around it.
DO THIS: Consider your needs and the floorplan. After choosing your perfect bed, it is time to consider furniture ideas for the rest of your bedroom. Consider the available space and how much room you will need to ensure you can navigate easily and intuitively. A bed with a large frame or headboard will add grandeur to your master bedroom, but keep in mind that you will have other furniture, such as side tables, a bench, and possibly a chair or seating area. You might need an armoire or wardrobe to store clothes that don't fit in your closet, or maybe you will need a chest or dresser to store seasonal clothing.
NOT THAT: Don't over-crowd the room. Make sure to incorporate your storage needs into your design to avoid adding stressful clutter to a space that's meant for de-stressing.
DO THIS: Keep your overall decor theme in focus. Are you going for a more modern look with neutral colors and straight-line designs? Or do you love natural colors and materials, such as browns and wood grains? Make sure you are using a variety of textures that complement and work well together. Each piece in your room should pull some form of inspiration from your central focal point, your bed. When all of the pieces fit together, your bedroom will exude harmony and balance, adding a feeling of comfort and elegance.
NOT THAT: Make sure one piece does not detract from others or overwhelm your room, sticking out like a sore thumb.
DO THIS: Add thoughtful details. This is your opportunity to bring your entire style full-circle and complete the look you're after. The little touches are what makes a bedroom unique and special—and what makes it truly yours. Add accent pillows to your bed or a storage bench at the foot of your bed for a nice pop of color. You can even customize your furniture for an even more unique design. These special touches will finalize your look, so take the time to find the right accessories and add your own personal touch.
NOT THAT: Don't forget to add a mirror. You may want to select one that matches and attaches to your dresser, or you can opt for one that hangs on the wall. Full-length mirrors are fabulous for getting a full view of your outfit before you leave for work in the morning. Whether it's walnut or brushed metal, the frame of your mirror will pull the look together and add brightness to your bedroom—a design element you can't afford to overlook.
Brent Simon is one of the owners at Colorado Style Home Furnishings, a South Denver retail furniture showroom that offers over an acre of fine furnishings and accessories. View their profile or contact one of the Colorado Style Home Furnishings experts at (303) 741-4240.
Content for this article provided by Colorado Style Home Furnishings.