Coming Down The Mountain
Longtime Telluride homeowners find new connections—with friends, nature, community and each other—after downsizing from Mountain Village into the town's historical warehouse district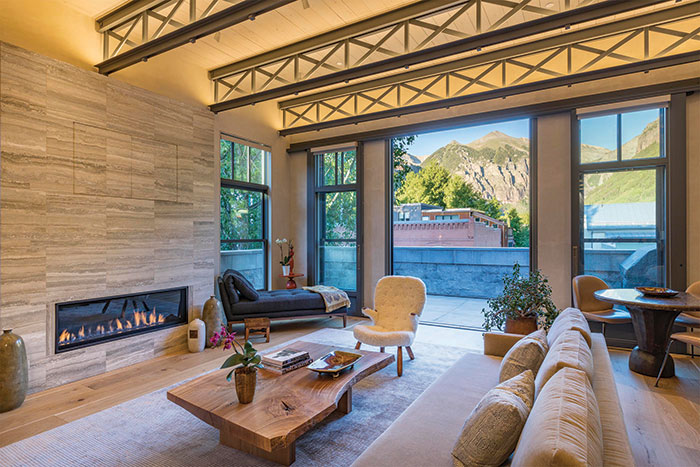 What's the secret to a long, happy marriage?
"Never have lunch together," says a charismatic and straightforward owner of a new Telluride home, which she built with her husband. They met in business school decades ago, and because they both worked in finance in New York City, maintaining independence was important.
Now, the two—who are both retired—spend a lot of time together, but they often still abide by that original rule by venturing out into Telluride's movie-set wilds in different ways. During the day, he mountain bikes, road bikes and skis avidly, while she hikes, skis a little and practices piano, a passion around which the living room was designed (she holds regular concerts for friends on her prized 1940s restored Steinway).
"They knew what they wanted—there was no hemming and hawing—and knew we could create it for them. There was a lot of trust there."
— Kimille Taylor, Interior Designer
"We do hang out a lot," the husband says. On summer mornings, they sip coffee and drink in the views of the box canyon and Bridal Veil Falls on the large terrace. Like everything about this home, the greenery that lines the terrace is themed and disciplined in color and texture.
"The flower boxes attract bees and butterflies and hummingbirds—it's very lovely," the wife says. In the evenings, they reconnect again here over a drink, watching the alpenglow bathe the peaks in orange and pink and purple.
The couple first came to Telluride during the winter of 1993-94, and when they decided five years later to build a ski house, they didn't look anywhere else. "We ski everywhere—but Telluride had a very different feel," the wife says. "It's very special," the husband adds.
Their first home was a ski-in, ski-out timber-frame farmhouse in Mountain Village, designed by architect Steve Morton, whom they hired again to build their second Telluride home.
"It was spectacular," the wife says, but, after 20 years, it was time for a change. "We wanted something more efficient. Smaller, but with plenty of room for our friends." They also loved the idea of being in town, walking distance from everything.
They found an empty lot in town, adjacent to the public library, an area that used to be the old warehouse district for the mining operations. They wanted to reflect the area's history, so Morton drew up plans for a mixed-use building (the first floor is a street-front office that currently houses the firms of Morton and Kimille Taylor, the couple's interior designer) that incorporated loft-like elements, such as high ceilings, steel trusses in the living room, a limestone exterior and large, open spaces.
"It was a long, rectilinear lot—it took a lot of study and design decisions on my part to figure out how to stack it and how to make sense of it all," Morton says. The second level houses the guest bedrooms, media room, office and laundry, while the upper level consists of the master suite, kitchen, living room and patio.
Because of the lot's shape, Morton and Taylor created several design elements that effectively separated the space. "It could have had a yucky bowling-alley feel," Taylor says.
For starters, Morton designed an elevator shaft enclosed in steel mesh—styled after antique, romantic Parisian elevators—in the center of the home and wrapped a wood and steel staircase around it. It acts as a divider, separating the master suite from the open kitchen and living room. "It's a bridge-like element that creates a very different feel from one wing to the other," Morton says. "You can look down to the level below, and it allows the lower floor to share natural light."
Meanwhile, Taylor had the idea to create a wooden box around the kitchen and pantry, pulled down from the high ceiling, to visually designate that space. "For me, the biggest enemy in a new house is too much sheetrock," she says. She chose a warm butternut wood, or white walnut, on three sides of the space, creating countertop alcoves and a hidden door to the powder room.
The living room, which leads out onto the terrace, has a friendly and inviting feel—a difficult feat to achieve while working within an industrial shell and a tight, monochromatic palette. "We layered in a lot of texture—plaster, stone, mohair, sheepskin," Taylor says. "They have a lot of beautiful art, too, and once I styled it, it looked lived-in right away."
In addition to the homeowners' definitive vision of how they wanted the home to feel—tailored, sophisticated, comfortable and clean-lined—they had a strict budget, which was a creative challenge for both Morton and Taylor. "They held our feet to the fire, financially," Morton laughs.
But that, in part, is what made the team so successful, Taylor adds. "They knew what they wanted—there was no hemming and hawing—and knew we could create it for them. There was a lot of trust there," she says.
LIVING ROOM

The homeowners already owned many fine pieces of art and incorporated their 17th-century Japanese screen into the living room. The sideboard below it is an 18th-century French antique. "It's a very 'country' piece of furniture that we moved to our modern home," the husband says. "We like to mix and match things." The sofa is from Suite NY.
LIVING ROOM TO KITCHEN

The wife's 1940s Steinway, which she found in an antique store and had rebuilt, commands the living room ("The acoustics are excellent," the husband says). Despite her modesty—"I would never have been able to make a living as a pianist; I was in finance"—her talent brings in friends for regular concerts that she holds in her home.
LIVING ROOM

Interior designer Kimille Taylor layered in many textures and materials to add interest within a monochromatic palette. "We don't do chintz florals," the wife says. Taylor designed the coffee table from a raw slab of locally sourced wood and chose stone for the fireplace, with a clever panel that hides the TV. "That way we can watch the news," the husband says. "It's Telluride—you can't buy a newspaper here."
KITCHEN

The warm wood is all sourced from the same tree—a butternut walnut—which visually separates the space from the dining and living room. The couple doesn't do much elaborate cooking but they love to entertain, so they got input from a local caterer as to his ideal layout. The dining chairs are Gubi Beetle from Suite NY.
ELEVATOR SHAFT

Architect Steve Morton broke up the long, rectangular lot by designing an elevator and stair shaft in the center of it. "At each level you can go west or east, and it helps create interest. You can see all the mechanisms—we stole some of those concepts from a traditional Parisian elevator," he says.
MASTER BATH

The paintings on both sides of the master bath entryway were done by the wife's mother, who was an artist. "We're not great art collectors but we like the art to reflect our lives," the husband says. Taylor and Morton collaborated to design the unique and clean-lined vanity.
DESIGN DETAILS
ARCHITECT Steve Morton, Morton Architects INTERIOR DESIGNER Kimille Taylor Interior Design and Decoration