Circle of Excellence Award: Landscape Architects Kurt Culbertson and Richard Shaw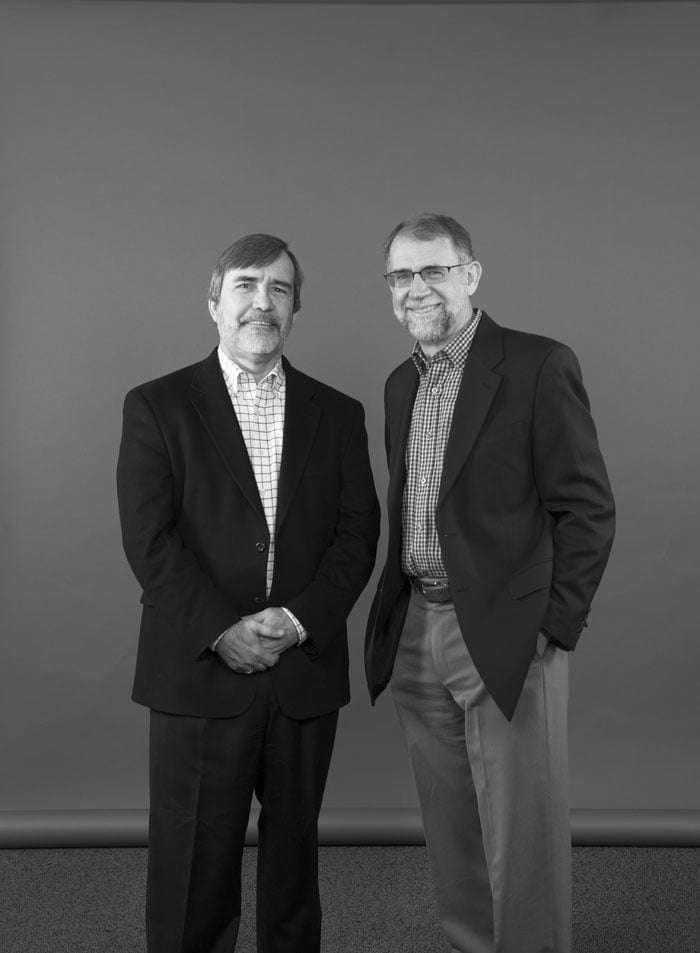 Colorado's vast array of innovative architecture and design didn't just happen on its own. What began as a wild settlement for fortune-seeking adventurers has become a state that calls out to creative minds. Our inaugural Circle of Excellence awards pay tribute to five pioneering professionals who have paved the way for Colorado's design evolution.
Kurt Culbertson
FASLA, PLA, AICP, LEED AP
Landscape Architect; Chairman and Principal, Design Workshop
designworkshop.com
Why he was selected:
With a background in landscape architecture, planning and real estate, and more than 30 years experience, Culbertson has led a diverse range of projects from large-scale strategic planning, corridor planning and tourism planning to detailed design of parks and streetscapes.
Awards & Accolades:
Culbertson is a prolific writer about sustainable development and is a frequent speaker on issues of social and environmental justice in planning and design. He is a Fulbright Scholar with a steady stream of ASLA honors and has volunteered his time and expertise for philanthropic organizations such as The Cultural Landscapes Foundation and Colorado Governor's Smart Growth Committee on the Environment.
Why landscape architecture? What was it that drew you to the profession?
I grew up in the country in Louisiana. My mother had a large garden and I was constantly working with her, rearranging plants, planting new discoveries, tending to the garden.  Our home bordered a vast wood, so every Saturday morning I was out the back door, not to return until after dark.  Landscape architecture simply became a way to keep doing what I always enjoyed as a kid—living in the landscape. When I went to LSU, I had the opportunity to take "Introduction to Landscape Architecture," taught by a legend in the profession, Dr. Robert S. "Doc" Reich. Doc was one of those passionate teachers who inspires you.  He taught me that landscape architecture was more than a profession; it is a calling.
What is it about Aspen and Colorado that inspires you?
Aspen is a place of unlimited opportunity. In a similar way, Colorado and the American West are about wide open spaces. No limits. In this setting all things become possible. As a result,  it is a wonderful place to be an artist.
What are your predictions and expectations for the future of landscape architecture?
I believe landscape architects will increasingly be viewed as leaders in the built environment. At a garden level, landscapes will serve more complex objectives. The limited water of the West will lead to gardens that are more sustainable, as well as provide food to residents. Finally, in an age in which we are constantly plugged in and turned on, gardens will show increasing restraint, appeal to all of the senses, and truly be recognized as works of fine art.
Richard Shaw
FASLA, PLA
Landscape Architect; Principal and Partner, Design Workshop, Aspen
designworkshop.com
Why he was selected:
Armed with a Master of Landscape Architecture degree from Harvard's Graduate School of Design, Shaw has built a career devoted to tourism development and resort design. His award-winning work includes the redevelopment of Aspen's Little Nell Base and the I-25 Conservation Corridor Plan.
Awards & Accolades:
Shaw's numerous accolades include the 2009 ASLA Design Medal and the 2012 American Horticulture Society's Landscape Design Award. His public service involvement includes being a board member for the Landscape Architecture Foundation and the BF Foundation.
Why landscape architecture? What was it that drew you to the profession?
My first experience with the design process was a field trip to San Francisco as a university freshman, where a tour through Garret Eckbo's office, scattered with sketches, plan illustrations and scale models of design ideas, ignited my passion for landscape architecture. At that time, the ideas of the profession were interwoven with environmental activism, which resonated with me.
What is it about Colorado and/or Aspen that inspires you?
The possibilities of interpreting this Western landscape through design—using stone and rock, snow, Aspen forests, crisp light and stark contrasts—have inspired me to think about the importance of regional ideas and the abstraction of these elements in landscape design. These inspirations are the things that create authentic and fitting design for the Mountain West.
What are your predictions and expectations for the future of landscape architecture?
An intimate connection to the outdoors will be increasingly in great demand, and gardens will define the ways in which people want to live in and interact with the out of doors. Residential gardens will help create a new aesthetic based on less water use, native plant composition and lifestyle. In the public realm, new landscape design ideas will be responsive to trends toward urban development densities. Adaptability and sustainability must remain essential tenets of the profession. My greatest hope for landscape architecture is that thoughtful, context-sensitive design will help ensure our human communities co-exist in harmony with our planet.
Individually, the careers of landscape architects Kurt Culbertson and Richard Shaw are impressive. Together, this dynamic duo has made Aspen-based Design Workshop one of the most renowned landscape architecture firms in the country.
[Photo credit: D. A. Horchnerd / Design Workshop]
The team of Culbertson and Shaw blurred the line between indoors and out on this two-acre site in Aspen. Creating a series of terraces, mixing the perfect combination of stone, wood, green areas and perennial gardens.
[Photo credit: D. A. Horchnerd / Design Workshop]
This Aspen garden, a winner of ASLA's Colorado Honor Award in Residential Design, juxtaposes neat gathering areas with the wild Rocky Mountain terrain that surrounds it.
[Photo credit: D. A. Horchnerd / Design Workshop]
Water is the defining element of this residential garden. Overlooking Colorado's Roaring Fork River Valley, a collection of outdoor living spaces is highlighted by the use of native alpine plants, with architectural elements carefully designed and installed to protect the surrounding natural landscape.
Other Circle of Excellence Winners:
Architect Don Ruggles
Interior Design Yvonne Jacobs
Architect David Barrett