Celebrity Designer Thom Filicia Shares His Secrets
We caught up with the designer in his SoHo office to get his tips for creating a soulful home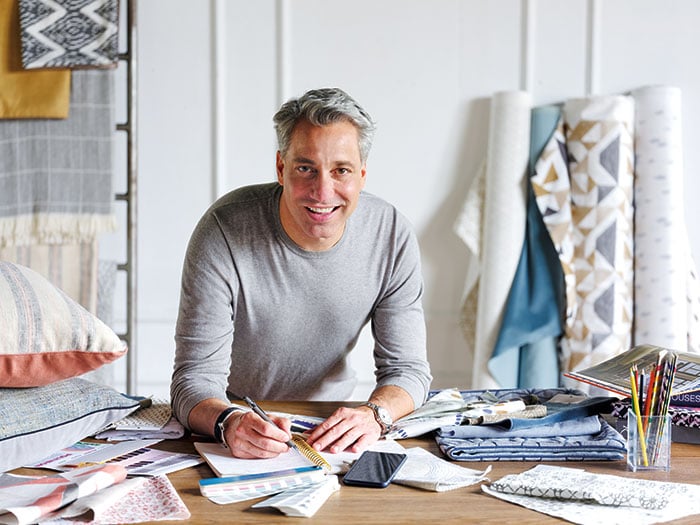 Thom Filicia—one of the "Fab Five" on Bravo's 2003 original Queer Eye for the Straight Guy and star of Get a Room with Carson & Thom—loves to transform a space by finding its soul. That is what he has done for celebrity clients from Tina Fey to Iman to Jennifer Lopez since putting his name on the door of his eponymous interior design firm in New York City.
We caught up with Filicia in his SoHo office to get his thoughts on the foundation of a well-designed space.

Find Your Center  A linen-gray, tufted ottoman grounds this elegant living room.
1. EVERY ROOM NEEDS AN ANCHOR
If you could afford only a single piece, Filicia would want you to invest in a sofa. "A great sofa is the anchor of the room." If it is a bedroom you're decorating, then the anchor piece should be the bed. "It's important that these pieces are thoughtfully selected, because they are heavily used and set the tone for a space." When selecting a sofa that can hold its own against evolving tastes, patterns and colors, opt for something with structure and strong lines. The Nottingham Sofa from the Thom Filicia Home collection for Vanguard is a stunner that won't let your eyes rove elsewhere.
2. LET LOCATION DICTATE
Follow the house's lead. "You can have the same chair in Miami as in Vail, but maybe not in the same fabric. Everywhere Birch by Kravet would work wonders in Colorado." It's an upholstery fabric that is fresh and durable.

The Right Light  Serena & Lily's Headlands Bell Pendant keeps the décor warm and balanced.
3. ADD TEXTURE
After all the planning and pinning, it's time to add texture to a room. You can put these designer buzzwords into action by decorating with a mix of materials, patterns and pieces. Think glass elements balancing out soft furs and patterned textiles, or acrylic and metal tables alongside upholstered sofas and chairs. "Mixing a leather sofa with a glass coffee or side table will make a room much more interesting than a heavy oak coffee table would." Filicia points out that the right textural balance ultimately depends on the client. "The texture of each interior must speak to the personality of the people who live there."

No Covering Needed  Filicia lines bare, open windows with black paint for a dramatic touch.
4. TRADE DRAPES FOR PAINT
In the hands of the right designer, an old window frame can become eye-catching. "Windows are the eyes of a house," Filicia says. "Why not put eyeliner on them? Rather than window treatments or decorative drapes, I prefer painting the windows' mullions in a dark charcoal. This makes them stand out, just like eyeliner does for the eye."

By the Book  American Beauty: Renovating and Decorating a Beloved Retreat by Thom Filicia
5. MAKE FRIENDS WITH COLOR
"One of the mistakes I see most often is people going with neutrals like beige and white, because they're afraid about bringing in color." People gravitate to neutrals because they're easy. Neutrals may offset decision fatigue, but that doesn't mean they always serve the space. "A carefully considered touch of color can galvanize and transform a room," Filicia says. Some ideas: Hang a tapestry on a wall. Add colorful pillows and throws. Upholster a set of chairs in two different fabrics. Go for colorful art.
6. THE POWER OF OPPOSITES
Visual tension is Filicia's secret to making a space look finished. The more you can mix opposing elements, the more visual tension you will create. "Partner rough with smooth, shiny
with matte, modern with antique. Artwork is a great vehicle for creating juxtaposition," Filicia says. "Oftentimes, clients come to us with multiple collected pieces that they want to
display in the same room. We like grouping paintings, because their visual impact is more powerful than it would be if they stood alone."