Bring on the Funk
Cathy Graham's offbeat-yet-elegant art of the table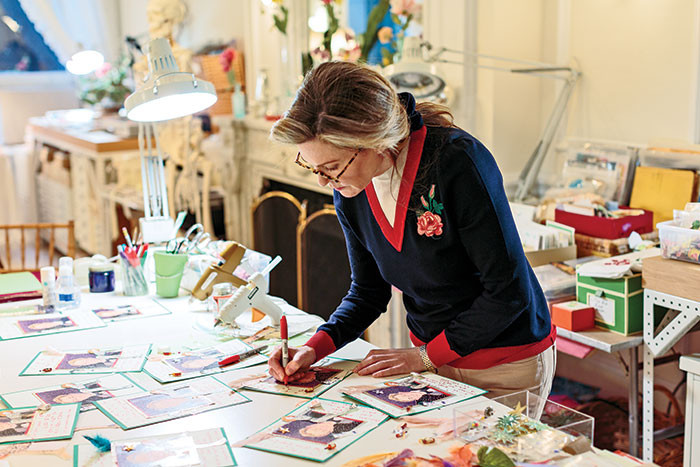 Ken dolls wrapped in fur, glittered tulle, plastic T-bone steaks, miniature squirrels, and heaps of pink and white flowers. These aren't things you'd expect to find at a holiday dinner table, but in Cathy Graham's New York City home, anything goes.
A former illustrator (she worked for Bergdorf Goodman, Time, Rolling Stone, and various advertising agencies and cosmetic companies in the '80s), Graham has always had a love for the arts. But it wasn't until her 30-year marriage abruptly ended that she became the queen of quirky tablescapes.

Barbie and Ken often make appearances at Graham's dinner parties
"I put the pieces back together by going back to the creative person I was before I was married," she explains. "I realized that as a 61-year-old single woman in NYC, I would have to make my own social life. I forced myself to start hosting dinners, and because I didn't have a husband to embarrass, I could go all out and do whatever I felt like and make these crazy tables."

An unconventional yet festive spread for a holiday dinner party
It's like Pee-wee's Playhouse but elegantly restrained." – Cathy Graham
The rebirth led to Second Bloom, a tribute to Graham's rediscovered creativity and delightfully oddball style. Released this fall, the tome includes 209 pages of her vibrant watercolor paintings, whimsical floral arrangements, handmade invitations and table designs that look like pages torn from an I Spy book.

The cover of Graham's first book, Second Bloom
"I know I can make a pretty table, but I like the juxtaposition of it being elegant and completely off-the-wall," she says. "It's like Pee-wee's Playhouse but elegantly restrained."
Here, Graham provides insight into her eclectic approach, as well as tips for adding extra sparkle to the holidays.
CREATIVE ROOTS
"My love for the arts is straight DNA. My dad is an architect who loves painting; my mother was a painter who became an art teacher. One of my grandmothers was also a painter, and my other grandmother was passionate about gardens and flowers. So I didn't exactly rebel from the family. I was always encouraged to practice my art, and everyone always supported and loved what I did."

A watercolor Christmas card created by Graham
YOU'VE GOT GLITTERY MAIL
"I started doing these crazy watercolor party invitations awhile ago. I embellish them like a 6-year-old, with sparkles and rhinestones and feathers. I still send out a paper reminder card, but not a paper invitation because not everyone opens their mail. Instead, I design an invitation, and then I take a photo of it and email that to everybody."
TINY TOWN
"I have always been attracted to things that are vintage, as well as miniatures. My father has an enormous collection of WWII planes and little motorcycles, so I'm sure that's where I got it. I have a studio close to my house where I have boxes and boxes of stuff, most of which I get on eBay. I'll buy miniature mixers or tiny McDonald's bags or little hot dogs. I find odd things, and I incorporate them in my tablescapes. Christmastime, especially, is when they all come out—from glitter stars to sparkly fabrics, toy airplanes, mini globes—I just stick it all on the table. It's a great conversation starter, even if that conversation is, 'God, our hostess is completely loony.'"

In lieu of flowers, Graham used fresh fruits as centerpieces on a luncheon table
COLOR THEORY
"You don't have to stick with red and green for the holidays. I tend to go for peacock blue and hot pink—strong jewel colors. I think red, white and pink would also be a pretty Christmas table. I do have a little trick: If you're nervous about pairing colors, just buy a color wheel on Amazon and stick to one area of color. You can't go wrong."
MOOD BLOOMER
"It's such an organic process for me; I don't always know what a table design is going to turn into. But there's almost always going to be flowers. I like to use individual flowers in little vases scattered about to add height. I always have tons of paperwhites, amaryllis, cut roses—bright, colorful arrangements to cheer up the gray winter in New York. If you come in from the freezing cold and there are tulips and daffodils and lily of the valley and camellias, all these wonderful spring flowers, it's bound to cheer you up."