Bow Mar Beach: A Lakefront House in Littleton
A 2017 Home of the Year Finalist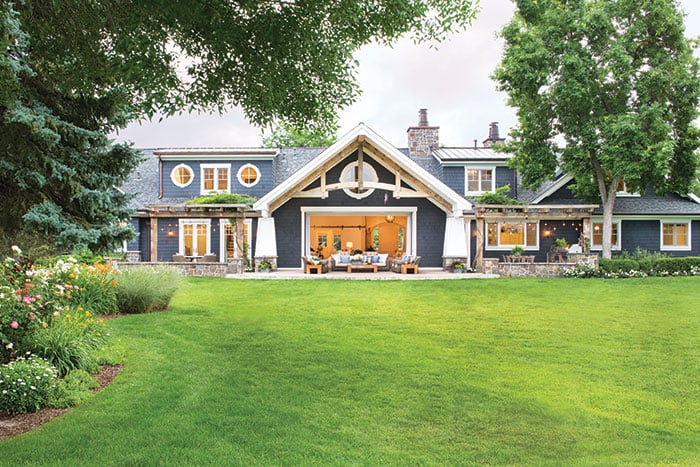 In the beginning, a house best described as "a strange, multilevel, late-1960s mine shaft" occupied the one-acre site beside a lake in the idyllic southwest Denver suburb of Bow Mar, according to architect Kathy Jones, AIA, principal of ArchStyle Inc. She'd been consulted back in 2009 by the new owners, a couple with four daughters—then ages 5, 7, 9 and 11—to see if anything could be done to adapt it to their needs.
The prognosis wasn't good. But, upon studying the community's architectural guidelines, which in general called for ranch-style homes, Jones learned that anything built before those covenants were put in place could be kept. That led her and her clients to keep a beautiful street-facing garden wall, which they veneered with Telluride stone, and an old timber trellis, while tearing down all other traces of the house.
What rose in its place is a handsome shingled structure inspired by the East Coast getaway architecture of the Hamptons. It's an open, welcoming home that Jones sums up as "clean and bright, with a beach feeling" befitting its water views, graced on the outside with more of that Telluride stone for a local touch.
"[The whole house] is clean and bright, with a beach feeling." — Kathy Jones, Architect
Outside and in, Jones used timbers to infuse the lofty, rustic look of vintage Colorado lodges—especially in the wood-clad steel ceiling beams of a spacious great room that gazes westward to the nearby water and the Rockies beyond. Meanwhile, Jones' design also cleverly managed to include a second level of girls bedrooms within the dormer spaces typical of that New England home style.
The family adores lakeside living. "All four girls paddleboard," says their mom. "They hang out at the beach with their friends and swim, and play tennis on the courts nearby." Sunday nights are family time beside the lake. "The beach is full of people picnicking, and we have concerts there. It's like living in a small town that's 20 minutes from downtown Denver."
To properly furnish a home that looks as if its age could be measured in well-pampered decades rather than mere years, interior designer Patti Steelman worked with Jones and the owners to select furniture and finishes that subtly convey a timeless aura of relaxed, expansive ease. From vintage-looking wainscoting and bathroom fixtures to a wide array of antiques acquired with the help of the wife's mother—"she's amazing at hunting estate and garage sales," notes the wife—every detail positively contributes to a home that feels like a perfect hybrid of Rocky Mountain style, New England seaside ease and idyllic small-town living. Says the wife, "We've really planted roots here beside the lake."
An arched front door with traditional mullioned windows gives way to the entry foyer, where the slanted 14-foot ceiling of tongue-and-groove pine showcases an antique iron lantern.
The dining room trestle table is surrounded by slipcovered and wicker chairs with plush pillows for extra comfort. An array of old postal boxes, found at Old Glory antiques in Denver, serves as a wine storage unit. Vintage suitcases underscore the ambience of a waterside getaway.
"These children can sit on, touch and make a mess on whatever they want." — Homeowner
Original plans for the kitchen featured two islands, but one was replaced by an oversized family-style wooden table and chairs with leather-strap backs to promote convivial gatherings. The daughters love to sit on the industrial-style stools at the island counter to do their homework. Industrial pendant lights and Perrin & Rowe faucets are finished in polished nickel.
The master bedroom originally had a vaulted ceiling. That gave way, however, to a more intimate-feeling flat ceiling,  making room for a recent addition—a teenage-girls retreat that's just above. Reminiscent of the sky and sea, pale-blue paint from Benjamin Moore keeps the space feeling breezy.
The girls wing features two suites of two bedrooms, connected by a short hall with closets and a shared bath. "It's like a big dorm room," says the mom. Flowing throughout and unifying the wing is wainscoting painted white like the doorways and gabled ceiling beams, which contrast nicely with the palette of sun-washed blues with touches of pink.
In the master bath, a pedestal tub from Victoria + Albert Baths with polished-nickel fixtures from Perrin & Rowe combines vintage style with modern luxury. Contrasting the watery-blue walls, white trim work, including 10-inch baseboards and three-piece crown moldings and friezes, bespeak an old-fashioned attention to detail. An old whitewashed ladder is pressed into service as a towel rack. Radiant heating keeps the white marble floor warm underfoot.
DESIGN DETAILS:
ARCHITECTURE Kathy Jones, AIA, ArchStyle Inc. BUILDER Pinnacle Properties DESIGNER Patti Steelman Interiors​ LANDSCAPE ARCHITECTURE Designs by Sundown
SEE ALSO:
2017 Home of the Year: Tazi Ranch on 135 Acres
When Colorado Meets Connecticut
Before & After: A 1960s Denver Ranch