Beyond The Bachelor Pad
Inside former Bachelor stars Ben Higgins and Lauren Bushnell's recently renovated Denver bungalow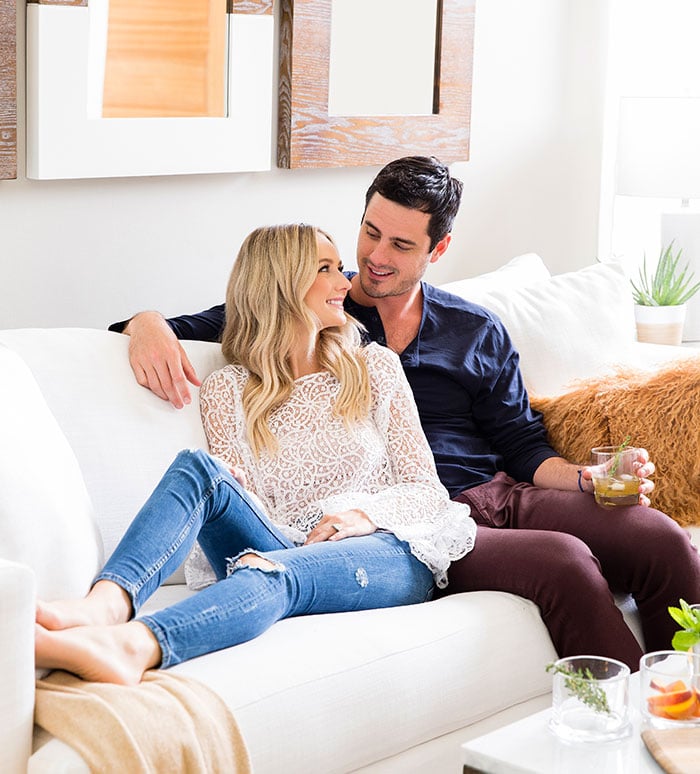 After meeting, falling in love, and getting engaged on season 20 of ABC's The Bachelor, Ben Higgins and Lauren Bushnell traded TV cameras and rose ceremonies for paint swatches and furniture fabrics. With the help of Donna Garlough, style director at Joss & Main, the couple recently transformed Higgins' Denver bachelor pad into a cozy, sophisticated home fit for two.
"Working with Lauren to reimagine her home with Ben was an absolute delight. She's passionate about design and décor, and she brought a lot of her own ideas to the table," Garlough says. "We landed on a fantastic mix of modern and traditional, romantic and edgy, masculine and feminine. I think that's a perfect reflection of Ben and Lauren's life together in Denver, and how they work together as a couple."
Here, the celebrity couple talks design inspiration, their favorite parts of the updated home, and the ups and downs of compromise.
Tell us about your respective styles. Was it difficult to design a space representative of each?
Lauren: I love neutrals, and I like mixing more modern pieces with rustic, second-hand finds. With the light and airy colors, I feel like I brought a piece of California with me to Ben's home in Denver. But I didn't want to make it feel too feminine—I'm moving into his house, so I tried to keep him in mind as well.
Ben: When it came to this project, I did try to stay out of it. She's moving into this house, and I wanted her to feel like this is home. If I was to choose everything, it wouldn't feel like that. The other part is… I just don't think about design too much. I had my couch, my futon from college, and my deer antlers above the fireplace, and I was happy with that. I trusted Lauren to take the reins and make the place look better.
Walk us through your process. What was your inspiration, and how did you bring your vision to life?
Lauren: I have a set of watercolors that were painted by a friend—they have a lot of light pastels and these clean-lined, white frames. They really inspired the entire space, and now they're hanging above our dining table. From there, I just browsed Joss & Main—they have so many great pieces; you can really transform your whole home right from their website. I, of course, picked out way too many items for our very small bungalow home. So I narrowed down my favorites, added them to my Idea Boards, and then the Joss & Main design team was gracious enough to mock them up, pull in finishing touches, and help us zero in on a final look. We're both very thankful Joss & Main was here to help—from frames to light fixtures, their team knew exactly what was needed to bring the whole space together.
Prior to moving in together, Ben lived here for a year and a half and decorated the entire space himself. What would you say was his worst bachelor-pad offense?
Lauren: Probably his bedroom furniture. It was all brown, and his bedding was brown. Everything was brown.
Ben: I'm more of a rustic man.
Lauren: No, it was like, really dark…It didn't have a lot of texture, either. It kind of made me just want to go to sleep, and close the door to the bedroom in the morning and not let anyone in there.
Ben: Isn't that what it's for?
Lauren: I guess. I feel like it should be a sanctuary—peaceful and a place you want to cozy up in. … Before, we didn't have curtains or a rug. So we layered a couple of rugs, one being a shaggy faux-fur style that I love and just screams cozy to me. When it comes to the bedroom, I don't want it to be overdone, I don't want a ton of busy decor—I want it to feel like a sanctuary.
Did either of you have deal-breaker items that you weren't willing to part with during this makeover?
Ben: My very first deer antlers were above the fireplace, and Lauren walked in the house one day with this antique cow skull she bought at a flea market and said, "Look what I bought!" and I was like, "That's great, where's it going?" She said above the fireplace… so that meant my antlers were coming down. This was, to be honest, a struggle at times…I've gotten used to the idea that I can get rid of things as long as she's happy with this house. As a compromise, I'm now building an office in my garage and the furniture that I cared about the most will be there.
Lauren: Part of why this project was so important to me, besides my passion for design, was to create a place that was both of ours. We're in the next chapter of our relationship—planning a wedding and building a home. That means getting rid of things from when we were a bachelor or bachelorette. And I think that's okay, because it's the memories that count, not the piece of furniture they were created around. And it worked out great that Ben has this office space that he's working on and can put those pieces with sentimental value.
There are a lot of great new pieces in this place—what are some of your favorites?
Ben: I think after seeing everything laid out, my favorites are the couch and the Chewbacca pillows. I also love the marble table—I think it's classy, sophisticated, and it looks good with a cocktail on it!
Lauren: My favorite piece is probably the chandelier above the dining table. Aside from the watercolor paintings, it's really what inspired the room. I wanted it to be the first thing you saw when walking in the door. I also love the couch and the pillows. I love all the different textures—I want to go around and touch and feel everything.
Ben: Can I add how cool the bar cart is, too?
And what about your favorite room?
Ben: It would definitely be the living room—it's bright, it has beautiful windows, it still has the original 100-year-old hardwood floors, and now it has beautiful furniture. This room has a lot of character, and I would say it's the most special room in the house.
Lauren: I would definitely say the living room—it's where we spend the most time.
Interview provided by Joss & Main
SaveSave
SaveSave