Artifact Uprising's Chic New Digs
A Q&A with the design expert behind the company's warm and stylish new Sunnyside office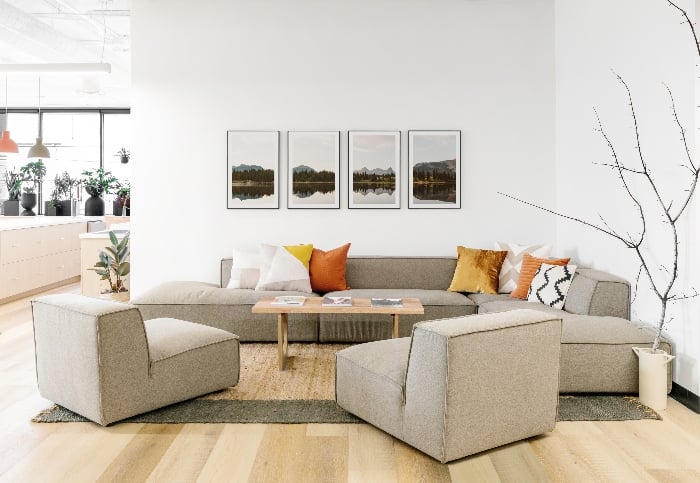 A Colorado company is harnessing the power of photography and good design through stunning printed photo gifts, books, and more.
Artifact Uprising, the brainchild of three eco-conscious photographers who set out to make permanence of our photographs, launched in 2012 in Denver and recently redesigned a Sunnyside office into a swoon-worthy haven.
Their mission: to create a business "that empowers the creative in everyone, one that remains true to its eco-conscious roots, one that never forgets where it came from or what it first believed."
Using recycled paper and even beetle-kill wood found in our own Rocky Mountain backyard, the products from Artifact Uprising holding your photos tell a story. Choose from hardcover books for a wedding album, stylish frames for a gallery wall or even display your favorite photo in a walnut block on your desk.
"With a focus on high quality and elevated design, we hope to make permanence of what matters most."
The intentionality behind the products from Artifact Uprising is inspiring, as is the impeccable design of their new Sunnyside office space. The overall design is warm, with woods, calm tones and natural light and plants used throughout the space.
Soft textures and inviting living room spaces—replete with comfy couches and throw pillows—make the office cozy. With photography sourced from current and former employees, this new office space is like a home away from home.
The conference rooms are named after the destination featured in a large framed print hanging in each room, including Miami, Havana, Stockholm, Boulder and Paris. Inspired by those destinations, the decor follows the color palette from each photo to inform the rest of the colors and design elements in the office, like blue chairs reminiscent of a classic car in Havana, or peach decor similar in color to the dusty rust-colored adobe building in Boulder.
We sat down with Barrett Brynestad, Artifact Uprising's Creative Design Director, who is responsible for helping design this new office space from the ground up, to chat about his process.
WHAT ARE YOUR DUTIES AS CREATIVE DESIGN DIRECTOR?
I oversee the visual output of the company. Pretty much anything that's customer-facing, my team is responsible for creating—with creative direction and input from myself at key checkpoints. This includes everything from the design of our marketing emails and direction for product photography and videos to our overall brand look and feel across our website and marketing channels. While we don't have a customer-facing retail space, designing our new office provided an opportunity to take what I've learned from designing for the brand and apply that to a physical space that our team can enjoy coming to each day.
WHAT WAS THE INSPIRATION FOR THE NEW SPACE?
The last thing I wanted the new office to feel like was… an office. Bold colors and obnoxious patterns are everywhere in office design and furniture, so really being deliberate about our finishes and materials was a huge focus for me. Our differentiator at AU is elevated design, so I wanted to create a space that was a direct reflection of who we are as a brand.
The other thing I really wanted to avoid was pandering to the fact that we're based in Denver, Colorado. So often here you'll see offices that feel like a Colorado costume, with all locally named rooms or 'mountain' theming throughout. We're proud to be a company founded here in Denver, so I wanted to have touches that reminded of where we are (a close up shot of the unique architecture at NCAR or less-often featured Grand Mesa in a triptych, for example), but as a company who strives to help our customers bring their stories to life, I also wanted to bring in inspiration from destinations outside of Colorado. You see this play out in some of our conference rooms, which we have named after cities featured in large framed canvases hanging in each room. We used the color palette from many of these photos to inspire the rest of the colors and design elements in the office.
HOW DID ARTIFACT UPRISING'S MISSION INFLUENCE YOUR DESIGN DECISIONS?
One of our favorite sayings at AU is "You can't do a good job, if your job is all you do," so I wanted to bring this to life with the decor of the space. We encourage our customers to discover and honor the meaningful moments in their lives through photos, and it's no surprise that our employees do the same. As you might imagine, we have many amateur and professional photographers at AU, so we featured our team's photos of mostly travel to help make the space personal, but also provide a glimpse into the outside world. We pulled this off by using a lot of our own products throughout the office, including our Modern Metal Frames, Framed Canvas Prints, and Photo Books.
HOW DID YOU CREATE DESIGN THAT BALANCES STYLE AND WARMTH WITH PRODUCTIVITY?
The warmth and design-forward result was largely in part due to the materials we chose. Many offices will use very durable, utilitarian materials for the sake of performance over design. We wanted to bring in touches of more home-like decor to make the space modern and yet comfortable; we did this with the inviting upholstery and materials we selected for the furniture and rugs, the light tone of wood in the floor, and even the fabric curtain in the main conference room.
While we wanted the space to feel more like home, we also needed it to be practical and adaptable to a number of work styles, so we focused on providing a variety of meeting, work and gathering spaces. Sitting, standing, large, small, casual and formal were all factors that went into creating the different corners of this office. From our large kitchen island, which acts as a communal lunch or office happy hour space, to our open bleachers (used for company wide-meetings or casual one on ones in the natural light), every space is built to be comfortable and functional.
WHAT BRANDS DID YOU WORK WITH?
We decided to work with Interior Define, Loft Curtains and Inside Weather because we felt like they are akin to AU in their respective categories. They all emphasize customization and personalization, so this really allowed us to create exactly what we wanted for the unique space we needed to fill. Interior Define enabled us to customize our upholstered furniture down to the inch and select fabrics that were just right for the space. With Inside Weather, we could choose each component of their tables and chairs to allow for them to work seamlessly with the other design choices we had already made. Lastly, Loft Curtains provided a made-to-order curtain solution, perfectly tailored to the exact height and width in our main and largest conference room.
WHAT IS YOUR FAVORITE SPOT IN THE NEW OFFICE?
Surprisingly, I actually really enjoy the main conference room. Corporate conference rooms are usually the last place you would want to spend time, but that space—with it's soft lighting and natural tones and textures—really came together on all fronts. No matter how long the meeting, it still manages to feel welcoming and comfortable throughout. My second favorite is the library. The way we were able to create a designated room for quiet (no meetings allowed), complete with comfy couches, natural light and books to flip through or borrow is really great, and it's by far the most comfortable room in the new office.