Art History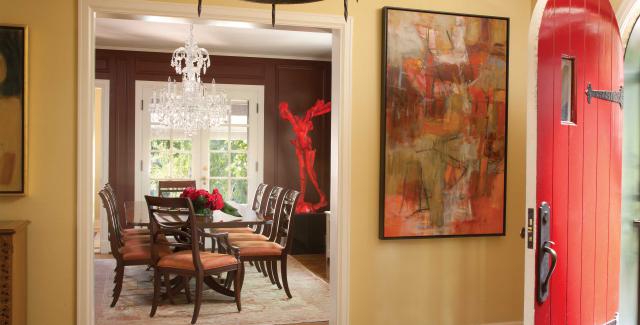 When most interior designers say they start with a painting, they usually mean they take a piece of art and select colors from it to create the color story for a room. That's not the case with Sandra Reichborn-Kjennerud, Denver-based designer and art consultant. When she starts with painting, she literally starts with painting—buckets of paint and a crew with brushes in hand. "I never pick paint color from art," she insists. "The art stands by itself."
When choosing colors for her clients, Reichborn-Kjennerud takes an intuitive approach. She looks at the furnishings they will be bringing into their new rooms. What have they already chosen to live with? What hues seem to resonate with them based on existing fabrics, rugs and accessories? From this the designer makes a perceptive leap into her clients' psyche. "All of us have a palette of colors that we love inside our heads," she says. "I discover what's on that palette." Then she works to select colors from that inner sense, knowing that any future art they buy will fit right in.
The process works. Reichborn-Kjennerud selected paint colors for this historic Denver home, for instance, that would create the perfect landscape for both furniture and art. The buttery ecru she  chose for the entry, living area and sunroom is a hue similar to one she has often paired successfully with traditional furniture. She shifted to a slightly warmer tone for the kitchen, breakfast nook and bedrooms to accompany Chinese antiques. And the dining room? "I knew I wanted a red lacquer so I went to my manicurist," she chuckles. Benjamin Moore matched an Orly nail polish color called "Forever Crimson."
After the painting was done, the homeowner set her furniture in place and hung the art. Right away, everything blended beautifully; elements complemented each  other without competing. "I didn't have that sense of being truly home until the paintings were hung," the homeowner says. "The art is such a part of our family."
Homeowner and designer both agree that contemporary art makes a brilliant counterpoint to antique furniture and traditional fabrics. "[That mix] creates an edge," says Reichborn-Kjennerud. "It says, 'wow.'" This homeowner's inner palette seems to guide her to Colorado artists; many works are by Amy Metier, Emilio Lobato and Stephen Dinsmore, all represented at William Havu Gallery in downtown Denver.
The designer's strategy works similarly for fabrics and lighting. For this client, who already owned much of her furniture, Reichborn-Kjennerud selected fresh upholstery and window coverings. She gathered dozens of samples from sources at the Denver Design District, edited them based on her knowledge of the client, and then together they made final selections. Lighting was selected from Trog de Lights, a local showroom that imports traditional European-style fixtures from South America.
Adding to her collection of new art and old furniture, the homeowner mixed in Chinese antiques and ceramics. Her father spent time in China during World War II and passed on his passion for the culture to his
children. She has been collecting for years, but has avoided the pitfall of purchasing pieces too precious to use day to day. The family draws yoke-back chairs up to a carved elm table for breakfast. And in the living room, two antique Tibetan chests contain art supplies. Art and antiques bring meaning into their everyday life, the homeowner says: "These pieces give me and my children an appreciation of what came before us, and of how different people have lived and created things in the world."
A NEW HISTORY
Sandra Reichborn-Kjennerud, a long-time collector and art consultant, offers advice about living with antiques:
Simply the Best  Buy the best antiques you can afford. That might mean trolling garage sales during your twenties or bidding at auction as your earning power expands. Owning high-quality pieces enhances your love of them—and they will always hold their value.
Not So Fussy  Reichborn-Kjennerud has two words of advice for antique owners: use them. Don't think of your pieces as rare stow-away items; think of them as part of the house. Plus, with daily use, older pieces take on a wonderful patina.
Hang On  When a piece begins to lose its thrill after a few years, don't get rid of it. Reichborn-Kjennerud suggests storing it for a while; if you liked it once you'll probably like it again. You can refinish and reupholster a piece after a couple years, and it will feel new—er, old—again, but freshly repurposed.
Soft Touch  Caring for antiques can feel burdensome, and in Colorado's dry climate things are likely to have cracks. Make sure that the furniture you buy has been in the state for a while, so you can detect any damage. To care for old wood, Reichborn-Kjennerud suggests dabbing it with a barely-moist soft cloth, then quickly wiping away any moisture left behind.
DESIGN DETAILS
Designer: Sandra Reichborn-Kjennerud, (303) 837-1407