A Vail Home With Scandinavian Roots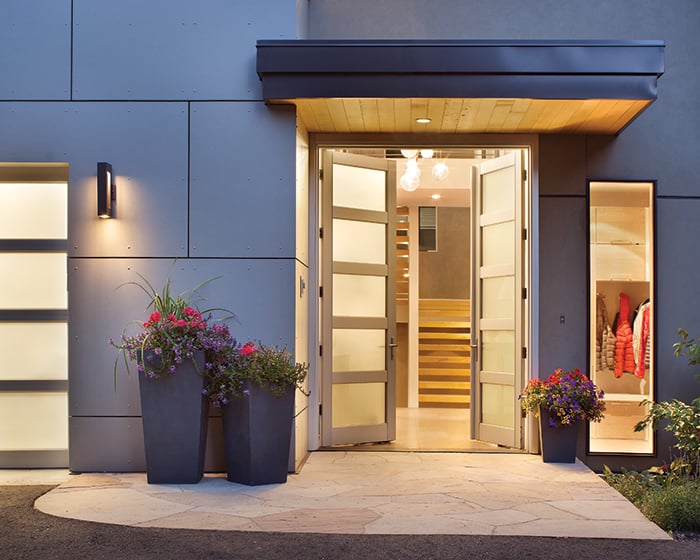 When architect Millie Aldrich designs a home, everything gets peeled back to its simplest form. Lines are clean, materials are practical, details are functional—and views are paramount. "I like to bring people in to experience a site in a way that maybe they wouldn't have before the architecture was there," she says.
In the case of this East Vail duplex, situated on a patch of land so narrow that neighbors hadn't realized it was a buildable lot, Aldrich wanted to create a sense of privacy from the surrounding homes—and of connection with the scenery beyond them.
Taking advantage of the lot's natural grade, she created a vertical separation between the connected homes—one accessed by an upper driveway, the other via a lower entrance. "Once you're inside each residence, you don't feel that you are attached to another building," she says. "Each living room has great views—without the feeling that you're sitting in a fishbowl."
Dramatic, sloping shed roofs raise up to capture those views "where I really wanted them," Aldrich says, while also directing snow and water away from decks and driveways. High ribbon windows let in natural light and the views above neighboring houses, while south- and east-facing window walls offer an unobstructed panorama of a forested hillside and East Vail's scenic waterfalls, which, come winter, become popular ice-climbing spots.
That sense of seclusion, and the streamlined style that Aldrich worked hard to execute, were just what the lower unit's new owner—a mother with three energetic young boys—hoped to find in her full-time Vail home. "She's a busy mom who wanted something clean, contemporary, functional and beautiful," says interior designer Amy Casey, who worked with business partner Courtney St. John to create sophisticated yet kid-friendly rooms that capture the homeowner's modern sensibilities, love of the mountains and Norwegian heritage.
"The home has a modern, Scandinavian feel," St. John says of the white-walled spaces that highlight wide-plank oak floors, sleek cabinetry, sculptural light fixtures and furnishings, and rustic wood accents. Dynamic living spaces—a kitchen that doubles as a casual dining area, an upstairs office that moonlights as a TV room—respond to the family's active lifestyle, and lively bursts of color reflect their adventurous spirit: citron yellow in the living room, fire-engine red in the lower-level family room and bright orange in the kids' upstairs homework zone.
"Restrained is a good word to describe our approach," Casey says. "When we decided to add color to a room, we only used one, but we made it bold. It's a statement, but it's not overdone."
The designers also kept art and accessories to a minimum, not shying away from empty spaces and bare walls and windows. "We didn't want this home to be cluttered with things, with something hanging on every wall," Casey says. "The view is such a wow, so we wanted to complement it."
Their approach also celebrates Aldrich's modern architectural details: smooth drywall, flush baseboards, trimless doorjambs, and mitered corners on wood accent walls. "The cleaner and simpler the details, the more you have to get the framing and drywall perfect," Aldrich says. "It's fussy design—you just don't see the fuss."
Inspired by the beauty of simple forms, architect Millie Aldrich designed a contemporary duplex in the heart of East Vail. The façade is clad with fiber-cement panels and stucco accented with a horizontal metal reveal. The custom front door and garage door's frosted-glass panels admit natural light while providing privacy. Large overhangs with cedar soffits add softness and warmth to the sleek materials palette.
The foyer offers a tantalizing preview of the home's alpine-modern interiors. The gray and chocolate hues of Arrigoni Woods' Antico Larch Grigio paneling "inspired the color palette for the rest of the house," says designer Amy Casey of the two-story accent wall. She and partner Courtney St. John collaborated with Brooklyn lighting studio Shakúff to design the 15-foot-tall light fixture featuring more than 20 suspended, blown-glass orbs in shades of gray.
"This is the only dining space in the house, so the homeowner wanted it to be very sophisticated but still comfortable for the boys," Casey says. Leggy, leather-upholstered benches from Holly Hunt are "not too bulky, not too delicate, and feel more casual than chairs." The square walnut table is a custom design by the Zachary Petterson Collection. A ceramic artwork by Lebanese artist Kaiser Suidan hangs above a built-in buffet. "It took a lot of playing around to arrive at this configuration," Casey says. "We wanted it to feel fun and whimsical, like we just threw the jacks up on the wall." The sculptural Vertigo pendant from Penta and Arrigoni Woods' Antico Larch Grigio wall paneling evoke a wintry forest scene.
"Bright bursts of yellow make the living room feel fun and young without distracting from the view," Casey says. Foscarini's Twiggy floor lamp inspired the designers to upholster the coffee table's nesting ottomans in the same vibrant hue; the wool-flannel fabric is a cozy contrast to the table's lacquered finish. Tufted cushions soften the velvet-upholstered sofa's clean lines. The custom cowhide rug is from The Scarab, and the leather-and-polished-steel chair is by Lee Industries. Tabletop accessories—a wooden folk art box and colorful ceramic bowls—celebrate the homeowner's Norwegian heritage.
The kitchen, which is open to the living and dining rooms, is as durable and low-maintenance as it is polished, with high-gloss cabinetry, seamlessly integrated appliances, a glass-mosaic-tile backsplash and a stainless steel–paneled island with a Caesarstone waterfall countertop. The chrome Giukò 1 pendants are from Leucos Lighting, and the steel-and-leather LEM Piston stools—"a classic modern design," Casey says—are from Design Within Reach.
The master bedroom's gray-white walls, neutral carpet and streamlined custom furnishings provide a quiet backdrop for dramatic "moments of impact," Casey says: a textured wood-veneer wallcovering by Maya Romanoff, a crystal chandelier with metal-mesh shade by Moooi, and the Hanging Ovis Chair from AVO and Ladies & Gentlemen Studio in Brooklyn. "They bring a bit of glamour and sculpture to a really clean-lined room," she says.
An upstairs living space designed with homework in mind features a long built-in workstation with engineered-quartz countertops, walnut drawers and a magnetic back wall for displaying artwork and aced tests. A custom bookshelf separates the work area from a casual sitting room; the central shelves spin around to reveal a built-in television on the other side. Bright orange Eames desk chairs from Design Within Reach add a pop of color to the room's cool palette.
Decks adjacent to the kitchen and living room extend the living space into the landscape; steel cable railings preserve the view. On the lower terrace, all-weather wicker furnishings and a fire pit create a comfortable seating area for bocce spectators.
DESIGN DETAILS:
ARCHITECTURE Millie Aldrich, Pure Design Studio INTERIOR DESIGN Amy Casey and Courtney St. John, Casey St. John Interiors CONSTRUCTION Alan Styers, Styers Construction Inc.
SEE ALSO:
Trending: Scandinavian Home Decor
Before & After: A Mountain Aerie in Aspen
A Modern House in Louisville's Charming Old TownSaveSaveSaveSaveSaveSaveSaveSaveSaveSaveSaveSave
SaveSave