A Spring-Inspired Bouquet Tutorial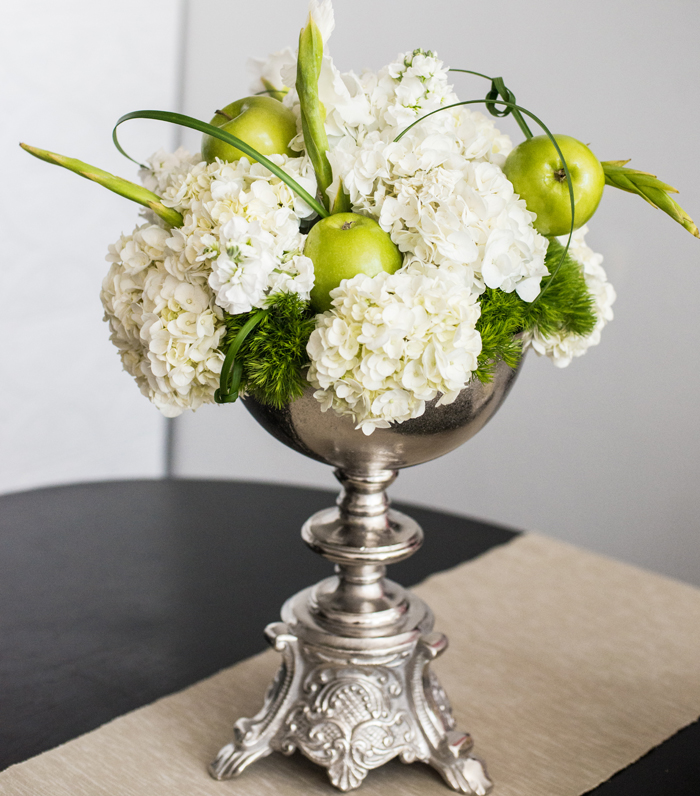 Spring is a time of new beginnings, fresh spaces, and bright, fun colors. What do you do, however, if your space has vibrant color scheme or a very specific palette with shades that work or don't work within it? Answer: Go bright but neutral. Check out the fun green and white arrangement by Denver Florist Bella Calla—great for freshening up your space this spring.
Whites are always in fashion, and this beautiful bright green and white arrangement will be a great way to freshen any space. This lovely arrangement has:
gorgeous soft hydrangea
delicious granny smith apples
fun, trick dianthus in a spectacular silver pedestal bowl
This is the perfect piece to brighten your home for spring get-togethers, dinner parties, or even a spring bridal shower or baby shower.
A great way to accomplish this look on your own is to find a local florist with a well-stocked cooler and sells flowers by the stem. Then pick your favorite container. You can choose stems of hydrangea out of their cooler and hopefully some gorgeous green trick. Or, if you can't find that awesome carnation cousin, you can just pick some fun, funky greens out of your favorite florist's cooler and hit up your grocery store for some granny smith apples.
For the apples, you can put them on a kabob skewer—they'll spike right into the arrangement. You can use the hydrangeas as a base, and add in the green trick and the apples as you go. You should use a piece of floral foam, which you can get at your florist, or you can buy at a hobby store.
Note: It's never a good idea to buy fresh flowers at your grocery store; they buy flowers up to a week in advance of when you get them, meaning they last 3-5 days max. Your boutique florist typically gets super-fresh flowers in daily, so they can assure you to have the longest-lasting flowers available. Always ask for "Designer's Choice," and let them know you want their freshest product.
Lilli Black is a florist on the flower-delivery site BloomNation and owner of Bella Calla in Denver.