A Spacious, Modern Farmhouse in Denver
A two-story house on a corner lot in Denver's Crestmoor neighborhood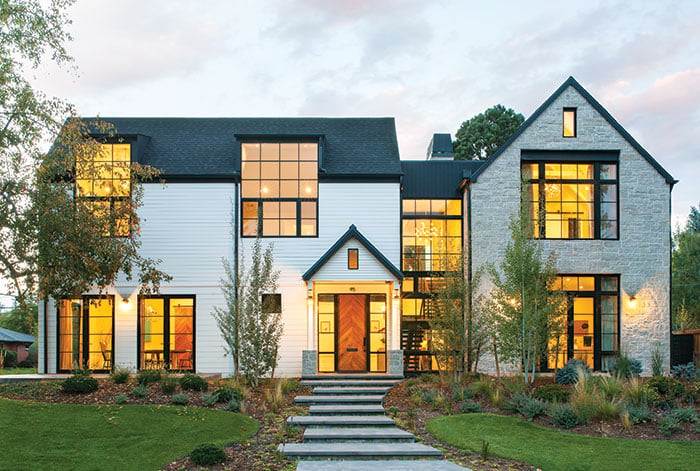 HOUSE NOTES
"This is our forever house," says the homeowner of her family's two-story house on a corner lot in Denver's Crestmoor neighborhood. The couple—she a healthcare entrepreneur and he a doctor—had lived in Chicago, New York City and Philadelphia before choosing to settle in Colorado. All that moving around gave them plenty of time to dream about what they wanted. "We definitely had a vision," she says, sitting on a cozy settee next to the kitchen's double-sided fireplace.
With two daughters entering high school, they planned to create a family space that would work for a busy family but would retain its charm once the girls headed off to college. "We designed it to feel not so empty when they leave," says the wife. "Even though it's a good size, it's still perfect for two people."
The family's 6,500-square-foot modern farmhouse was the work of Surround Architecture's Dale Hubbard and Chad Willis. "It's not small," says Hubbard, "but there's an intimacy to all of the spaces where they feel manageable." The design is reminiscent of farm structures around the country that were often built piecemeal, starting with an original stone farmhouse, and as children came along, they would expand and build out with wood siding instead of stone.
The main floor is completely open to the upper level, bringing light into the full space. Hubbard and Willis located the girls' rooms in the north-south gable; that way, when the teens leave home in a couple of years, the parents' environment will remain constant.
The homeowners and Surround worked in sync on interior details, from the kitchen backsplash materials to the cabinet pulls. "We move through architecture and interior design simultaneously, so there's not a reset that confuses things when a third party joins," he says. "We think not only about design programming details early on but what the interior is going to look like as well."
The wife relied heavily on Pinterest to source materials that added a feminine counterpoint to Surround's more masculine style. "I was able to bring in our family's personality with Moroccan tile, patterned rugs, pillows, art and pieces from our travels." With their minds set on keeping a manageable budget, they chose to invest in high-end finishes rather than designer furniture. The result is a cozy, modern home with a tight background palette of white with black accents.
"When I was looking for an architect, I found Dale Hubbard, and I called one of his clients for a referral. She said to me, 'If I could line the bottom of my pool with a mosaic of Dale's face, I would. That's how much I love him,' " she remembers. "That was quite an endorsement. But I found that [Dale and Chad] truly care about this house. When you are building, it feels like it's their house for the longest time, until you finally take it back and make it yours."
In the entryway, a peace sign from Jonathan Adler is displayed on a Crate & Barrel table. The vintage brass sconces are Margeaux by Hinkley, and the mirror is from Modloft.
The architects named this landing space the "hearth." A side table from West Elm sits atop a vibrant rug the couple bought on their honeymoon in Morocco. Local artist Travis Hetman's buoys and a painting titled Moving by Derrick Breidenthal (represented by Walker Fine Art) surround the fireplace.
The kitchen's built-in cabinets and honed-granite island are by Aspen Leaf Kitchens; the marble backsplash is Bianco Carrara Herringbone; and the stools are from RH. The breakfast nook's oak table was made by Donnie Criswell; the shades are from The Shade Company; and the painting, titled Only Until Always, is by Mel Rea, who is represented by Walker Fine Art.
Chairs from Room & Board surround a Crate & Barrel dining room table, and an Ophelia chandelier by O'Lampia hangs above. The linen curtains are by The Shade Company. The couple bought the painting at an art show in Chicago. The up-and-coming artist asked for $50; they paid him $200 for the piece.
A cozy library features a leather armchair atop a colorful kilim rug. The blanket and side table are from West Elm. The books are sorted by color on custom shelving, and the multimedia artwork is by Zhou Hongbin.
Loads of open space with room for both separation and connection is the theme on both levels here. This upstairs hallway includes the kids' common area, with a Crate & Barrel sofa, Etsy table and Room & Board bookshelf. The artwork is part of the GloboBot series by Joel Kuntz.
A Zenda Orb brass light fixture by Currey & Company hangs in the master bedroom. The bed, by Thomas O'Brien, is dressed with RH bedding. The lamps are from Ikea, and the walls are painted Revere Pewter by Benjamin Moore.
The master bathroom features Caesarstone countertops, walnut cabinetry by Aspen Leaf Kitchens and a Victoria & Albert bathtub. The L sconce is from Schoolhouse Electric, and the Turkish towels are Kassatex.
The kitchen and adjacent seating area open up to the backyard, fire pit and dining area with a table and chairs from Room & Board. The chairs surrounding the fire pit are also Room & Board.
"I love the backyard with the stone garage and cool chevron doors and the house opening up to it; it pulls all the components of the composition together at once."
— Dale Hubbard, Architect
DESIGN DETAILS:
ARCHITECTURE Dale Hubbard and Chad Willis, Surround Architecture  LANDSCAPE DESIGN  Marpa Landscape Design Studio KITCHEN CABINETRY Aspen Leaf Kitchens Limited WINDOWS Sierra Pacific Windows SaveSaveSaveSave
SaveSaveSaveSaveSaveSaveSaveSaveSaveSaveSaveSaveSaveSaveSaveSaveSaveSaveSaveSave
SaveSave
SaveSave